Smartass & Sass Review February 2022
Smartass & Sass is a gift and subscription service for snarky individuals and cynical a**holes. They hand-select products from artists and small businesses and work with manufacturers to produce brand-new items that are sure to make you giggle. Subscribers also help them decide on items and have access to a secret sale shop. They kindly sent us this box for review.
When you sign up for Smartass & Sass, you'll have three different options:
S&S SHIRT ONLY Subscription – $15.95/month
S&S BOX Subscription – $34.95/month
S&S BIG BOX Subscription – $49.95/month
Shipping: Boxes ship from Lincoln, Nebraska on the 18th of every month. US Shipping starts at $3.95 US and they ship internationally to Canada, Mexico, the UK, and Australia starting at $6.95 US.
Each Smartass & Sass includes a brochure written by Abby Bartholomew (Head B*tch In Charge) and the S&S Team, that provides detailed info on the box's monthly theme, on the items themselves, tips, recipes and hilarious commentary. The February Box "Treat Your Self" is the perfect way to celebrate the month of love and who better to love on, than yourself?
Let's get a closer look of this months contents:
In with the NEW, and out with the old……
"A brighter and better year deserves a brighter and better you. Caffeinate, stimulate, and rejuvenate the parts of you that need a lil' extra TLC. These products will have you shedding that old skin (literally…) and prepping for the new b*tch about to arise. You can tackle days much easier when you're feelin' like a hottie in your own body."
"Down for the Peel" Foot Mask (Grace & Stella)
"After slipping your dry and cracking feet into this amazing SOLE-ution for an hour, the skin of your feet will gradually begin to peel in large flakes over the next couple of weeks. Baby soft feet… we're coming for you."
I have seen these all over social media lately – everyone wants to get their feet "spring ready" and I absolutely do too! Winter has been hard on these piggies, so it's time to show them some love!
"Stimulated, Detoxified" Jade Gua Sha (Zoe Ayla)
"Huzzah for the gua sha! This effective treatment will smooth the look of wrinkles, improve skin tone & texture, firm the face contour, brighten complexion and detoxify. Pair this perfectly with your serums and oils to boost your skin's firmness and luminosity!"
Another very popular item on social media that I have been wanting to try! I never knew what I would even do with one if I got one – but thankfully Smartass & Sass have included a complete how-to guide in this month's brochure; right down to how to even say it properly "gwah-shaw" (I definitely have been pronouncing it wrong!)
Eye Doctor Coffee Eye Serum (Doc Spartan)
"You bust your a** and sometimes it shows in the form of those dark circles and bags under your eyes. The Eye Doctor by Doc Spartan is an all-natural coffee-caffeine infused eye serum that can help reduce the dark puffy circles under your eyes!"
Or, sometimes, those bags and dark circles come from having a toddler (#iykyk). This is the perfect solution for those too-early mornings. Easy to roll on and so cooling. It's like giving your under-eyes a cup of strong black coffee!
Mmmm… mmmm good.
"What's a better way to treat yourself than munching down on all the f*ckin GOODIES!? We'd be lying if we said food isn't our first comfort go-to. Pairing a feast with a fleece and cozying down for movie night – can't you just feel the peace?!"
"Life Doesn't Get Any Butter" Popcorn Bowl (Smartass & Sass)
"Your brand-new, silicone, collapsible, and microwavable popcorn bowl! It doesn't get any BUTTER than this sh*t! Healthier popping option and easy AF to store away."
It's like Smartass & Sass read my mind! We recently had a movie night where I had talked to my husband about how many ingredients are actually in traditional microwave popcorn packs, and I had said, "there has to be a better option". Well this is it! Now I can buy popping corn in bulk and use this bowl to make a healthier snack!
Pop It, Individual Kernel Bag (Smartass & Sass)
"1 oz. baggie of individual popcorn kernels to let you try out that new popper of yours. Makes between 3-5 cups of popped corn."
BRILLIANT! I am so thankful that they included actual popcorn in the subscription box! Now I can try out the aforementioned popcorn bowl RIGHT AWAY. Tonight's movie night – here I come!
Buttery Cinnamon Roll Popcorn Topper (Flavor God)
"A sweet topper that tastes like delicious glazed cinnamon rolls fresh out of the f*ckin oven. Gluten-free seasoning with a touch of sea salt, organic coconut, real vanilla, honey, and baking spices. It's the perfect flavor enhancer for coffee, fruit, pancakes/waffles, protein shakes, smoothies, and more!"
I'm normally a "butter only" kind of gal – so I was very excited to try a popcorn topper for the first time. I want to preface that I'm not against popcorn seasonings, I just enjoy buttery popcorn! My thought used to be, "why mess with success"… until now! This is the buttery cinnamon roll of my dreams, each bite is like eating a tiny cinnamon roll. This is luxury.
Double dippin'…….
"We're blending the delectibles together this month for ultimate satisfaction. 🙂 Do you like to feel fancy AF when it comes to a night IN? Thes cutters and wine condoms will prepare you for the ultimate night of indulging and self care. Flick the wrist and pour a drink up!"
Sassy Cookie Cutter Set (Smartass & Sass)
"This is a hand-drawn set of 3 cutters bound to mold some sass into your sweets. Make sure they're all floured up for the dough is a GO and not a… oh no!"
This is SUCH a fun item! I am an avid baker and love to gift my baking – I can't wait to use these cookie cutters and show my friends. The cookie cutters say, "Don't Choke!", "Sweet Disaster" and "Risk it for the Cookie". I do think they missed out on using, "Risk it for the Biscuit" – but given that it's an american subscription box and they don't call cookies "biscuits" – I'll give them a pass.
Wine Condom Pack (Screw The Cork)
"SAVE YOUR WINE! Condom style, air-tight rubber wine bottle stoppers for that fresh sIp every damn time. Roll'em on the bottle just as you would… well… yeah, and place the bottle right in the fridge or on the counter – ready for the next wine night!"
HAHAHAHA! I can't tell you how hard I laughed at this when I saw them in the Smartass & Sass box! We recently had friends over for a wine, cheese and board games night and I brought these wine condoms out and with a straight face rolled them onto the wine bottle and I must say that they got quite the laugh once everyone noticed what I was doing/using. Best part though: my wine tasted great the next evening for a self care bath!
You Go Glenn CoCo Hot Cocoa (Blackout Coffee Co.)
"Rich and decadent flavoring, this dark hot cocoa is made from 100% real chocolate. Cozy up with a warm mug of deliciousness to start or end your day! Perfect for hot chocolate, mochas, brownies, and other chocolate delicacies."
It's official… I am in love with this hot cocoa and I haven't even tried it yet. I mean what's not to love? Great name (I love me a Mean Girls reference), 100% real chocolate, and just fun all around!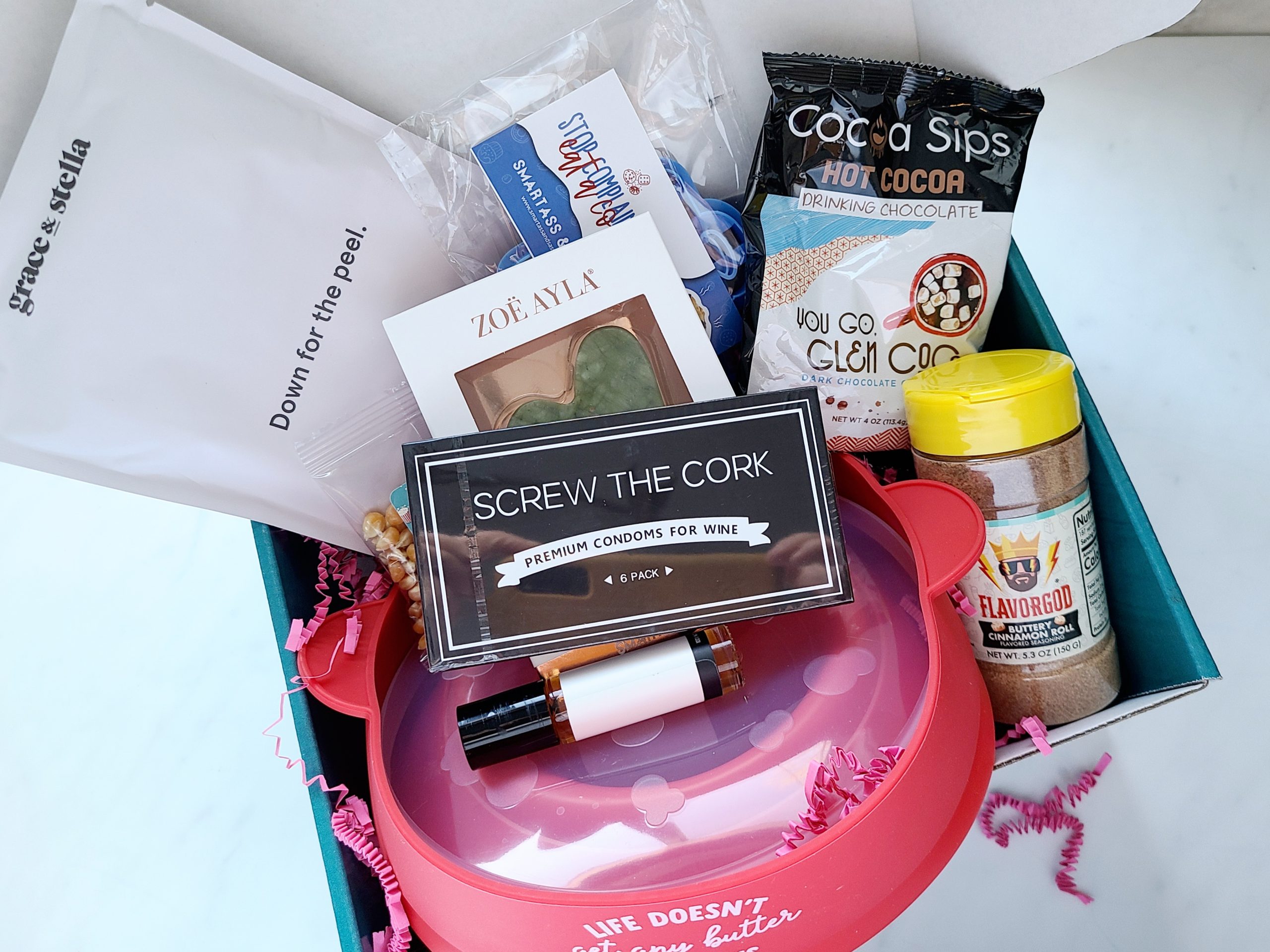 Smartass & Sass Review February 2022 – Final Thoughts
Smartass & Sass is an incredible box if you'd like some light hearted fun and love to laugh. Every item I pulled out, I couldn't wait to show my husband, family and friends. I think they did an amazing job with the February box. It had everything; some cozy night-in snacks, a whole self-care moment, and all the sass! I can't wait to see what they come up with next month! Hint: Adult-ish.
Kylie Smith – https://www.instagram.com/kyliesmithable
Explore.
Save.
Enjoy!
Sign up for a free account on A Year of Boxes to receive exclusive offers, be added to our monthly mailing list, and much more! We are always adding features to improve the experience for our users, from their valuable feedback!
Join Today!