Smartass & Sass Review July 2019
Smartass & Sass is a gift and subscription service for snarky individuals and cynical a**holes. They hand-select products from artists and small businesses and work with manufacturers to produce brand-new items that are sure to make you giggle. Subscribers also help them decide on items and have access to a secret sale shop. They kindly sent us this box for review.
Smartass & Sass is such a fun subscription. It's unique and sassy and it makes me laugh. Laughing is an essential part of every day….in my opinion. So why not sign up for a monthly subscription that will make you smile. Or better yet, gift it to a friend and give them a good laugh every month.
Subscription Details
When you sign up for a Smartass & Sass subscription you can expect to receive 5-8 handmade, hilarious items. The items will have a theme (e.g. Motivational AF) and all of the items will relate to it. You can expect things like mugs, notebooks, tote bags, water bottles, pens & pencils, magnets, candles, and more. They regularly survey their sassy gang to make sure they are finding the types of goods you want to get.
July Theme – For Fox Sake
We're pulling out all the puns for the "For Fox Sake" theme. Sip sip hooray! July's goodies are focused on being subtly snarky.
Here's a closer look at the items I received in the July Smartass & Sass box….
Spooning Leads to Forking Bowl – S&S
This campfire ceramic bowl is perfect for sharing – or hoarding – your favorite snack.
Such a fun bowl. I like the splattered design and the navy blue color. Perfect for late-night snacking or displaying treats when guests are over. A conversation starter for sure!
Simmer Down Towel – S&S
This 7 oz. canvas towel is 28″x28″ in size and provides a helpful reminder to chill out.
This will be the perfect addition to my kitchen decor. It will look great on the oven or hanging beside the sink.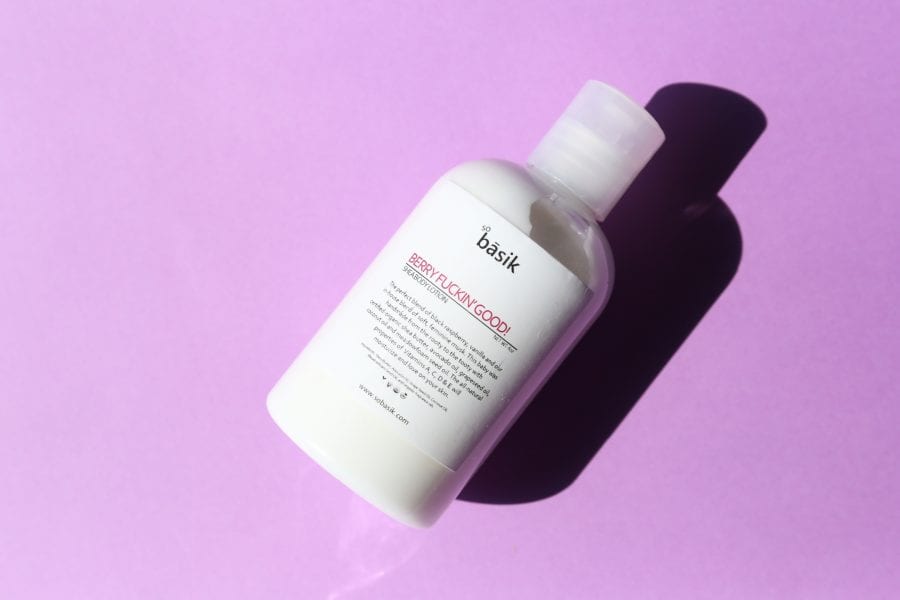 Berry Fucking Good Lotion – So Basik
This 4 oz. blackberry and vanilla concoction smells so effing good. Without the harsh chemicals and additives of commercial lotions, their handmade lotion is created with certified organic ingredients.
Oh my goodness!!! This lotion is amazing! It really is. There's just something about the combination of berry and vanilla that gets me every time.
Smartass Sticky Notes – S&S
Keep track of your to dos and remember who you are. Printed in a Post-It 3″x4″ pad.
This is something we receive in every box and I love it! I use my Smartass & Sass stickies all the time.
Sasshole Pencils – Tiramisu Paperie
This set of 6 pencils is a great way to advertise what you're all about.
Lol, too funny. These pencils are making me laugh. I think I need to find a cute pencil holder and display them on my desk.
Tropic Like It's Hot Wristband – Unselfie
This reversible stretch fabric wrist band says "Tropic Like It's Hot" on one side over a subtle purple palm leaf pattern, and sports a fun overlay of colourful tropical flowers and geometric designs on the other.
Punny Sr. Stickers  – Gemma Correll & Badge Bomb
Who says ailments of getting older don't deserve an encouraging sticker? Gemma Correll's illustrations are a delightful blend of simplicity and charm. Three sheets of stickers with 11 designs on each page.
I am a sucker for stickers. Always have been and always will be. even if I don't end up using them, I still love them. And these ones are pretty funny.
I Run Like the Winded Headband – S&S
This stretchy polyester and spandex headband will keep you cool when you're running….out of breath.
Useful and sassy all at the same time. I run on a regular basis and nothing it more annoying than your hair getting in your face when you are trying to get up that last hill. This will come in very handy.
For Fox Sake – S&S
We couldn't resist these bright feisty foxes for this punny as hell box! You received one of 4 colors. These cuties are plush and approximately 5″ tall.
Smartass & Sass Review July 2019 – Final Thoughts
The July Smartass & Sass is packed full of sassy goodness. I feel like the July box brought with it a few more items than we have received in past boxes, or maybe it's just me. Regardless, I love everything we received. The bowl is probably my favorite, I will be using it all the time. I also like the pencils and the sticky notes – essentials for my new office. Looking for a good laugh, or want to make a friend smile? This is the box for you!
-AYOB
Explore.
Save.
Enjoy!
Sign up for a free account on A Year of Boxes to receive exclusive offers, be added to our monthly mailing list, and much more! We are always adding features to improve the experience for our users, from their valuable feedback!
Join Today!