Smartass & Sass Review June 2020
Smartass & Sass is a gift and subscription service for snarky individuals and cynical a**holes. If you have a sarcastic sense of humor, love to laugh, and the mouth of a sailor, this subscription service is for you! They hand-select products from artists and small businesses and work with manufacturers to produce brand-new items that are sure to make you giggle.
What you get: Each Smartass & Sass box includes 5-7 hilarious items you are sure to love. Each Smartass & Sass box will also have a theme (e.g. That's What She Said) and all of the items included will fit within that theme. You can expect things like mugs, notebooks, tote bags, water bottles, pens & pencils, magnets, candles, and more. They regularly survey their sassy gang to make sure they are finding the types of goods you want to get. Don't worry, while they sometimes work with the same partners for multiple months, you'll never get the same product twice!
Subscription Details
When you sign up for Smartass & Sass, you'll have three different options:
S&S SHIRT ONLY Subscription – $15.95/month
S&S BOX Subscription – $34.95/month
S&S BIG BOX Subscription – $49.95/month
Shipping: Boxes ship from Lincoln, Nebraska on the 18th of every month. US Shipping starts at $3.95 US and they ship internationally to Canada, Mexico, the UK, and Australia starting at $6.95 US.
They kindly sent us this Smartass & Sass BOX for review.
I was super stoked to review this Smartass & Sass box as I believe I have a good sense of humor and can be both sarcastic and witty so I knew it would be right up my alley!
June Theme – IDGAF (Acronyms)
This month will celebrate our favorite acronyms and abbreviations! Get ready to LOL at these sassy surprises (we promise we won't go overboard, OK?). ⁠
Here's a closer look at the items I received in the June Smartass & Sass box:
OMG Silicone Keychain – Hang Accessories
"This 3D colorful silicone keychain will keep your keys so sassy you can't possibly forget them. And OMG, it's so cute! Comes with silver key ring and large lobster clasp for convenient attachment or fun accessorizing."
This OMG keychain is perfect for keeping an eye on my keys as I am always misplacing them! I love the gold hardware and lobster clips for the ability to quickly add and remove keys.
FML Sticker – S&S
"Sometimes you have to shout "FML!" These high-quality stickers are outdoor durable and are coated with a matte lamination for long-lasting color."
This sticker will be perfect for my bestie who always says, "FML!"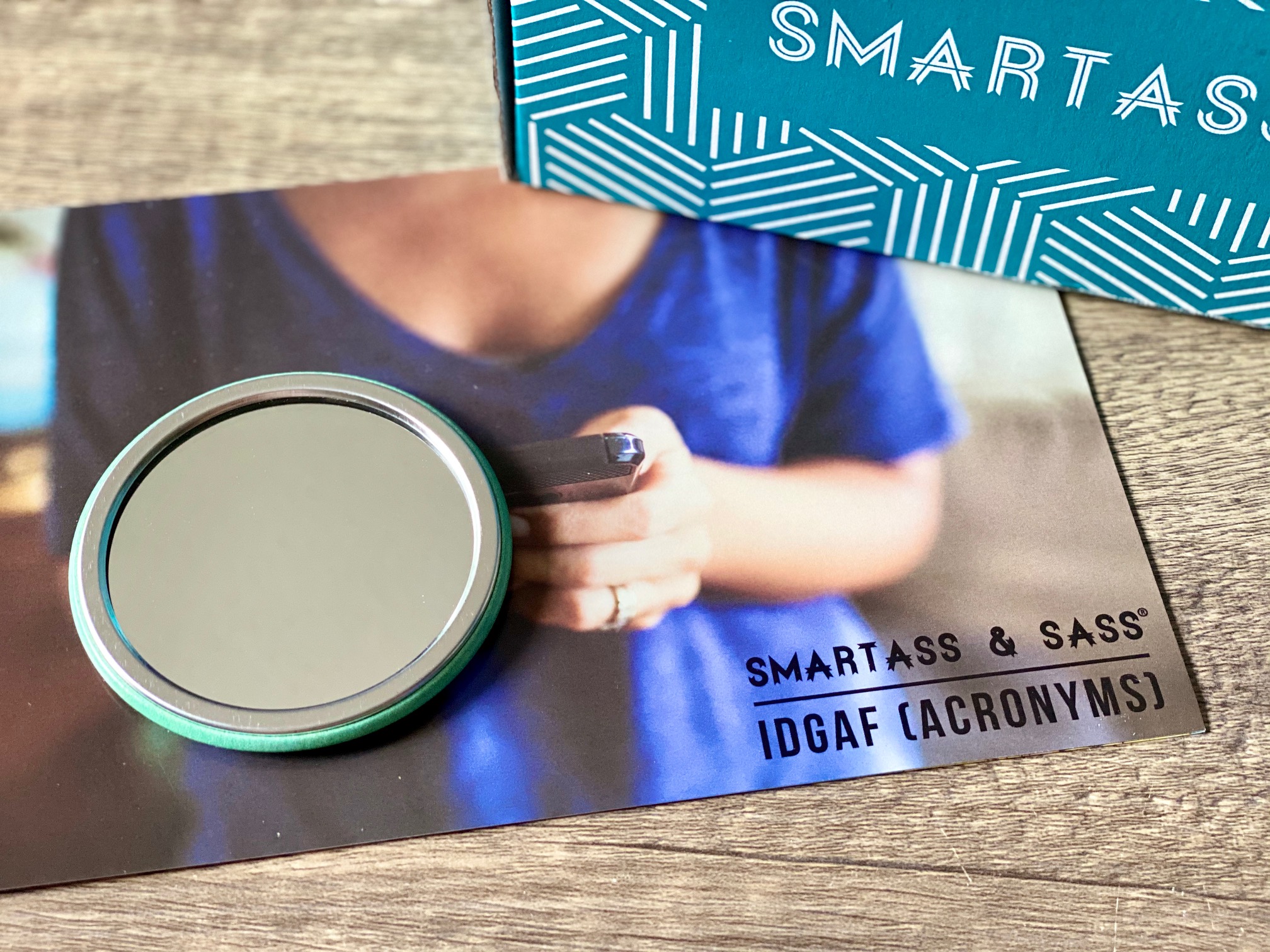 IDGAF Vegan Leather Mirror – S&S
"Made from green vegan leather, this little cactus pal will help you keep your face looking fresh while maintaining an IDGAF attitude."
This little mirror is a perfect size to throw in my purse or lunch bag and I love the image and color.
Contents NSFW Can Cooler – S&S
"This metallic purple cutie is perfect for keeping your adult beverages cool (and discreet!) Be sure to check the bottom for a bonus message! Made of neoprene for added flexibility, durability, and insulation. Fits standard 12 oz cans."
This one made me laugh as I had to look up the #NSFW acronym – Not safe for work. As a teacher, a lot of things are #NSFW. I love the vibrant purple color and will be sporting this cooler at some functions this summer.
WTF Nifty Notes – Knock Knock
"Spell out your befuddlement (while also channeling pent-up frustration) with the English-speaking world's most expressive acronym and the simple check of a box or two. It's the ultimate FYI."
These WTF Nifty Notes are perfect for communicating with my friends. I could also gift them to someone with a little more flexible and open-minded workplace.
Fineapple Body Butter – S&S
"Meet your skin's new BFF. This luxurious body butter with vitamin E is enriched with shea butter & cocoa butter. It melts, leaving skin feeling soft and smooth. Crafted in partnership with Greenwich Bay Trading Co."
OMG, this BFF Fineapple Body Butter smells amazing! I have been using it for the last couple of days and my skin is soo happy and my partner keeps telling me how delicious I smell.
Whiskey Tango Foxtrot Bangle – Metal Marvels
"The perfect faux expletive when you're in mixed-age company 😉 Crafted from stainless steel and pre-shaped to fit well (slightly adjustable). Katie, the woman behind Metal Marvels, believes in breaking down the ideas of being "lady-like" and being yourself."
Haha, this bracelet is the best! My Mom saw me wearing it and said, "Whiskey-Tango-Foxtrot…WTF? Ohh, that's clever!" It's gorgeous and dainty with an amusing and strong message.
Hydrated AF Mason Jar Tumbler – S&S
"Keep up on your water intake this summer with a cute Tumblr! This mason is made of high-quality, BPA-free Tritan plastic. Design is printed on both sides. Hand wash recommended to maintain design."
This tumbler feels like it is made of high-quality plastic and I love the cheeky message of the design.
The June Smartass & Sass box had a detailed product card but I waited to look at it until after unboxing each item so the surprise would not be ruined. There's a photo of each product, some discount codes listed, product values, and the spoiler for July's theme.
Smartass & Sass Review June 2020 – Final Thoughts
The June Smartass & Sass box had eight items that fit the "IDGAF(Acronyms)" theme perfectly! I enjoyed this month's Smartass & Sass box because it's contents are hilarious, cheeky and a much-needed pick-me-up in times like these! My favourite items were the Metal Marvels WTF Bangle, the Fineapple Body Butter, and the OMG Silicone Keychain – but honestly, all of the items are great and will be used or gifted! The value for this box was over $90 and the curation was on-point! This Smartass & Sass subscription is a perfect gift for yourself or anyone who has a sense of humor.
Hayley Savanna – https://www.instagram.com/hayleysavanna/
Explore.
Save.
Enjoy!
Sign up for a free account on A Year of Boxes to receive exclusive offers, be added to our monthly mailing list, and much more! We are always adding features to improve the experience for our users, from their valuable feedback!
Join Today!