Smartass & Sass Review September 2019
Smartass & Sass is a gift and subscription service for the snarky and sassy. If you have a sarcastic sense of humor, love to laugh, and the mouth of a sailor, this subscription service is for you! They work with artists, small businesses, and even design some of their own products that will leave you laughing your a** off. They kindly sent us this box for review.
I love reviewing the Smartass & Sass monthly subscription box because it's such a treat. I find myself giggling at all of the snarky sayings during my unboxings, and I can't wait to share each box with you all! This is the perfect box to gift to yourself or a friend, especially if you're in need of a little laughter. It is the best kind of medicine after all, right?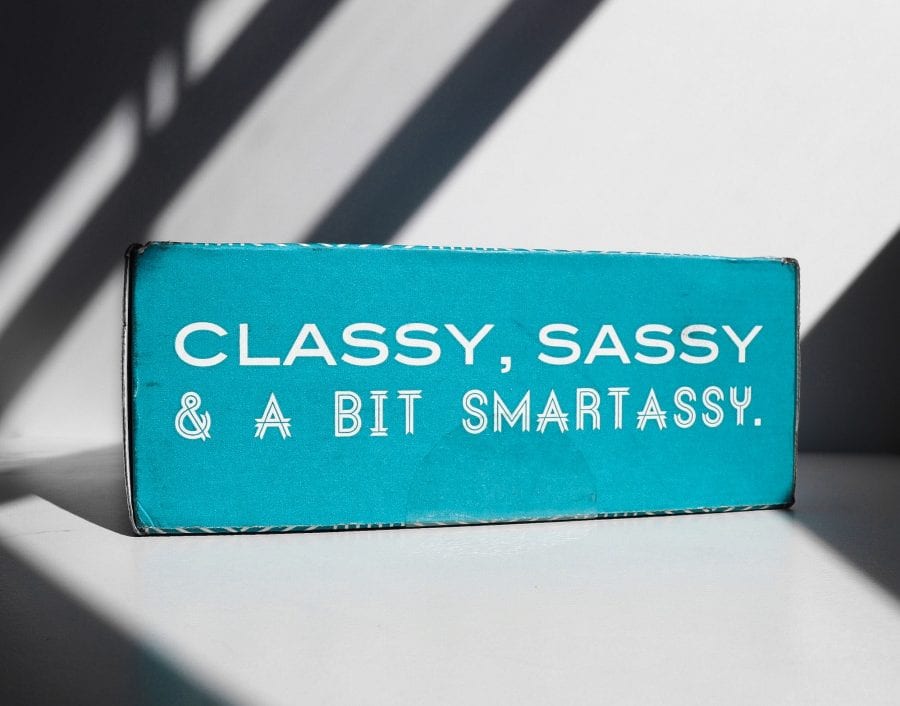 Subscription Details
When you sign up for Smartass & Sass, you'll have three different options:
S&S SHIRT ONLY Subscription – $15.95/month
S&S BOX Subscription – $34.95/month
S&S BIG BOX Subscription – $49.95/month
Each box includes 5-8 handmade, hilarious items you are sure to love. Each monthly box will have a theme (e.g. Motivational AF) and all of the items included will fit within that theme. You can expect things like mugs, notebooks, tote bags, water bottles, pens & pencils, magnets, candles, and more. They regularly survey their sassy gang to make sure they are finding the types of goods you want to get. Don't worry, while they sometimes work with the same partners for multiple months, you'll never get the same product twice!
September Theme – Rise & Grind
This month is all about getting that a** outta bed and hustling hard! September's goodies will help you slay the day.
Here's a closer look at the items I received in the September Smartass & Sass box:
Punch Today In The Face Hot & Cold Eye Mask – S&S
This mask will curb any headache or eyeball standing in the way of a kickass day. Microwave or freeze this gel bead mask to relieve sinus pain, puffy eyes, and stress headaches from too much peopleing.
Wake The F**k Up Tea Sample – Snarky Tea
This powerful blend contains Yerba Mate – a natural stimulant with 24 vitamins and minerals, 15 amino acids and antioxidants. Invigorate, focus, and kick some a**! Contains 2 tea bags. Tastes like: A bold black tea with hints of cinnamon and cocoa undertones.
Hustle For The Vacay Sticky Notes – S&S
Keep your eye on the prize (AKA sunny beaches and cold drinks) while you're hustling. Printed on a Post-It brand 3″ x 3″ pad. Includes 50 sheets.
This month's sticky notes are adorable! They're a reminder to think about what's at the finish line when you're killing it but have no motivation. Do it for the vacation!
Rise N Grind Coffee Scrub – Caribbrew
This coffee scrub has exfoliating and anti-inflammatory properties that improve blood flow and remove old flaky skin. Loaded with antioxidants, it prevents wrinkles, cellulite, and puffiness by tightening the skin (plus it smells great.)
In my opinion, you can never go wrong with a coffee scrub. I'm very intrigued by the fact that it prevents cellulite, because let's face it, we're real people here.
Glow Getter Highlighter Set – Yes Studio
Includes 5 glow pens in a branded see-through pouch with zip-lock closure. With a street-start slogan printed on each one, you'll be "telling it like it is" as you highlight all your notes and get busy digging those goals.
These highlighters are so fun and bright! I love the little sayings on the sides: Good Vibes Only, Slayin' It, Glow Getter, Kiss My Neon, and #GOALS.
Great Job Mug – Emily McDowell & Friends
Fact: we all need to hear this way more often, and it always feels good to hear. Because you ARE doing a f**king great job. At life. And at drinking coffee. This ceramic mug is 11 ounces, and is dishwasher and microwave safe.
I am totally gifting this mug. I think we all need a reminder that we're doing a great job!
Good In Bed Potholder – Twisted Wares
This funny and functional pot holder is perfect in any kitchen! Made of quality thick fabric, and quilted on the back. Screen printed with eco-friendly ink and large in size.
OH MY WORD. How cute is this! Breakfast in bed. Classic.
Smartass & Sass Review August 2019 – Final Thoughts
I enjoyed this month's Smartass & Sass box because it's the perfect reminder to get up, get going, and start making moves! I will say, I am very excited to start using the coffee scrub. I think it's a wonderful addition to this box, and a great self-care item to get you ready to conquer the day.
Kierra Pierre – Miss Reviews A Lot
Explore.
Save.
Enjoy!
Sign up for a free account on A Year of Boxes to receive exclusive offers, be added to our monthly mailing list, and much more! We are always adding features to improve the experience for our users, from their valuable feedback!
Join Today!