Society Socks Review April 2018
Another month means another delivery from one of my favourite sock subscriptions services. With Society Socks, you can expect top quality socks with unique designs to be delivered to your door every month for only $21 a month!
They also offer deals when you prepay for a 3, 6 or 12 month service!
The best part about it is that Society Socks is a brand that gives back, so the price you pay not only pays for the two pairs of socks you get, but it also means that two pairs of socks will be donated to charity!
Heres a closer look at this month's package…
As always you can expect to receive this cool blue packaging with the unique subtle designs posted all around it. But we're here for the socks!
Orange Bicycle Socks – $13
The first pair of socks are these bright orange socks with a grey bicycle pattern. Being a cyclist myself, these are absolutely amazing! Not only do they stand out, but they bring a lot of character to an outfit which is just what I like! These would go great with dark denim or khaki coloured chinos. They would even pair well with a grey or navy suit.
Striped Socks – $13
The second pair of socks are full of these amazing stripes! These socks are great since they're so versatile! From chinos, slacks to jeans you can pair them with just about any colour. They'd go great with brown dress shoes and even white sneakers if you're going for a more casual look.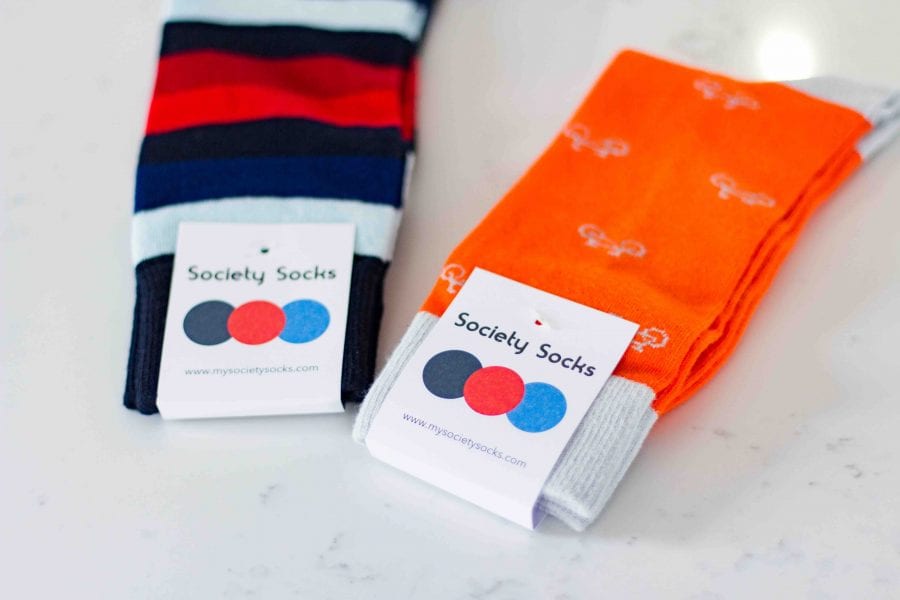 Society Socks Review April 2018 – Overall Thoughts
After wearing these socks on a daily basis, for the price and awesome designs, your truly getting a great deal! Their soft, lightweight, and by subscribing to their monthly subscription service your also contributing to a great cause! Just for that, I give Society Socks two thumbs up! And I'm sure you will too once you try a pair on!
Edward – www.instagram.com/dapperdonats
Explore.
Save.
Enjoy!
Sign up for a free account on A Year of Boxes to receive exclusive offers, be added to our monthly mailing list, and much more! We are always adding features to improve the experience for our users, from their valuable feedback!
Join Today!