Society Socks Review June 2018
It's finally feeling like summer, meaning that you can finally add those bright colours to your outfits! Now if you're in the market for some new pairs of socks to add to your wardrobe, then Society Socks has you covered! With Society Socks, you can expect top quality socks with unique designs to be delivered to your door every month for only $21 a month!
They also offer deals when you prepay for a 3, 6 or 12-month service!
The best part about it is that Society Socks is a brand that gives back, so the price you pay not only pays for the two pairs of socks you get, but it also means that two pairs of socks will be donated to charity!
Heres a closer look at this months package…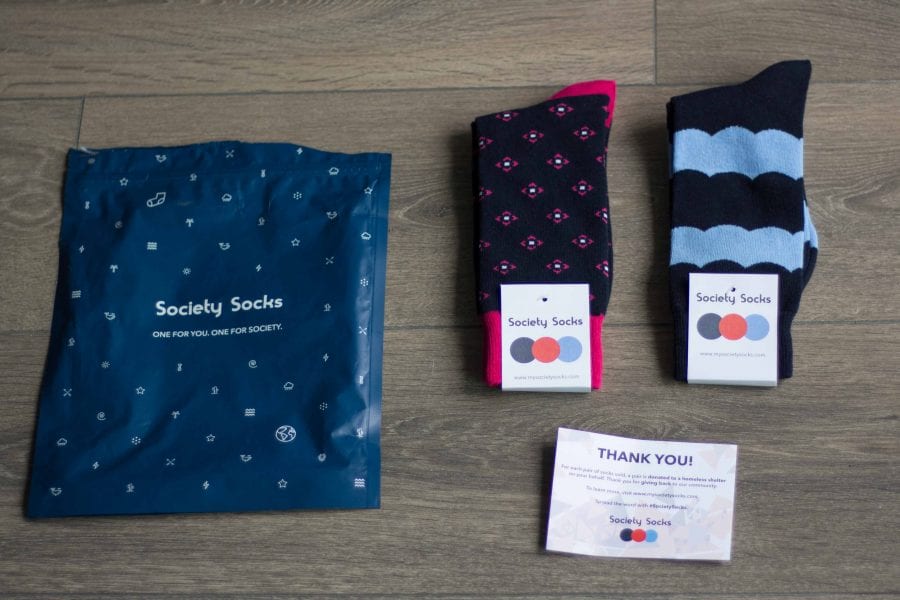 Each month you can expect to have one of these cool looking packages arrive at your door! The cool designs and subtle logo make you want to frame it and hang it on your wall! But the packaging isn't the entire reason you're reading this review, so let's get into what's inside!
Society Socks, $13
The first pair of socks is this two blue toned stripped pair which I'm absolutely in love with! The thing I like the most about it is the wave pattern which is something you don't typically see on your typical sock.
The way I would style this sock is with a light brown pair of cap-toe dress shoes with your favourite blue suit or navy chino! The two shades of blue would complement the contrast between the lighter coloured shoes with the darker shade of blue of your trousers. They would also go great with khaki chinos and even your favourite pair of blue jeans!
Society Society, $13
The second pair of socks is this navy blue pair with this amazing bright pinkish-red pattern. These socks are sure to turn heads considering how cool they look, and not to mention how well they would stand out compared to everyone else's socks in the office. Like the blue socks above, these socks are super comfortable and breathable which are perfect for the summer heat! On days I decide to walk home from the office, my feet remain comfortable and fresh by the time I get home from my hour-long walk!
The way I would style these socks are with a dark pair of loafers. Not only would they complement the sleek elegant look of the shoe, but the colours on the sock would contrast amazingly with the shoe! Go ahead and pair these shoes with a dark pair of trousers or chinos and your off to the races (or office)!
Overall Thoughts – Society Socks June 2018
Socks are a great way to express your personality and the cool and unique designs of Society Socks make expressing yourself easy! Their socks are high quality and easy to pair with any outfit. The company also goes above and beyond by donating a pair of socks to charity for every pair that is sold. So if that's not enough to make you want these socks then I don't know what is! If you're in the need to upgrade your sock game or just tired of shopping for socks than Society Socks is the way to go!
Edward – www.instagram.com/dapperdonats
Explore.
Save.
Enjoy!
Sign up for a free account on A Year of Boxes to receive exclusive offers, be added to our monthly mailing list, and much more! We are always adding features to improve the experience for our users, from their valuable feedback!
Join Today!