Sock Panda Review July 2021
Sock Panda is a monthly subscription for anyone who loves fun and unique socks. Subscribers will receive their choice of one or two pairs of socks, and Sock Panda donates a new pair of socks to those in need for every purchase. They kindly sent us this box for review.
How it Works
Select who it's for: Choose between men, women, tweens (ages 8-11), or kids (ages 3-8).
Choose a style: Select your style preference with options like Daring & Bold, Stylish & Suave, Patterns & Prints, Wild & Crazy, or boy/girl options for the tweens and kids socks.
Select how many pairs: Choose to receive either one ($13/month) or two pairs ($20/month) of socks.
Receive awesome socks: Sit back and Sock Panda will ship your socks to your doorstep!
Sock Panda designs all their socks in Venice, California. They then manufacture the socks in partnership with Indutexa S.A., a family run enterprise that prides itself on treating its workers well. Indutexa S.A. also happens to be the top sock manufacturer in Lima, Peru.
Sock Panda socks are made from a soft and high quality blend of 85% Peruvian cotton, 10% nylon, and 5% spandex. The socks have reinforced stitching on the heel and toes for added durability. I find these socks to be super comfortable and experienced no color bleeding or shrinkage of the socks with machine washing and drying with these socks.
The socks fit me really well and are just the right thickness. I wear them in both warm and cold seasons, and the fabric works well as just a lighter spring/summer sock or with my boots for the winter. The cuff is snug enough to not slide down my calf but is not too tight. I wear a size 6 shoe for reference.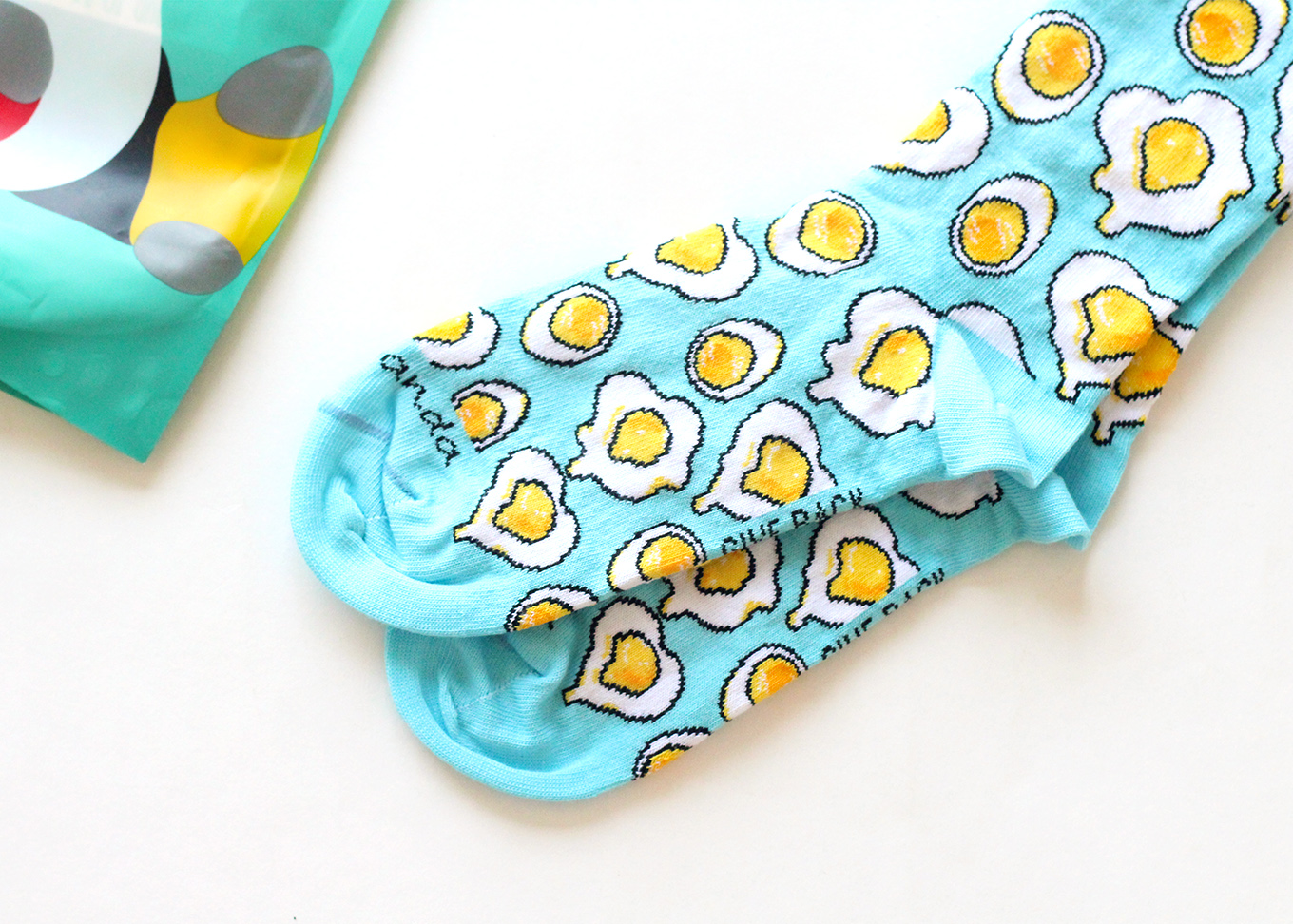 Sock Panda's mission to give back is represented on the sock label by a cute panda and a turtle. The words "Give Back" are also printed on the bottom of all the socks. To date, the company has donated over 136,000 pairs of socks to homeless shelters, low income senior centers, hospitals, and underprivileged classrooms across the country.
I got the women's two sock subscription. Generally Sock Panda includes a pair of socks with a unique print and a pair of socks that has a fun graphic. Let's take a closer look at this month's pack!
Egg Print Socks
These socks feature eggs on a bright light blue background. I don't think I am exaggerating when I say this is my favorite Sock Panda print to date. I love eggs ( a lot LOL), in fact, my favorite cartoon character is the Sanrio Lazy Egg Gudetama, so these are socks are just perfect!
Many Ways Bicycle Socks
The graphic socks this month definitely is a conversation starter with a sense of humor! It shows three guys on a tandem bicycle against a backdrop of a flower field and a sign post saying "many ways". They look like they are having such a grand time. I love it! The bright orange cuff and green heel and toe accents also really add to the design.
Sock Panda Review July 2021 – Final Thoughts
This is my favorite Sock Panda month ever! In a large part because I really love those egg socks, haha. The graphic socks are such fun too, and looking at it always brings a smile to my face. The socks are the same great quality that I have come to expect of Sock Panda too. I highly recommend this subscription. It will be such a great gift for someone who will enjoy fun and unique socks like these.
Toby & Rocket – http://www.tobyandrocket.com