Sock Panda Review November 2020
Sock Panda is a monthly subscription of fun and unique socks with a mission to give back. Subscribers will receive their choice of one or two pairs of socks, and Sock Panda donates a new pair of socks to those in need for every purchase.
This box was kindly sent to us for review.
They definitely win the prize for cutest mailing envelope ever!
How it Works
Select who it's for: Choose between men, women, tweens (ages 8-11), or kids (ages 3-8).
Choose a style: Select your style preference with options like Daring & Bold, Stylish & Suave, Patterns & Prints, Wild & Crazy, or boy/girl options for the tweens and kids socks.
Select how many pairs: Choose to receive either one ($13/month) or two pairs ($20/month) of socks.
Receive awesome socks: Sit back and Sock Panda will ship your socks to your doorstep!
Sock Panda socks are a super soft blend of 85% Peruvian cotton, 10% nylon, and 5% spandex. I have worn these socks for some months now, and find them comfortable and durable due to the reinforced stitching. The socks are also the perfect thickness and stay up well in my calves. These socks fit me well without being too tight. I wear a size 6 shoe for reference.
Sock Panda designs its socks in Venice, California. They then manufacture the socks in partnership with Indutexa S.A., a family run enterprise that prides itself on treating its workers well and is the top sock manufacturer in Lima, Peru.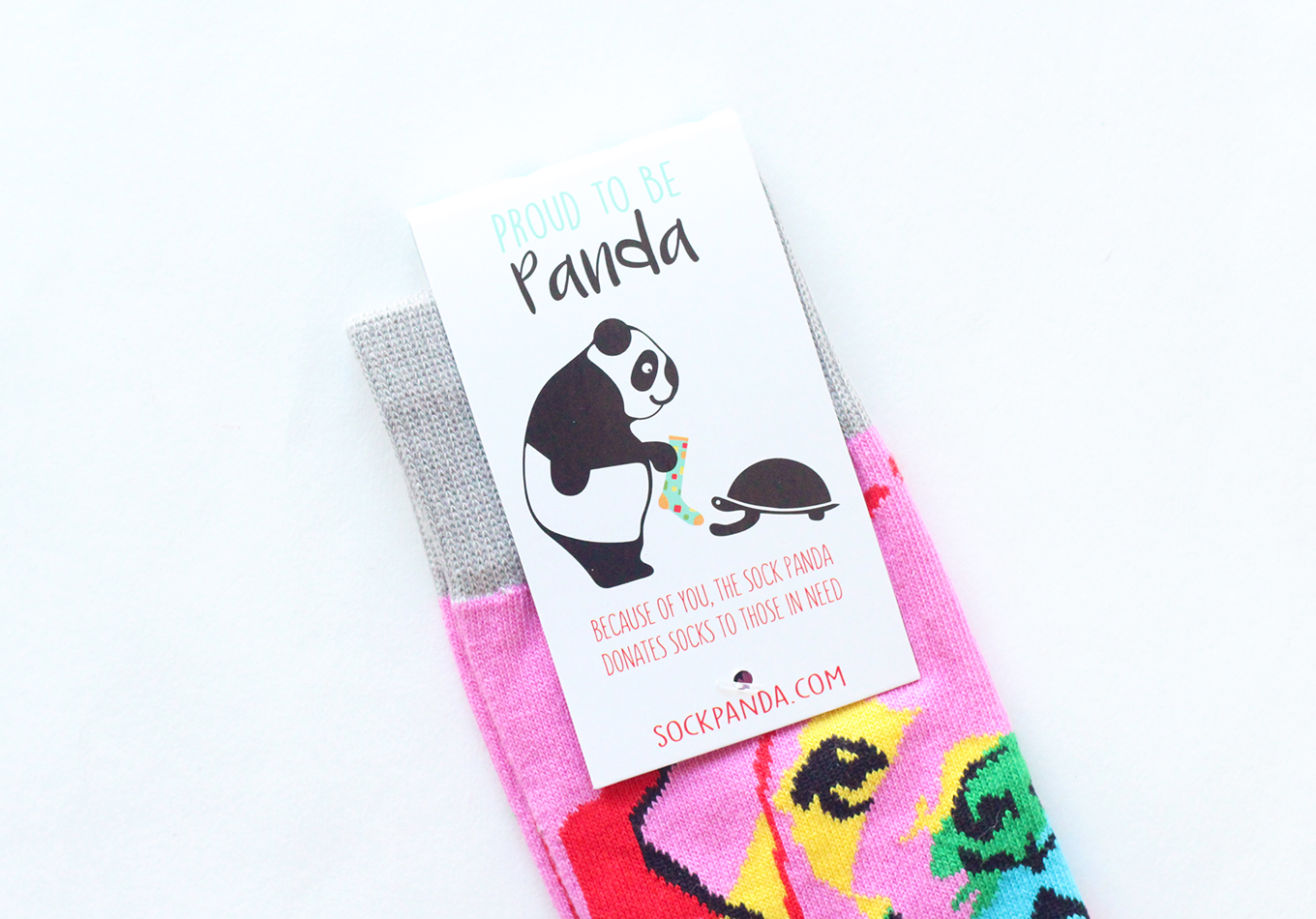 Sock Panda's mission to give back is represented on the sock label by a cute panda and a turtle. "Give Back" is also on the bottom of each sock. To date, the company has donated over 136,000 pairs of socks to homeless shelters, low income senior centers, hospitals, and underprivileged classrooms across the country.
This is a closer look at the Sock Panda women's two sock subscription. Generally the box includes a pair of socks with a unique print and a pair of socks that has a fun graphic.
First we have a pair of socks featuring super cute paw prints. I am loving all the bright happy colors that really pop on the pink background. I am a big softie for anything animal related, so these are just perfect! These are my favorite socks from them so far.
How cute are these graphic socks! I took way too long to figure out that the graphics are of two dogs. Now that I see it, I am in love. As a dog mum, anything dog related is a winner.
Sock Panda Review November 2020 – Final Thoughts
This has got to be my favorite Sock Panda box. I love anything with animals and dogs, and these are perfect! The paw prints are so fun, and the dog graphic socks are so unique. Socks like these are such a great way to add a pop of color to my otherwise neutral wardrobe. If you are looking for some unique and eye-catching socks, then look no further!
Toby & Rocket – http://www.tobyandrocket.com