SoulCraft Review August 2021
SoulCraft is a creative wellness brand; SoulCraft can be defined as an activity that is nourishing to the soul. SoulCraft can also be described as 'therapy in a box' – they specialize in Art & Craft to soothe your soul. It is a perfect subscription box to assist anyone to take some much-needed 'YOU' time that we all deserve. If you have a crafty inclination and need an excuse to carve out some 'you' time, this subscription service is for you! Each SoulCraft project is designed around a different art or craft medium and they hand-select premium materials for you to use to create each month's project.
What You Get: Each SoulCraft box contains premium materials and a detailed guide, as well as a little extra special something, (an exclusive gift) sent only to their subscribers. If you really enjoy a certain project, SoulCraft offers a 'top up your box' in their store where you can purchase additional materials for each of their projects.
Subscription Details
When you sign up for SoulCraft, you'll have three different options:
SoulCraft Monthly Auto-Renew Subscription – $35/month
SoulCraft 3-Month Subscription – $99.50/quarterly
Shipping: Boxes ship from Ontario, Canada on the 25th of each month. They ship to Canada, the US, and the UK, and shipping rates are calculated at checkout.
*They kindly sent us this SoulCraft Box for review.*
Let's take a look inside…
Here's a closer look at the items I received in this month's Print & Tranquility SoulCraft Project box:
Product Card
"Thank you So much for subscribing to the SoulCraft project box! I really hope you have as much fun making this project as I did creating it for you."
I appreciate that SoulCraft identifies that they will send you a link via email to a Project Guide (to save the trees!) and another email that will link to a guided meditation.
SoulCraft Sweet & Spicy Peach Relish
"Here's our recipe of the month, because you'll probably be hungry after crafting!"
Each month SoulCraft sends subscribers their recipe of the month. This peach relish sounds interesting but I don't think its for me. I may try my own take on it with mangoes instead.
Print & Tranquility Project Guide
"Welcome to Print & Tranquility! This PDF forms part of our Print & Tranquility project guide. The video parts of the guide can be reached by following the links. Links to our video part of this project guide are contained in this PDF and you will also find them in your email."
This month's project is for the Print & Tranquility Project. For non-subscribers, you can find it for purchase on their website as a one-time thing. Subscribers will receive an e-mail with a password to access a PDF Project Guide. The Print & Tranquility Guide was sent to my email with a special password and it was very easy to access. Within the guide are pictures and various embedded links that will take you to the process videos.
I was soo excited to see a printmaking project as I learned how to do it in university.
"Breathing" Guided Mindful Meditation
"Welcome to 'Breathing'.
Find a comfortable place to sit or lie down and enjoy our guided meditation experience.
Mindfulness is the practice of being fully present, aware of where we are, engaged in what we are doing, and not becoming distracted, reactive, or overwhelmed by things going on around us.
Our guided meditations are all secular and use evidence-based methodology for teaching mindfulness and enhancing awareness of experience.
Recorded @ SoulCraft HQ in Ontario, Canada."
This guided mindful meditation will help you to relax and unwind; such a neat idea. SoulCraft will send you an email with a password-protected guided meditation. When I listened to this meditation it reminded me to breathe and activate my parasympathetic system to calm down.
Let's take a closer look at the items for the Print & Tranquility project…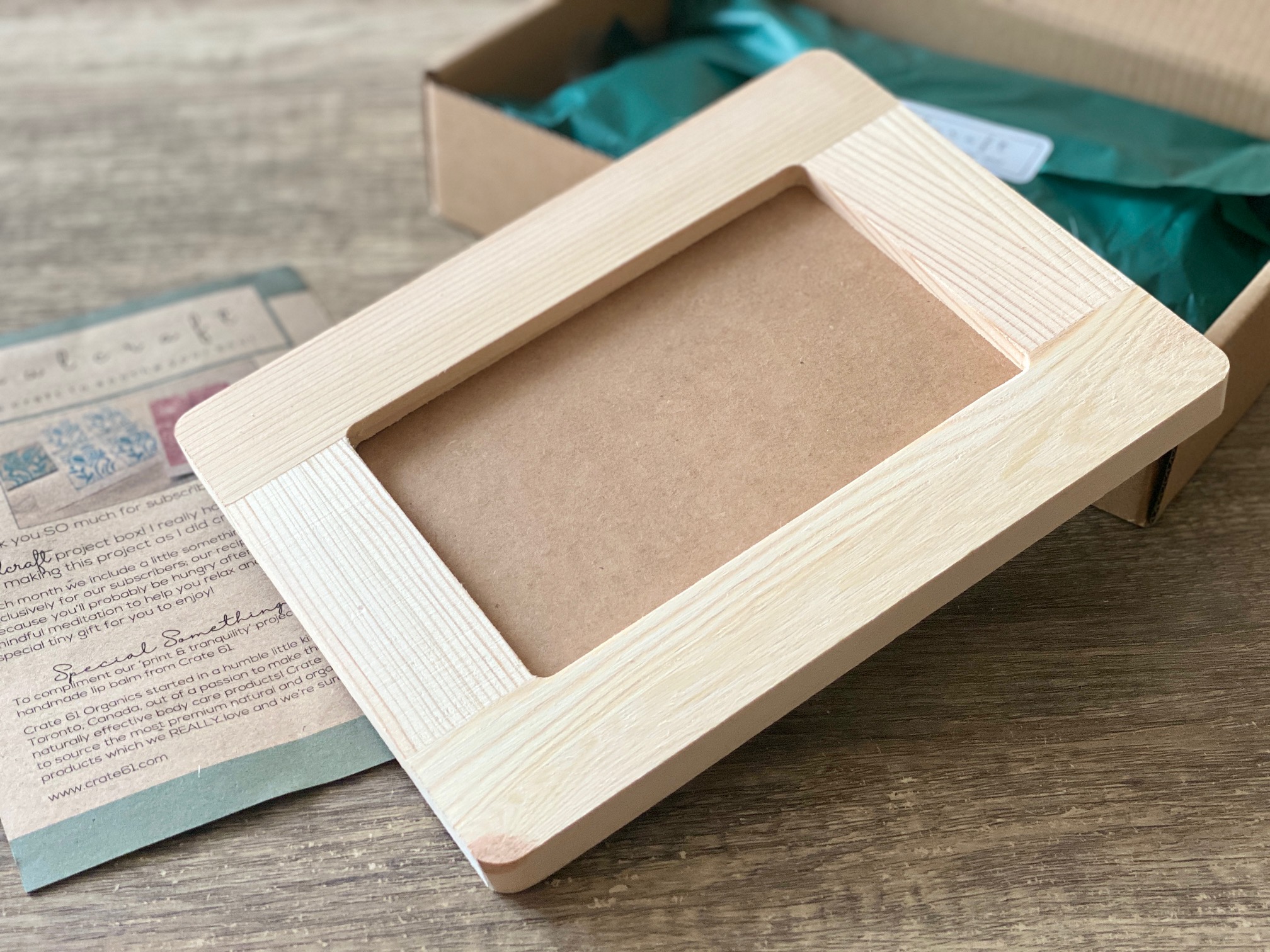 Natural Wood Frame: To display your favourite prints!
4" Ink Roller: This will be used to spread the ink.
Ink: I love that they gave us red, white and black ink!
Cutters: #1-5 with handle. Each blade will make a different cut.
Three 4×6" Soft Cut Blocks: These blocks are made of soft rubber so you can carve out your image.
Example Designs
Assorted Card Blanks & Envelopes: We were given different card blanks to print our designs on. Handy to use for a special occasion card.
Tracing paper if needed…
This Month's Special Something – Crate 61 Lip Balm
"To complement our Print & Tranquility project we've included a lovely handmade lip balm for you!
Crate 61 Organics started in a humble little kitchen in downtown Toronto, Canada, out of a passion to make the purest and most naturally effective body care products! Create 61 goes above and beyond to source the most premium natural and organic ingredients for their products which we really love and we're sure you will too!"
This is a great lip balm that provides a lot of care to my dry lips!
SoulCraft Print & Tranquility Project Box – Final Thoughts
The August SoulCraft Project box included a guide, meditation, and the materials necessary to complete the Print & Tranquility project, plus a bonus lip balm! SoulCraft will have you crafting up a storm in no time! This is my favourite SoulCraft box as I used to do printmaking in university but haven't for a long time. I cannot say enough great things about this subscription! I know this box is worth every penny and I am so impressed each month. This SoulCraft Subscription is a perfect gift for yourself or anyone else who has wanted to get creative or carve out a special time to relax and take a moment for themselves. Stitched with love…
Hayley Savanna – https://www.instagram.com/hayleysavanna/
Explore.
Save.
Enjoy!
Sign up for a free account on A Year of Boxes to receive exclusive offers, be added to our monthly mailing list, and much more! We are always adding features to improve the experience for our users, from their valuable feedback!
Join Today!