SoulCraft Review October 2021
SoulCraft is a creative wellness brand; SoulCraft can be defined as an activity that is nourishing to the soul. SoulCraft can also be described as 'therapy in a box' – they specialize in Art & Craft to soothe your soul. It is a perfect subscription box to assist anyone to take some much-needed 'YOU' time that we all deserve. If you have a crafty inclination and need an excuse to carve out some 'you' time, this subscription service is for you! Each SoulCraft project is designed around a different art or craft medium and they hand-select premium materials for you to use to create each month's project.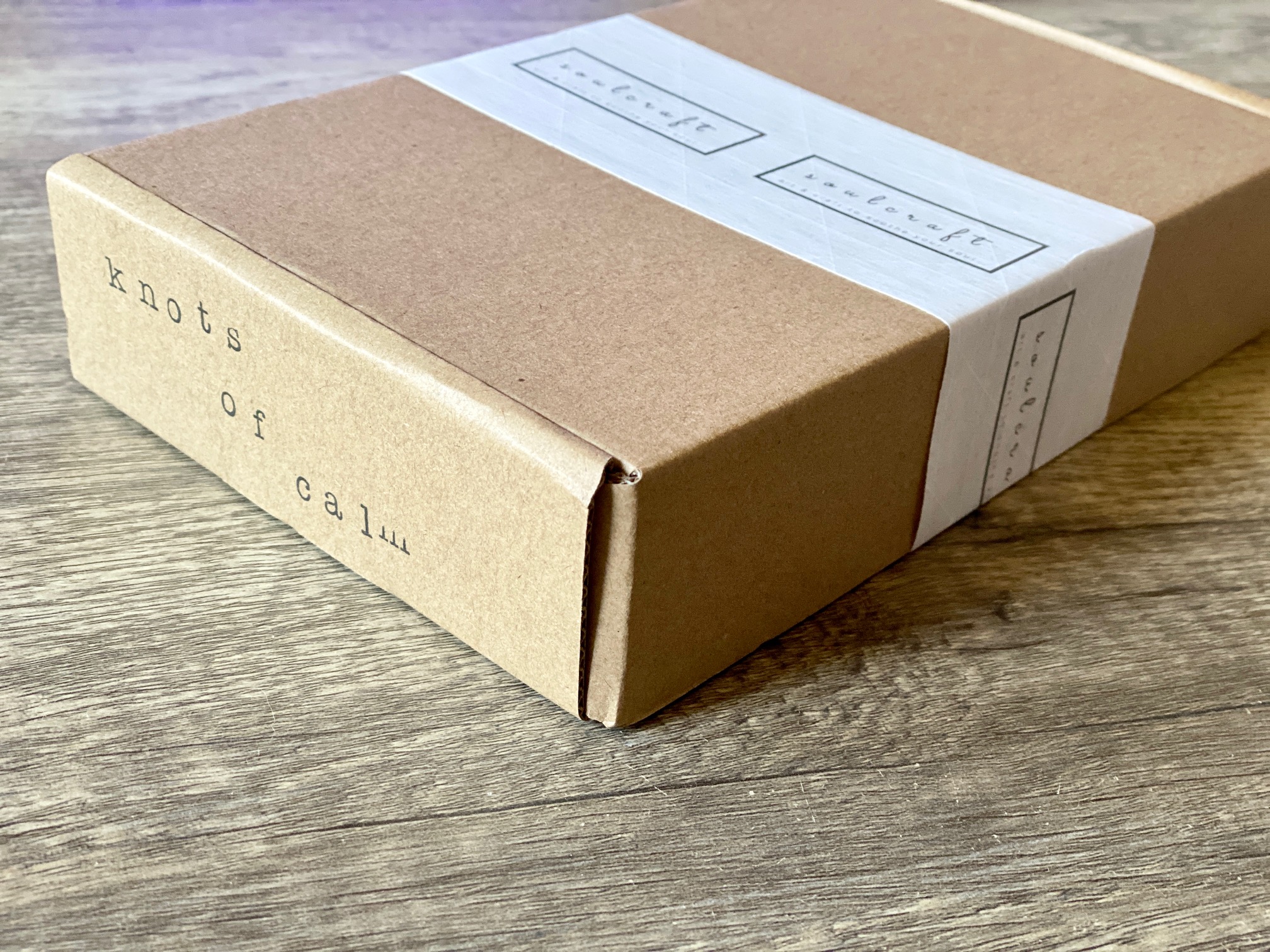 Subscription Details
Every SoulCraft project is designed around a different art or craft. Each box contains premium materials and a detailed guide, as well as a little extra special something, (an exclusive gift) sent only to subscribers. If you really enjoyed a project, they offer a 'top up your box' in their store where you can purchase additional materials for each of the projects.
*They kindly sent us this SoulCraft Box for review.*
Let's take a closer look at the items I received in this month's Knots of Calm Project box:
Product Card
"Thank you so much for subscribing to the SoulCraft project box! I really hope you have as much fun making this project as I did creating it for you."
I appreciate that SoulCraft identifies that they will send you a link via email to a Project Guide (to save the trees!) and another email that will link to a guided meditation.
Savory Cheese Scones/Tea Biscuits
"Here's our recipe of the month, because you'll probably be hungry after crafting!"
Each month SoulCraft sends subscribers their recipe of the month. I will definitely give this recipe a shot as it seems easy enough and delicious! A perfect accompaniment to soups or stews.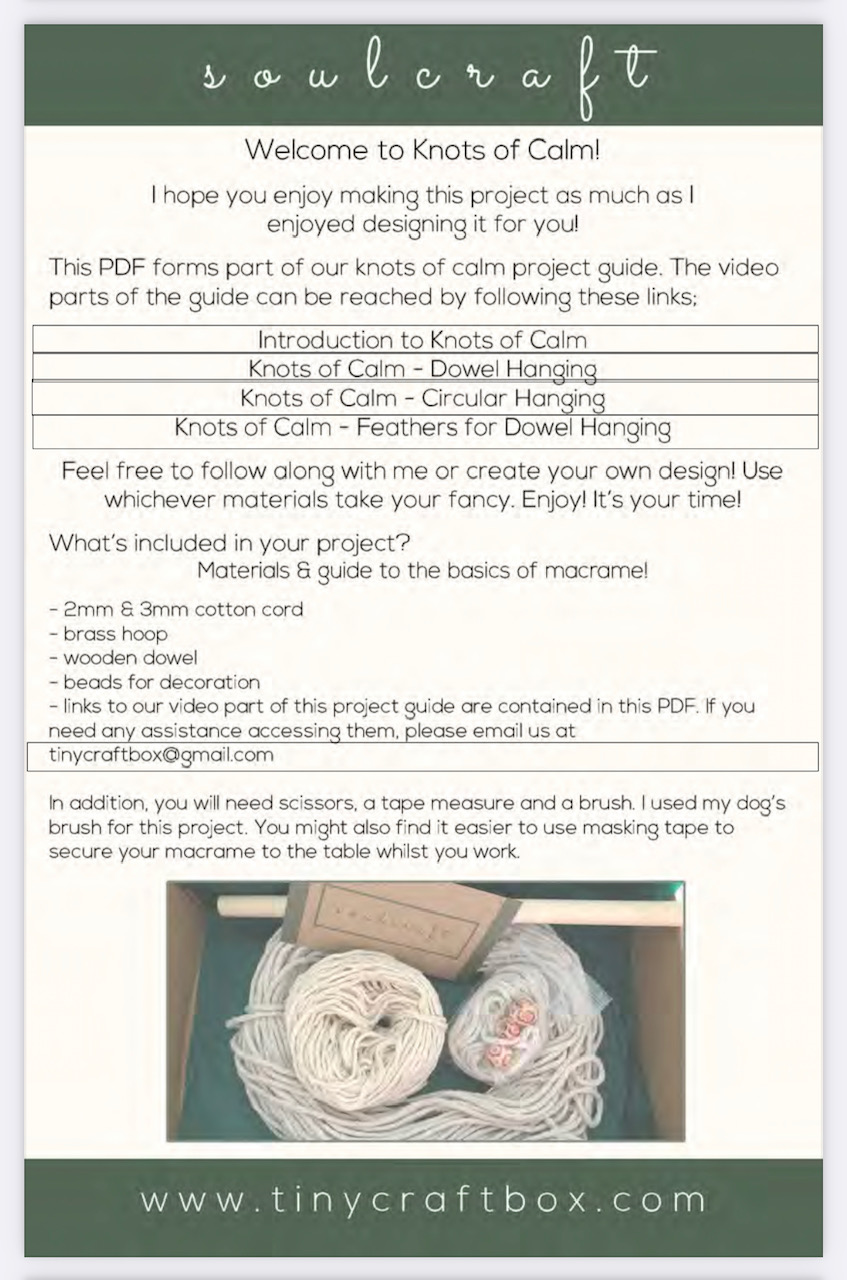 Knots of Calm Project Guide
"Welcome to Knots of Calm! This PDF forms part of our Knots of Calm project guide. The video parts of the guide can be reached by following the links. Links to our video part of this project guide are contained in this PDF and you will also find them in your email."
This month's project is Knots of Calm. For non-subscribers, you can find it for purchase on their website as a one-time thing. Subscribers will receive an email with a password to access a PDF Project Guide. The Knots of Calm Guide was sent to my email with a special password and it was very easy to access. Within the guide are pictures and various embedded links that will take you to the process videos.
I was excited to see a macrame project as I have been wanting to try my hand at it since forever!
"Calming" Guided Mindful Meditation
"Welcome to 'Calming'.
Find a comfortable place to sit or lie down and enjoy our guided meditation experience.
Mindfulness is the practice of being fully present, aware of where we are, engaged in what we are doing, and not becoming distracted, reactive, or overwhelmed by things going on around us.
Our guided meditations are all secular and use evidence-based methodology for teaching mindfulness and enhancing awareness of experience.
Recorded @ SoulCraft HQ in Ontario, Canada."
This guided calming meditation will help you to relax and unwind; such a neat feature of this box. SoulCraft will send you an email with a password-protected guided meditation. When I listened to this meditation it helped to soothe my anxious feelings and brought on a sense of calm…
Let's take a closer look at the items for the Knots of Calm Project…
2mm Cotton Cord
3mm Cotton Cord
Wooden Dowel
Brass Hoop
Beads for Decoration
Chamomile Tea
"Traditional Medicines are the pioneers of the wellness tea category in the US and Canada. Naturally caffeine-free and USDA-certified organic."
I enjoy a cup of tea when I need to unwind and am excited to try this one!
Squish Gummies: This little treat was welcomed! I love Squish gummies!
This Month's Special Something – Wild Acres Soapery Handmade Soap
"Another local Ontario business-from-home and my market buddy Jenn makes her soaps in small batches using only premium organic ingredients."
This oatmeal and honey soap was made especially for us using local honey! It smells subtle yet amazing and the oatmeal acts as an exfoliant.
SoulCraft Journal in Deep Project Box – Final Thoughts
The October SoulCraft Project box included a guide, meditation, and the materials necessary to complete the Knots of Calm project, plus bonus tea, gummies and soap! SoulCraft will have you crafting up a storm in no time! This is going to be such a fun project to tackle as I have been wanting to try macrame for ages. I cannot say enough great things about this subscription! I know this box is worth every penny and I am so impressed each month. This SoulCraft Subscription is a perfect gift for yourself or anyone else who has wanted to get creative or carve out a special time to relax and take a moment for themselves.
Hayley Savanna – https://www.instagram.com/hayleysavanna/
Explore.
Save.
Enjoy!
Sign up for a free account on A Year of Boxes to receive exclusive offers, be added to our monthly mailing list, and much more! We are always adding features to improve the experience for our users, from their valuable feedback!
Join Today!