Southern Scholar Socks Review August 2019
Southern Scholar Socks is superior dress socks and a signature style card, delivered to you monthly. A better dress sock option for today's gentlemen. They kindly sent us this box for review.
There's just something about new socks that makes me happy. Not only are they a great way to pull an outfit together, but when they are brand stinkin' new……it's like a little treat for your feet. I like to keep my sock drawer up-to-date and refreshed, so the idea of receiving a new pair of socks each month is pretty darn awesome. Southern Scholar Socks is a men's subscription, and even though I love wearing their socks myself, I share this one with my husband as it allows me to keep his sock drawer refreshed.
Subscription Details
Here's how Southern Scholar Socks subscriptions work…
Select Your Subscription: Subscribe to Southern Scholar and choose your membership level. Treat yourself or give a gift with our simple Month-to-Month option, set yourself (or lucky friend) up for easy recurring monthly subscription boxes with our 3-Month or 6-Month Prepaid Subscription options, or be prepared for the year with our Annual Subscription option.
Your Socks Are Shipped: Upon subscription confirmation, your dress socks are packaged with care and sent your way. Our style is unbeatable, and satisfaction is always 100% guaranteed. As an added bonus for the smoothest experience and as a thank you, we provide complimentary shipping.
Experience the Difference: Receive your new dress socks alongside our signature style card in every subscription box. Cherish your fresh new socks, and never wonder what to wear them with. It's more than a pair of socks to us, so we're sure to provide you with tips on how to make them match your wardrobe. Indulge in our Incredibly Soft Signature Material Blend, and get back to your important day with confidence.
Here's a closer look at the August socks…..
The Lincolns
A deep violet sock with bold white hatches. Try wearing with a light grey slack, lilac micro gingham dress shirt, and a pair of dark brown wingtips. 
I was in love with last month's socks, but I think I love these even more. The deep purple, the awesome design, the contrasting heel and toe. I am loving everything. It might also be the fact that they are giving off some serious Fall vibes.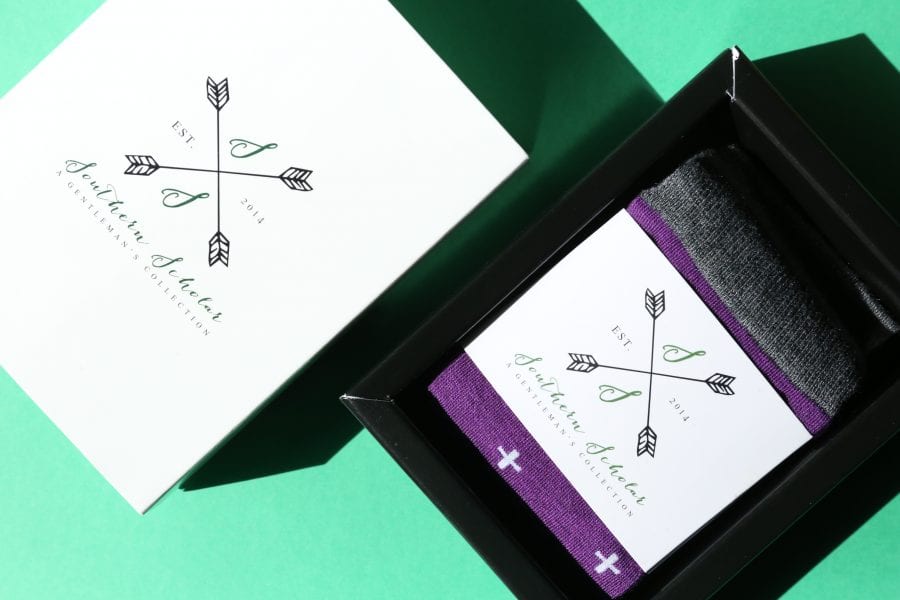 Southern Scholar Socks Review August 2019 – Final Thoughts
Southern Scholar Socks nailed it again this month. The July and August socks will go down in history as my all-time favorite socks from Southern Scholar. I am really loving the bold color this month, and when it comes to patterns, this is definitely a new fave. I've seen it before but never knew what it was called. Anyways…..I love it and I want all my socks to have this pattern.
In the market for a men's subscription? Southern Scholar Socks is definitely worth checking out.
-AYOB
Explore.
Save.
Enjoy!
Sign up for a free account on A Year of Boxes to receive exclusive offers, be added to our monthly mailing list, and much more! We are always adding features to improve the experience for our users, from their valuable feedback!
Join Today!