Southern Scholar Socks Review July 2019
Southern Scholar Socks is superior dress socks and a signature style card, delivered to you monthly. A better dress sock option for today's gentlemen. They kindly sent us this box for review.
If you are in the market for a men's sock subscription, look no further! Southern Scholar Socks is a favorite here at the AYOB office. We have been reviewing this box for quite some time and are always impressed by the quality and professionalism. In fact, I have gifted Southern Scholar Socks to a few of my and my husband's friends and I can say with 100% certainty that they have all loved them. I even get asked if I have any more from time to time. That right there should tell you a lot.
Subscription Details
Here's how Southern Scholar Socks subscriptions work…
Select Your Subscription: Subscribe to Southern Scholar and choose your membership level. Treat yourself or give a gift with our simple Month-to-Month option, set yourself (or lucky friend) up for easy recurring monthly subscription boxes with our 3-Month or 6-Month Prepaid Subscription options, or be prepared for the year with our Annual Subscription option.
Your Socks Are Shipped: Upon subscription confirmation, your dress socks are packaged with care and sent your way. Our style is unbeatable, and satisfaction is always 100% guaranteed. As an added bonus for the smoothest experience and as a thank you, we provide complimentary shipping.
Experience the Difference: Receive your new dress socks alongside our signature style card in every subscription box. Cherish your fresh new socks, and never wonder what to wear them with. It's more than a pair of socks to us, so we're sure to provide you with tips on how to make them match your wardrobe. Indulge in our Incredibly Soft Signature Material Blend, and get back to your important day with confidence.
Here's a closer look at the July socks…..
This month's patriotic delivery is titled The Old Glorys and is a proud mix of deep red and royal blue pinstripes.
Easily one of my favorite patterns/styles to date. I am in love with the color combo and the micro pinstripes. Very classic, but fun at the same time.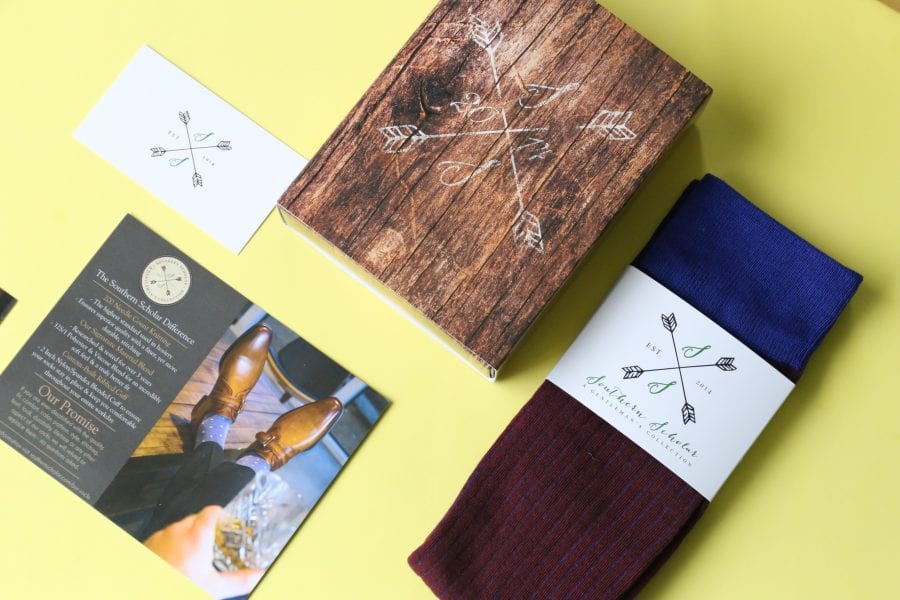 Southern Scholar Socks Review July 2019 – Final Thoughts
A salut to Southern Scholar this month for a purposeful design! I'm never disappointed when it comes to style, quality, comfort, value……you name it. And this month is no different. I love the subtle festive vibe and if I am being completely honest, these are probably my favroite Southern Scholar Socks to date. The color combo and the micro pinstripe grabbed my attention the moment I opened the box. Oh……and seeing as I am a Fall girl through and through…..I am also secretly loving the darker colors.
-AYOB
Explore.
Save.
Enjoy!
Sign up for a free account on A Year of Boxes to receive exclusive offers, be added to our monthly mailing list, and much more! We are always adding features to improve the experience for our users, from their valuable feedback!
Join Today!