Southern Scholar Socks Review July 2020
If you've been looking for dress socks that are both stylish and high quality, Southern Scholar Socks is the subscription box for you! Each month you'll receive one pair of superior dress socks and a complimentary style card delivered right to your door.
*They kindly sent us this box for review*
I was super excited to review Southern Scholar Socks as my partner loves to sport fancy and fun socks on his days off from work as a tradesperson. My stepson just turned fourteen this month (on July 1st!) and his feet are officially the same size as his Dad's. Guess who also appreciates classy, high-quality socks? (Because fashion, right?) You guessed it, he does!
Subscription Details
When you sign up for Southern Scholar Socks, you have three subscription options:
Month to Month – $15 billed monthly
6 Month Prepay – $87 billed semi-annually
12 Month Prepay – $165 billed annually
How It Works
Select Your Subscription: Choose your membership level, sit back, and start building your collection of timeless luxury dress socks.
Your Socks Are Shipped: Your new dress socks are packaged with care and sent your way with complimentary shipping, returns, and exchanges.
Feel the Difference: Receive your awesome new dress socks alongside the Signature Style Card to ensure you always look your best.
Souther Scholar Sock Features
Southern Scholar Socks are high-quality as they have dedicated the past 5 years to crafting the perfect blend of materials to deliver a truly superior sock. Each pair of socks are created with their one-of-a-kind signature material blend that utilizes a 200 needle count knitting construction process. Their socks are incredibly soft, comfortable & durable with reinforced toe & heel. They are antimicrobial, moisture-wicking & breathable (which will help with stinky feet!) They have custom-built ribbed cuffs to ensure they stay in place and keep you comfortable throughout your entire workday while adding a subtle touch of sophistication to your look.
Here's a closer look at the July Southern Scholar Socks…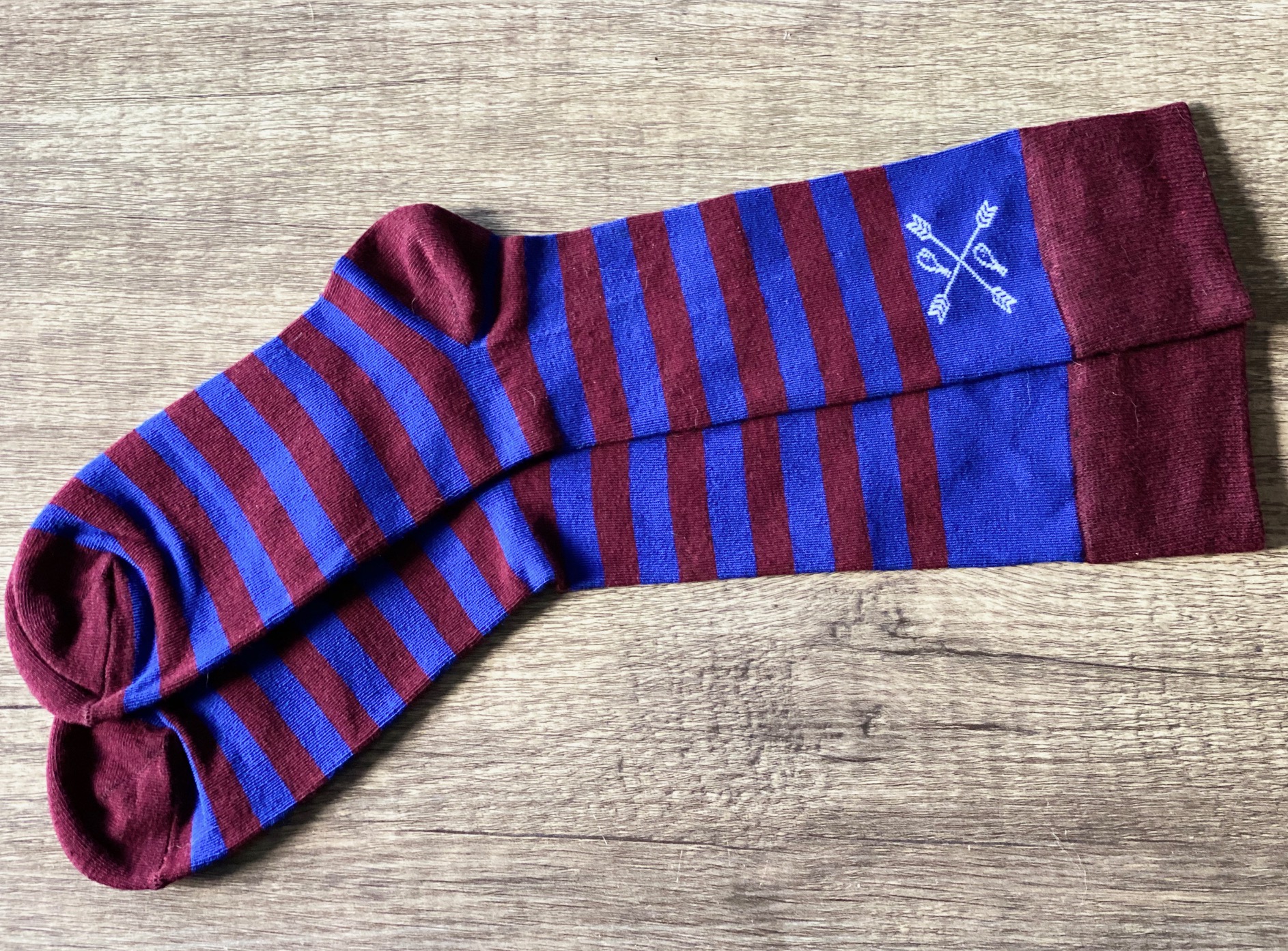 The Perfect Patriots
"The perfect summer sock featuring wide red and blue stripes. Try these with a navy or grey linen suit or slack, white dress shirt, dark brown wingtips, and a matching brown leather band watch and belt. If you're going with a navy suit, pair with a grey tie and a red pocket square. If you've opted for a grey suit, pair with a navy tie and a white pocket square to bring it all together."
Southern Scholar Socks July 2020 – Final Thoughts
July's blue and red striped Southern Scholar Socks were a real hit! They pay a nice homage to Independence Day with similar colors to the American flag. These socks are versatile and would fit any business, casual, or sporting occasion look. I love the timeless striped design with the brighter blue alternating with the deep red. Both my partner and stepson loved these socks – but my partner ended up claiming them first and already wore them golfing and to a business (socially-distanced) barbeque. These socks are super high quality, fit well, and are well made. If there's a sock lover in your life, including yourself, check out Southern Scholar Socks for the perfect gift!
Hayley Savanna – https://www.instagram.com/hayleysavanna/
Explore.
Save.
Enjoy!
Sign up for a free account on A Year of Boxes to receive exclusive offers, be added to our monthly mailing list, and much more! We are always adding features to improve the experience for our users, from their valuable feedback!
Join Today!