SprezzaBox Review April 2017
SprezzaBox is a Men's Subscription Box for the fashion conscious man who dresses both professionally and casually. SprezzaBox curates the latest fashion accessories and provides them to you at an extremely low-cost every month. They strive to keep the product mix fresh in each box so that you will always look dapper. Best of all, they partner with some amazing new companies to help you discover new brands. It's like a present to yourself every month! They kindly sent us this box for review.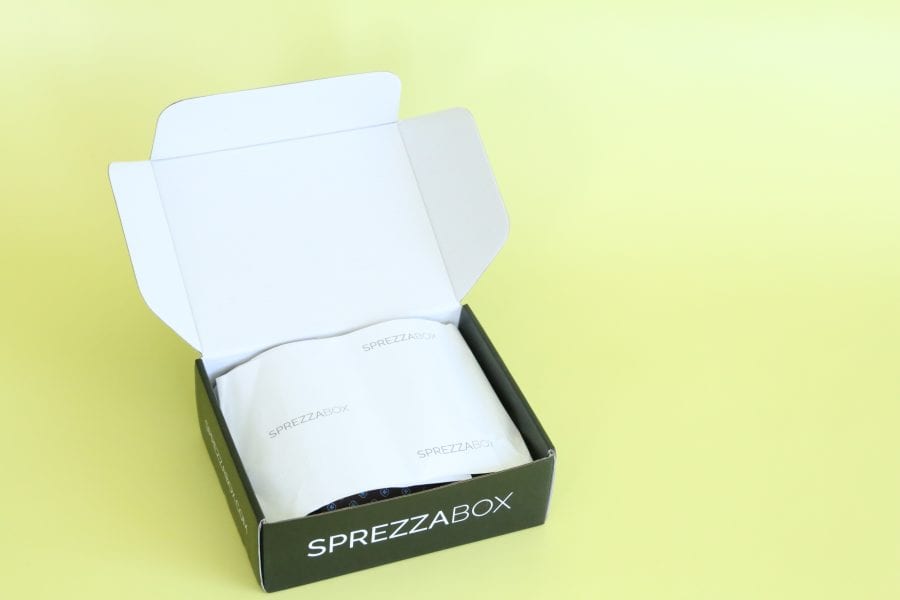 I think it's a good time to start talking about Father's Day here on AYOB. We all know how fast the month's go and Father's Day is only a couple away. I thought I should point that out because SprezzaBox makes a really great Father's Day gift. It's one of the more popular men's subscription boxes on the market and it's very reasonably priced.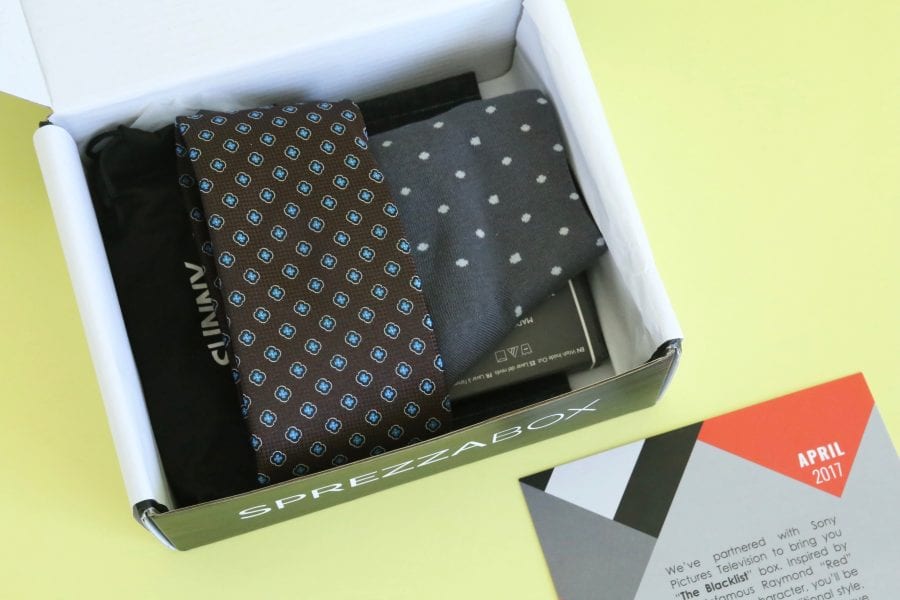 Each month the box is curated based on a theme, and this month's theme is The Blacklist.
We've partnered with Sony Pictures Television to bring you "The Blacklist" box. Inspired by the infamous Raymond "Red" Reddington character, you'll be the definition of traditional style. Classic prints and colors have made their way back and we're passing this trend on to you. 
Here's a look at the items we received this month:
SPREZZA x The Blacklist Necktie ($30)
Despite his questionable profession, the character "Red" is a man of style and class. You will often find him properly combining bold patterns with darker tones such as this essential foulard tie. This elegant neckwear can be worn with your favourite dark suit or you can pull a power move and wear just a vest.
I love the chocolate-brown/sky blue color combo of this tie. I find it to have a bit of a retro vibe going on, and it's always good to have at least a couple retro pieces in your collection.
Sunny Rebel Sunglasses ($49)
This Blacklist inspired box wouldn't be complete without a pair of aviator sunglasses. Our friends over at Sunny Rebel were happy to help out and gave us these classic dark brown shades.
Love it when subscription boxes include a pair of sunglasses. It adds value to the box, and with these ones coming in at $49 retail, they are almost double the cost of the box itself. You can't beat that! PS – You can never go wrong with aviators.
SPREZZA x The Blacklist Pocket Square ($18)
Dark pinstripes and plaids aren't only suit patterns, they make a great pocket square too. We took Red's iconic patterns and condensed them into these classic pocket squares. Pair it with a navy suit and white shirt and you'll mean business.
I forgot how much I love pinstripes. They are classic, timeless and trendy all at the same time. I also really love the dark grey/white combo.
Slate & Stone Socks ($14)
To add a little fun to the box, we partnered with Slate & Stone for these awesome polka dot socks. Complement your classiest suit and wingtips with some dots, or dress them down with chinos and Stan Smiths. These guys also make some of the comfiest clothes out there, so make sure you check them out.
These will look great paired with the grey pocket square. I think both items would compliment a navy blue suit nicely.
Cufflinks.com Tie Clip ($20)
Although we love our fun themed tie clips, a high quality silver clip is an absolute essential every gentleman should have in their wardrobe. It's a subtle accessory that can elevate any outfit and round out a complete look. If you haven't heard about cufflinks.com yet, you need to check out their massive collection of accessories.
Sometimes I prefer understated accessories and that's exactly what this is. It's a nice change from the funky tie clips we have received in the past.
Geometric Money Clip ($15)
We know you already have a wallet so how about a nice alternative for the night out? This traditional money clip will allow you to stay organized without a bulky bulge in the back.
I love this gold money clip, because….well….I love gold! It would have been ten times better if the tie clip was also gold.
SprezzaBox Review April 2017 – Final Thoughts
This months SprezzaBox has a value of $146! How amazing is that! Now do you see why I think this would make a great gift for Father's Day. It's fairly inexpensive and the value is pretty darn awesome. In regards to this month's box specifically I LOVE that we received 6 items. I feel like that adds value to the box right there. The sunglasses were a great addition seeing as Summer is right around the corner and the striped pocket square is one of my favourites thus far. I would have been more excited if the tie, pocket square and socks all went together but I'm certainly not complaining. The tie can easily be worn with items from previous boxes as can the pocket square and socks.
XOXO