SprezzaBox Review August 2017
SprezzaBox is a Men's Subscription Box for the fashion conscious man who dresses both professionally and casually. SprezzaBox curates the latest fashion accessories and provides them to you at an extremely low-cost every month. They strive to keep the product mix fresh in each box so that you will always look dapper. Best of all, they partner with some amazing new companies to help you discover new brands. It's like a present to yourself every month! They kindly sent us this box for review. 
August Theme – The Lafayette
August already? It is hot as heck outside but make sure you stay as chill as a cucumber this month. Lightweight cotton and floral products are waiting for you inside this box along with some other cool products for you to enjoy.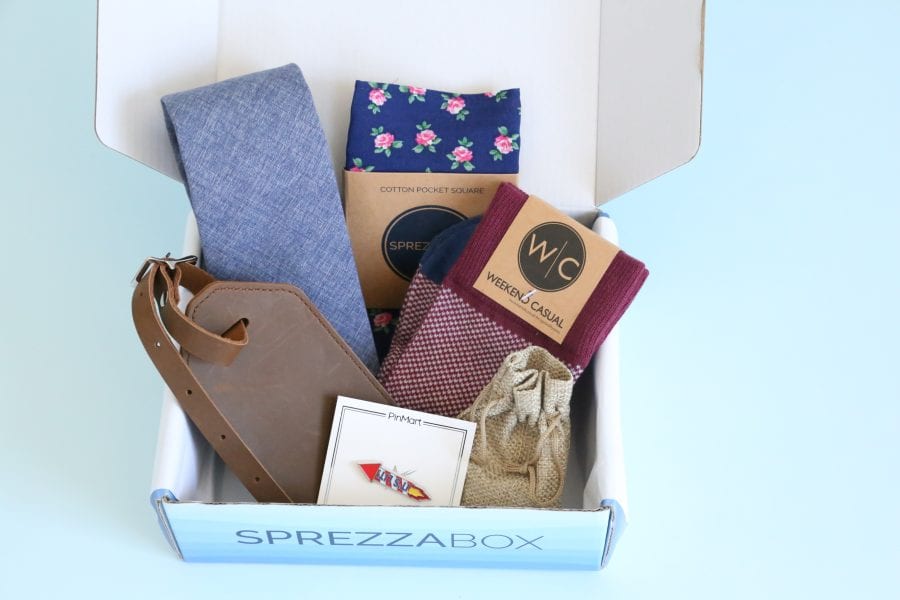 Here's a closer look at the items we received in the August box…..
Weekend Casual Socks ($10)
Weekend Casual came through big time with these matching custom socks. At a distance they look like ordinary solid socks…..but if you look closely, there's a micro houndstooth pattern. It's all about the details (literally).
If I was shopping for socks, this is the pair that would catch my eye. I love that they have a bit of a fall vibe and I really love the color combo.
Penguin Necktie ($55)
You've hear it before, but no Summer wardrobe would be complete without a chambray tie. We went to none other than Penguin for guidance, since no one does it better. This tie is solid in color and texture so you can wear it with literally anything, making it an extremely versatile accessory. Dress it up with a navy suit or dress it down with a plaid shirt and denim.
Chambray is my favourite. It's classy, trendy and versatile. This tie will go with so many different colors and patterns. It's the perfect addition to any tie collection. It's a tie that every man should have.
SPREZZA Pocket Square ($18)
With Fall right around the corner, we're going to sorely miss the floral Summer prints. As a compromise we combined the two into this fun, extra soft pocket square. The darker tonal base and its lighter fun pattern make this little guy wearable all year round.
SprezzaBox couldn't have picked out a better pocket square. I absolutely love the way this one complements the tie and the socks. This is one of my favourite combos from SprezzaBox to date.
Lawrence Hunt Tie Clip ($20)
Remember that awesome gift card from July's box with the fantastic deal on Lawrence Hunt performance dress shirts? Well, we think this paper clip tie bar will pair nicely with one of them. We're big fans of fun and quirky tie clips, in case you haven't noticed already.
Not only is this tie clip super fun but it is also unique, it goes with the other items in the box perfectly, and it has a back to school vibe. It checks all the boxes.
Modern Made Man Luggage Tag ($15)
If you're looking to do some traveling this year, we've got you covered. We've partnered with Modern Made Man to bring you this high quality leather luggage tag. It'll last you a lifetime and best of all, it'll exponentially increase the odds of you not losing your luggage.
Classic and rugged. The perfect item for a men's subscription box if you ask me.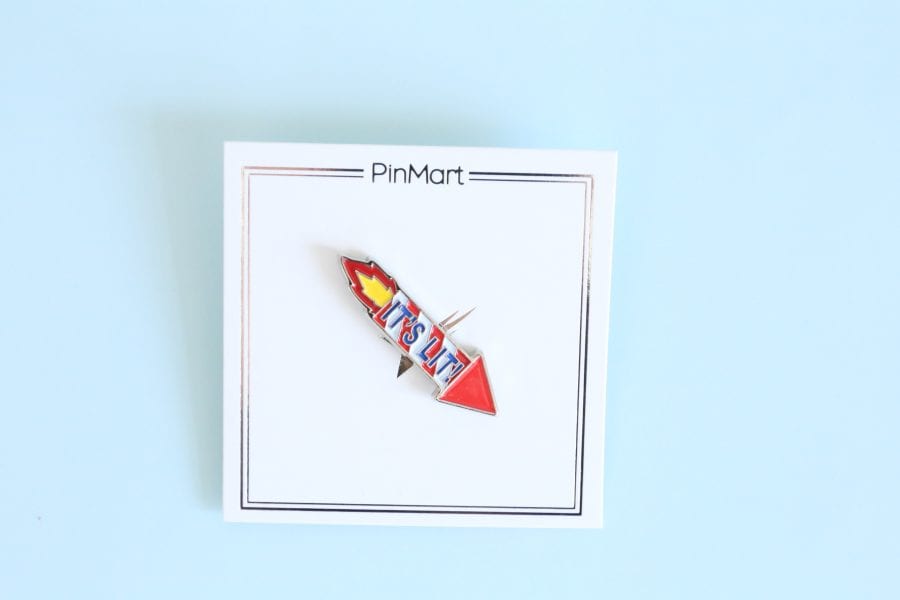 PinMart Enamel Pin ($7)
If you haven't noticed, there's a new trend that's taking the fashion world by storm, and it's in the form of enamel pins! We decided to jump on the bandwagon so we linked up with PinMart who hooked us up with this awesome "It's Lit" pin, which is what all the kids are saying these days.
I love that SprezzaBox jumped on the enamel pin trend. It shows that they pay attention and put thought into the items they include for us each month. But that should come as no surprise……
SprezzaBox Review August 2017 – Final Thoughts
SprezzaBox did a phenomenal job this month! I thought I liked the July box but the August box is even better. The color combo this month is giving off some Fall vibes but it's still appropriate for Summer. The luggage tag is a classic accessory while the enamel pin is in line with current trends. The August SprezzaBox has it going on. It's definitely one of the best boxes we have received from Sprezza thus far. But…..I feel like I have said that before. It's almost time to start thinking about Christmas gifts and I strongly suggest keeping this one on your radar for the men on your list. It's definitely a favourite and always has been.
XOXO