SprezzaBox Review August 2020
SprezzaBox is a monthly men's subscription service curated by a team of expert stylists. Every box contains essential men's accessories and is delivered straight to your doorstep. Typical products include ties, socks, pocket squares and other lifestyle and grooming items. Each month, you'll have the option to choose which box you like! They kindly sent us this box for review.
Subscription Details
Here's a little more info on how SprezzaBox subscriptions work…
Sign Up: Choose a monthly or prepaid plan, then checkout.
Select Your Box: After checkout, pick from several options of curated goods.
Sit Back and Relax: Your shipment is on the way! New boxes are available each month.
When you sign up for a new subscription, you will receive an option to select your box after payment. Every month after you are billed, you will receive an email to select your box. Follow the unique link and choose for your monthly options! If you do not choose, a box will be selected for you. It will be a brand new box, so don't worry about receiving any duplicates!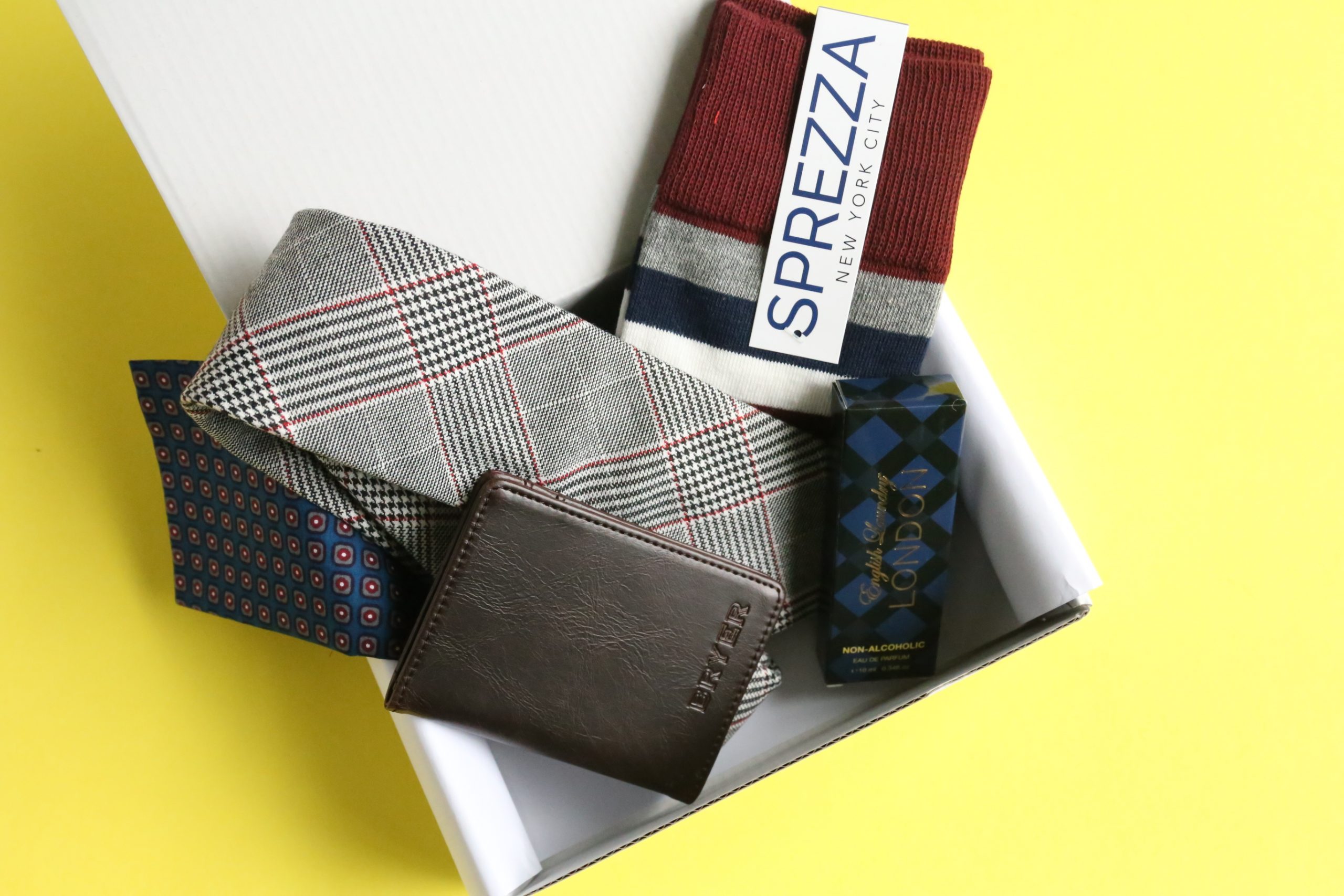 Here's a closer look at the SprezzaBox we chose this month…..
Bedford & Broom Necktie
This grey and red plaid necktie screams fall! Well it does to me at least. Maybe it's because I'm counting down the days until September is here. Either way, this is a great tie for the seasonal transition. Also perfect for Winter, and I am loving the classic plaid pattern.
Howard Matthew Pocket Square
This navy and maroon pocket square matches the tie just enough. It's on the verge of not matching but I actually quite like how the two look together.
Bryer Wallet
We received a wallet in our July SprezzaBox but I am more than happy to receive another one. I actually chose this month's box with the wallet in mind. I like the idea of having a backup on hand for my husband.
London English Laundry Cologne
It's not often we receive cologne in our men's subscription boxes so this feels like a special treat. It has notes of blackberries, bergamot, ambergris, and oak-moss blend and the size is perfect for the husband's travel bag.
Sprezza Socks
I just LOVE how these socks bring the tie and the pocket square together. They pull grey from the tie and navy from the pocket square. With maroon being the element that they all share in common.
SprezzaBox Review August 2020 – Final Thoughts
As much as I love the lifestyle boxes from SprezzaBox I also appreciate their signature box styles including ties, socks and pocket squares. The husband doesn't wear ties often but when he does I like for him to have a fun selection. The socks are a no-brainer as he wears patterned socks often and the ones we received this month are definitely a favorite. I feel like we received incredible value this month and am extremely happy with all the items.
-AYOB Sarah