SprezzaBox Review December 2016
SprezzaBox is a Men's Subscription Box for the fashion conscious man who dresses both professionally and casually. SprezzaBox curates the latest fashion accessories and provides them to you at an extremely low-cost every month. They strive to keep the product mix fresh in each box so that you will always look dapper. Best of all, they partner with some amazing new companies to help you discover new brands. It's like a present to yourself every month! This box was provided complimentary for review and may include affiliate links.
SprezzaBox impresses me month after month. They really stepped things up at the beginning of this year and kept the momentum going all year long. I had a quick look at the items in this month's box, and one thing is for sure, they are finishing things off with a bang.
December Theme
The December SprezzaBox is titled "The Essex". They talk about the fact that 2016 has been great, a crazy and fun year, and it wouldn't have been the same without their amazing subscribers. And boy are they right, it has been a great year, as I mentioned above. SprezzaBox really made a name for themselves this year and I can't wait to see what they have in store for 2017.
Knots Apparel Co. Necktie
You may have noticed more and more sport coats with a speckled texture embedded in the fabric lately. Well, there's a simple explanation behind that….it's a dope ass pattern. We've partnered with Knots Apparel to put together an awesome blended speckled tie that compliments any tweed, wool, or flannel suit. Also, half the proceeds of their ties go to a generous charity with a noble cause. 
Yup……love this speckled pattern! It's old school and trendy at the same time, just the way I like it. It's so different from any other tie I have received.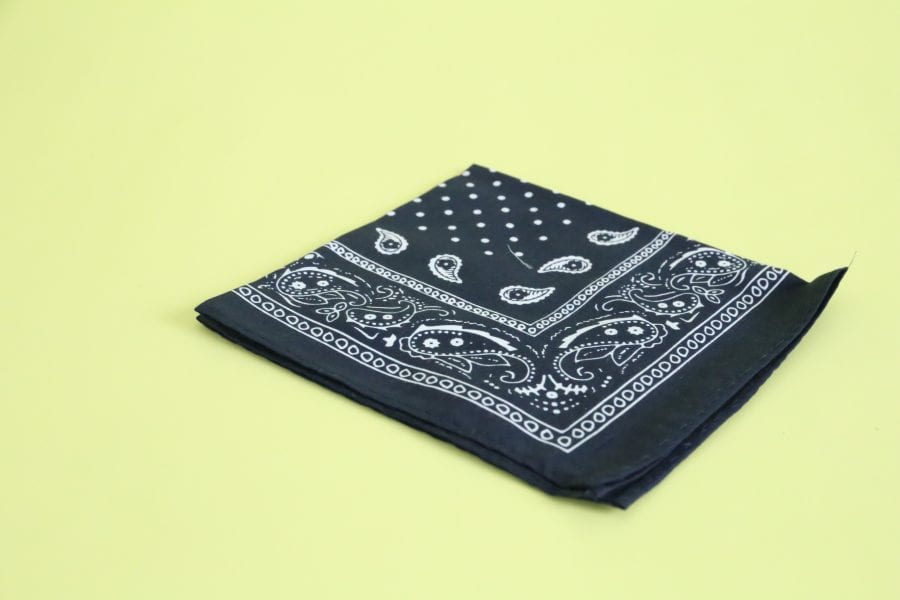 Salt + Dapper Pocket Square
We never really saw it coming…..but the bandana is back! You don't have to be in a biker gang or be the stereotypical antagonist from your favourite 80's sitcom to rock one. To make this item useful for your wardrobe, we shrunk it down to pocket square size and asked S+D to make them really soft. 
Wow, I never saw this coming either. This is kind of awesome! I LOVE the 80's vibe. I never would have thought of a bandana as a pocket square, but now that I see it in front of me I am kind of loving it.
Four Fifty Five Socks
Cold weather? Have no fear. These boot socks will keep those toes of yours nice and toasty. With a pair of brown boots and your favourite pair of cuffed dark denim, you're going to be looking good all Winter. Four Fifty Five killed the cable knit texture and has a ton of other great products for sale on their website. 
These are pretty freakin' awesome. I kind of want to keep them for myself. I wonder if they will fit. SprezzaBox is killing it this month with the patterns and textures.
Kiko Leather Cord Holder
Sick and tired of headphones tangling? Check this out…..a piece of genuine leather and a snap clasp ingeniously engineered to save your life. Fold up your headphones neatly and wrap this product around them. Kiko makes an array of other leather goods that are pretty nifty. 
I have received one of these before and speak from experience when I say they are awesome. You all know how much I love my headphones, and that I keep a pair with me at all times. This little cord holder keeps my earbuds tangle free while in my purse.
SPREZZA Credit Card Multi-Tool
Not everyone carries a toolbox with them…..or do you? Weirdo. Anyways, this handy credit card thingy has 11 different tools at your disposal (it's true, we even counted)! With its slick design, it can even fit in the smallest of wallets. 
Such a handy little tool. I love gadgets like this. And if I love it,  I can only imagine how much the men are going to love it.
Classic Pocket Flask
We'll make it quick. It's cold in the winter. You can put liquid in this pocket flask. Warm up your insides.
I don't even drink and I am excited about this last item. Pocket flasks really are the perfect product for a Men's Lifestyle Subscription Box. I'm surprised I don't receive them more often.
SprezzaBox Review December 2016 – Final Thoughts
Yes! This is what I am talking about. The December SprezzaBox is perfection. It's manly, it's a little bit old school, it has an 80's vibe, and it includes some pretty awesome products. This is easily my favourite SprezzaBox. We received 6 items and NONE of them are samples. The value of this month's box is $147. That is craziness. Talk about going out with a bang…..
XOXO