SprezzaBox Review February 2017
SprezzaBox is a Men's Subscription Box for the fashion conscious man who dresses both professionally and casually. SprezzaBox curates the latest fashion accessories and provides them to you at an extremely low-cost every month. They strive to keep the product mix fresh in each box so that you will always look dapper. Best of all, they partner with some amazing new companies to help you discover new brands. It's like a present to yourself every month! They kindly sent us this box for review. 
Ohhh….something exciting is going on this month! My SprezzaBox showed up in a bubble mailer rather than the regular box. This could only mean one thing….there's something inside that wouldn't fit in the box. Or maybe it's just a really fun theme that called for different packaging. Either way, I am super excited!
February Theme
This month's SprezzaBox is titled "The Vanderbilt". Here's what the product card says:
As a nod to the Golden Age of Travel that birthed the iconic Grand Central Station, we're proud to present The Vanderbilt. This travel-themed box is a first-class experience in style and comfort. Whichever mode of transportation you choose, take along this SprezzaBox collection for a smoother and more stylish ride. Enjoy the journey!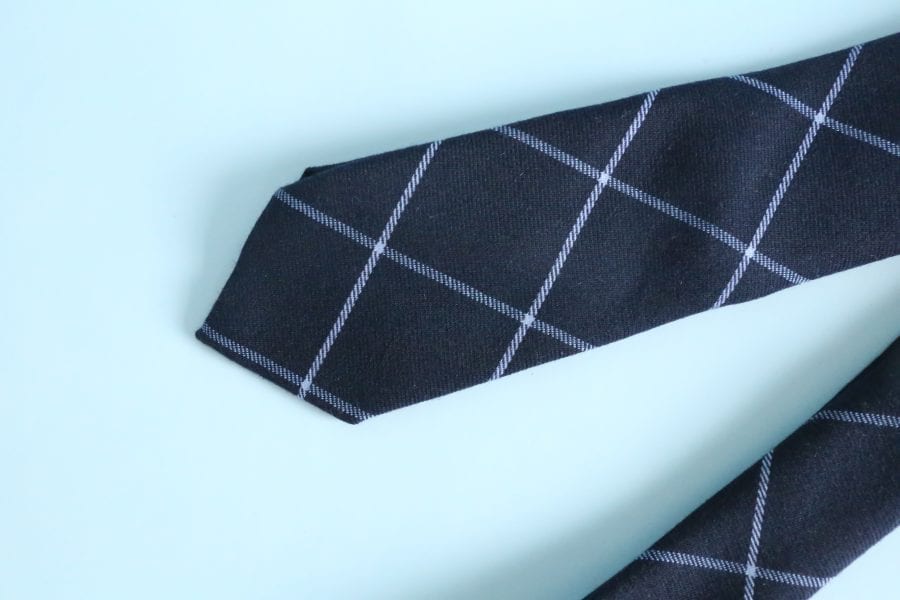 Cotton Brew Necktie
We're happy to partner with our friends at Cotton Brew for a SprezzaBox first – the windowpane tie! The subtle lines make a strong fashion statement without overdoing it. Pair this classy number with a sharp white dress shirt and ace that next job interview. This is your window of opportunity. 
At first I couldn't decided if this month's tie was black or navy. Then I realized it's just a really dark navy. I would almost prefer for it to be a tad lighter, but that's probably because I am loving navy right now, especially when it comes to suite accessories. And I want navy to look like navy. I think it is the perfect transition color for Winter to Spring.
Brooklyn Wolf Pocket Sqaure
Empty pockets are no fun. Give that light blazer a pop with this navy pocket square from the good folks at Brooklyn Wolf. Also, be sure to check out their website for a helpful guide of better-fitting trousers. 
I am absolutely loving this pocket square! The pattern, the color combo and the material. I feel like it has a bit of an old school vibe going on, but trendy at the same time.
SPREZZA Travel Case
Presentation is everything. Rather than fumbling to find your passport, IDs and cell phone, pull it together with this travel case. You'll stand out as a professional and dapper man who's really going places. No animals were harmed in the making of this product. 
Here it is! The fun item. I am guessing this is why we received a bubble mailer this month? This is such a cool idea. I love receiving items like this. I kind of want to keep it for myself. Is that wrong? It's pretty simple inside, with one pocket and a strap for charger or ear buds. I would definitely get use out of this.
Sleep Saintly Travel Pillow
Falling asleep on a stranger's shoulder is so last season. Next time you're sky-high, bring this inflatable travel pillow to help you sleep like an angel. This cushion will keep you in a heavenly place and most certainly in your neighbour's good graces. Then let the air out and save storage space in your bag.
The theme this month is pretty fun, and so is this travel pillow. I have seen these before and always loved the idea of them. The BF travels for work all the time, he might love this. And if he doesn't, my Dad might. He also travels for work. Just a good item all around.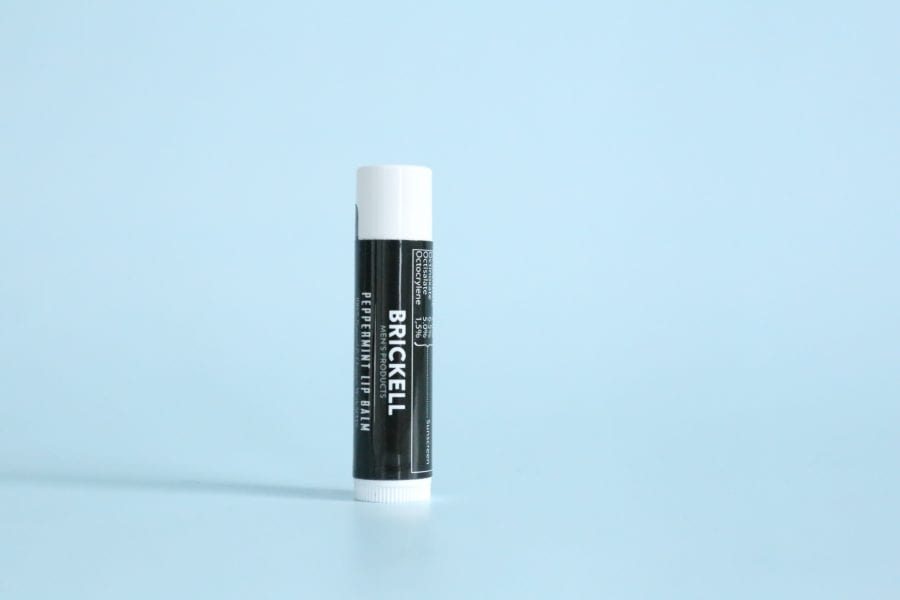 Brickell Men's Lip Balm
After returning from that long business trip, you'll want to pucker up with that special someone. Get those lips ready with Brickell Men's Lip Balm. This peppermint balm with SPF sunscreen is a perfect travel companion all year round. 
Lip balm is always a good idea. Really it is. I have never met a lip balm I didn't like.
Travel Grooming Kit
Save the Wolverine hands for Halloween. Put your best hand forward with this Travel Grooming Kit. This compact set fits nicely in your laptop bag or carry-on luggage for the perfect on-the-go maintenance. 
Love, love, love this!! Perfect for traveling and at home. This little kit is a necessity, and sometimes I like those kind of items the best.
SprezzaBox Review February 2017
Once again I am in love with my SprezzaBox. They nailed it last month, and again this month. I love that they mixed it up again and included some "out of the box" kind of items. Get it……out of the box…..bubble mailer…….unique items……should I keep going? I don't even have to look up the cost of each item to know the value is there. If you are looking for a Men's Subscription Box you really can't go wrong with SprezzaBox. They have been on fire since the beginning of 2016, and I don't see them slowing down anytime soon.
Question: What do you think of the theme for this month's SprezzaBox?
XOXO