SprezzaBox Review January 2017
SprezzaBox is a Men's Subscription Box for the fashion conscious man who dresses both professionally and casually. SprezzaBox curates the latest fashion accessories and provides them to you at an extremely low-cost every month. They strive to keep the product mix fresh in each box so that you will always look dapper. Best of all, they partner with some amazing new companies to help you discover new brands. It's like a present to yourself every month! They kindly sent me this box for review. 
You are all probably very familiar with SprezzaBox by now. It's one of the boxes I review every month. And it's probably one of the most popular Men's Subscription boxes on the market. They have definitely made a name for themselves. 2016 was an amazing year for them. They really came into their own. I can't wait to see what they have in store for us this year.
January Theme
The January SprezzaBox is called "The Kent". The product card talks about the New Year, and that this box will help us charge into 2017. In this box we will find all the tools we need for a great workout plus a few stylish accessories as per usual. Let's have a closer look:
Twillory Necktie
Did you know the zigzag pattern is called herringbone because it resembles the bone structure of a herring fish? This classic tie from our friends at Twillory goes swimmingly with all types of looks. Feel confident in the bathroom or dress it down for a Sunday matinee. In lieu of a silk tie during the chilly months, go with this wool one to add some warmth to your neck and chest.
This is so old school, but so awesome at the same time. It reminds me of something my Grandpa would have worn, yet it is still so darn stylish. Herringbone is classic, as is wool.
Bedford & Broome Performance Socks
Listen here guys. Stop treating your feet like an afterthought. Your feet deserve better. These performance socks are designed to be paired with dress shoes or athletic wear and we're confident they will help you perform your best. Enjoy the extra padding on the toe and heel along with the compression around the foot. Since we kept the tie a classic color, we decided to go fun and bright with the socks.
I'm not a fan of orange, at all, but I am loving this color combo! It's bright and fun. I love that they went with a performance sock this month. And I love that they can also be worn with a suit. Multi-tasking at it's finest.
Thread Etiquette Anchor Bracelet
Ever feel like something's missing from your wardrobe? A little jewelry like this stainless steel and nylon anchor bracelet is the perfect finishing touch to all that dapperness you're working with. Haul this brand around your wrist and set sail in style. Make waves, fellas, make waves!
Men's bracelets are a lot more popular than I thought. The BF has even jumped on the trend, and I never thought that would happen. This one fits with the theme because it will look great with casual gear, and dressy ensembles.
Smart Req Armband
While you're strengthening your core, don't let the workout be a bore. This sleek armband holds your cell phone safely in place, giving you easy access to your favourite music and podcasts. Make an energetic playlist to stay fuelled during the toughest parts of your exercise. And before heading out on your morning run, download a running app to measure your distance and results.
Ya they did! This is awesome. I get so excited to see items like this in my subscription boxes; items I haven't yet seen in other boxes. We just got the BF an iPhone 6 Plus, a much needed upgrade from his old phone, so this will come in handy.
HyperGo Sports Wipes
After a hard workout or even just a hot day in the sun, a proper shower can sometimes be hours away. No need to carry all that sweat home with you. Give yourself a little boost of freshness with these sports wipes, made from simple, healthy ingredients. A good rule of thumb is to wipe from the top down.
Travel wipes are always a good idea. Perfect to keep in the car, your gym bag, or your travel bag.
Sprezza Water Bottle
A big part of looking your personal best is making sure you're drinking plenty of water. Drinking more water can improve your skin complexion, promote weight lost, and flush toxins. Remember to take this lightweight and foldable water bottle with you throughout the day. You can also attach the bottle to your gym bag as a reminder to stay hydrated before, during and after your workout.
This is such a cool idea. It's not the most expensive item, $4 to be exact, but a cool item nonetheless. It fits with the theme perfectly, and it's another item I've never received before. Bonus points for that.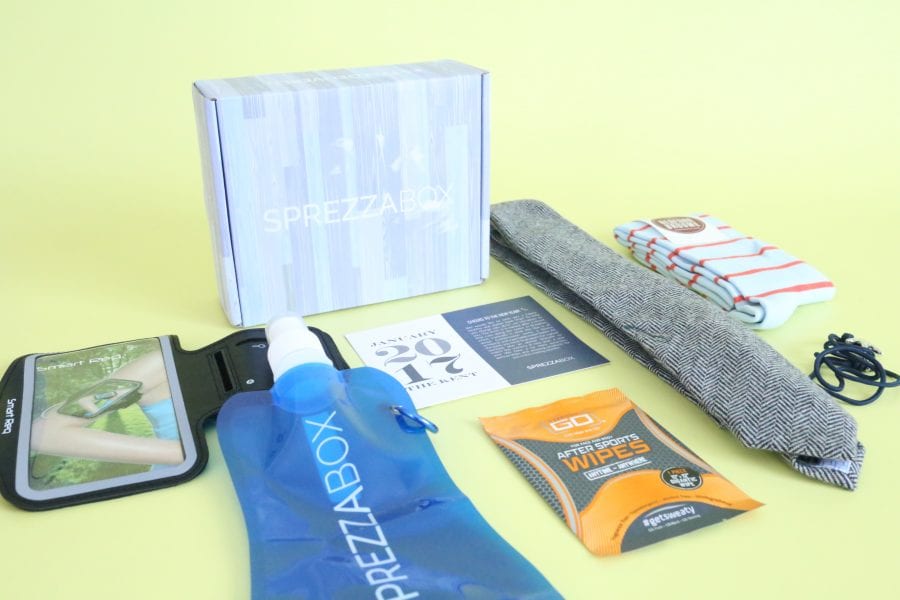 SprezzaBox Review January 2017 – Final Thoughts
Wow, wow, wow. What a cool box. That's the best way I can describe it; cool. I LOVE the fitness theme. It's a big contrast from the usual items (suit accessories) but at the same time they fit together perfectly. SprezzaBox impresses me month after month. And for this month specifically, I would say they take the #1 spot on the men's subscription box list. What are they going to come up with next?
XOXO