SprezzaBox Review July 2017
SprezzaBox is a Men's Subscription Box for the fashion conscious man who dresses both professionally and casually. SprezzaBox curates the latest fashion accessories and provides them to you at an extremely low-cost every month. They strive to keep the product mix fresh in each box so that you will always look dapper. Best of all, they partner with some amazing new companies to help you discover new brands. It's like a present to yourself every month! They kindly sent us this box for review.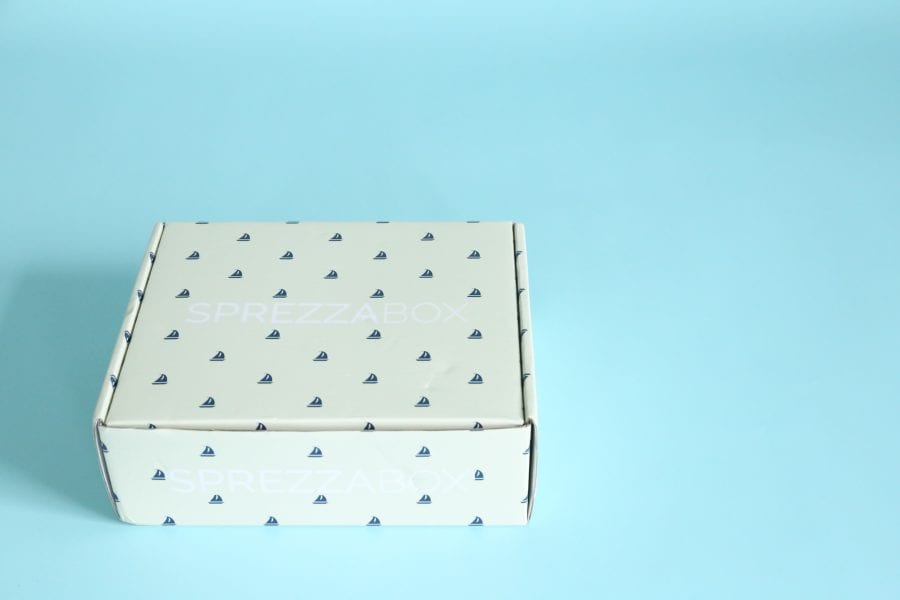 July Theme – The Beekman
Make sure you hop on that yacht, sailboat, jet ski or dinghy and get out into the water. We love the Summer and all the fun outdoor activities. So when you're done sipping rose all day with your friends, dress up and hit the town in style. 
Here's a look at the items we received in the July box…..
Jack Sartori Necktie ($78)
Summertime isn't only about bright colours and florals, neutrals are just as cool. After a discussion over a few drinks with Jack Sartori, we decided on this super soft dotted tie. This will match with pretty much any color shirt and would go great with a linen suit.
It's refreshing to see a neutral coloured tie in the box. As much as I love brightly coloured ties, I also really love simple ties. This one is classic. I absolutely love it.
Grand Frank Pocket Square ($16)
Even if you  aren't at sea, you can still drop the anchor with this matching pocket square by Grand Frank. Nautical prints are always a summer staple. With its white base and coloured piping, it's the perfect touch to any blue or grey jacket. For some other great accessories and a really cool collection of floral products, check out their site.
This pocket square couldn't be more perfect. It goes with the rest of the items in the box so well, and will look great with items you already own….navy tie, grey tie, brown tie, etc…..
AusCufflinks Cufflinks ($24.95)
Why play it safe with boring cufflinks? Add some character to those wrists with these sailboat cufflinks from our mates over at AusCufflinks. They helped us keep the theme going if you haven't already caught on.
These are awesome! They are the ideal size, they match the theme perfectly, and they are a nice change from the typical square cufflinks.
Bedford & Broome Socks ($12)
Da-Dum……Da-Dum….Who's ready for the most exciting, jaw dropping week of the Summer? We partnered with Bedford & Broome to help you get in the spirit and dress the part with these custom patterned shark socks.
Shark socks!? Are you kidding me! These not only match the theme of the box, they are also perfect for Shark Week. I would love to see themed socks like this more often.
Dappered Man Leather Key Fob ($10)
For those of us who fumble around looking for our keys….there's a simple solution. Use this handy leather key fob to keep you organized. Who says you can't accessorize your keys?
Ursa Major Face Wash ($6)
It's hard to keep that face picture perfect all summer, we all know this. Luckily, Ursa Major has created a great line of all-natural grooming products to keep you clean and fresh. Looks like Vermont isn't just known for good maple syrup.
Lawrence Hunt Gift Card
Here we have a nice little bonus item. I don't personally use GC's that I receive in subscription boxes but some subscribers will definitely get use out of this.
SprezzaBox Review July 2017 – Final Thoughts
Wow! I am absolutely loving the July SprezzaBox. From the sailboat box, to the shark socks, and the classic tie. They sourced some really great items this month, and they all go together perfectly. This is what I like to see from SprezzaBox. We received a whopping 6 items plus a bonus GC. The value is amazing, the brands are high-end, and the theme is awesome. This is one of my favorite men's boxes this year. It's understated yet fun at the same time. This is why SprezzaBox is one of the most popular men's subscription boxes on the market.
-Sarah