SprezzaBox Review July 2018
SprezzaBox is probably one of my favourite men's subscription services. Every month you can expect 4-6 curated items which are tailored for the fashion forward man. Each month also follows a theme, and this month is focused on 'The Riverside' which is a summer inspired box filled with products to have you ready for the great outdoors! 'The Riverside' is jammed packed with great items which not only make you excited to wear them outside, but have you ready for the next summer bbq or even just a walk around the city!
Each box costs $25 a month, and is filled with products which cost more than $100 in value!
With shark week in full force, this box pays homage to it with the images of sharks all over the box. Not only does it look cool, but it makes you think of summer once you see it at your door step!
Heres a closer look at the box…
This months box has 6 great items which are all valued at over $118.00! The box also includes coupons which can be used at Vincero watches and Black Mckay!
Sprezza – Necktie, $30
The first item in the box is this necktie from Sprezza NYC. The first thing that pops (aside from the tone of red) is the little bicycle pattern throughout the tie. As a cyclist myself, I'm a huge of this tie. This would go great with a navy or grey suit and can be a great conversation starter anywhere you go!
DIBI – Sunglasses, $22
The second item in the box is one of the most essential items for summer, sunglasses. These sunglasses from DIBI have a tortoise shell frame which go great with pretty much anything you pair them with. They are also super lightweight which make them great for wearing for long periods of time.
Ainsley & Troupe – Pocket Square, $22
The next item in the box is this pocket square from Ainsley & Troupe. Not only does it match the tie, but the added blue gives it a hint of 'punch' which is sure to make your outfit stand out. This can even be worn great with a khaki, navy or gray blazer if you wanna rock the no tie look.
Pintrill – Enamel Pin, $12
Hands down my favourite item in this month's box. This pin not only sets the vibe of the summer but has been a great conversation starter in the office. Not only will this pin send off good vibes for your day, but also others that see it when you walk by.
Sprezza – No-Show Socks, $8
The next item in the box are another summer essential. Summer is the best time to rock the no sock look, but if you're like me and don't want to have uncomfortable, sweaty feet when you walk around, these are perfect! Wear them with sneakers, dress shoes, you name it!
Blake McKay – Shoe Bag, $7.50
The best thing about summer is travelling, and one of the worst things is trying to pack your nice dress shoes in your suitcase. Well, SprezzaBox has you covered as this month's box comes with a shoe bag from Blake McKay! The soft fabric is great for storing your leather shoes (and sneakers), and is sure to protect them and your clothes from getting scuffed up or dirty.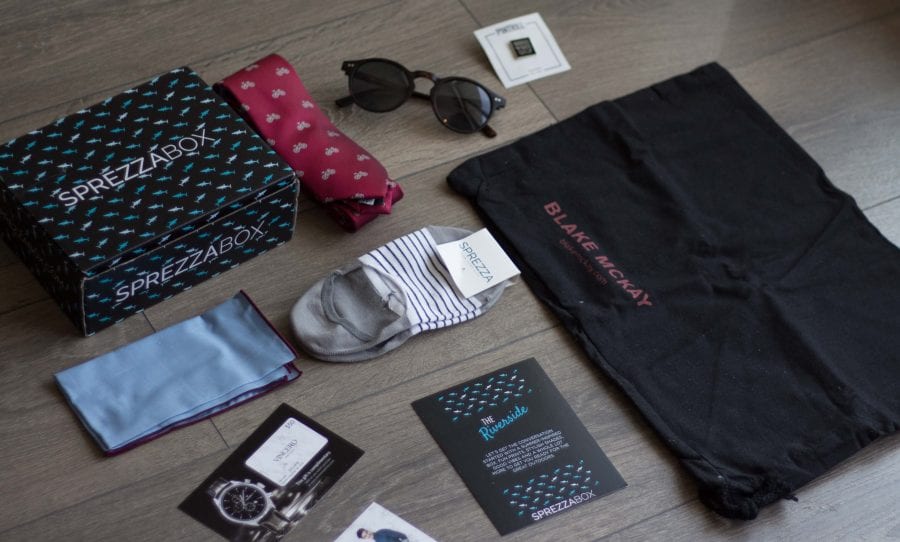 SprezzaBox Review July 2018 – Overall Thoughts
Overall, this month's box has me ready for the rest of the summer! Not only is the box full of great essentials that are perfect for summer trips but it's full of items which can also be worn in the office. SprezzaBox never ceases to disappoint and I can't wait for the next box in August!
Edward – www.instagram.com/dapperdonats