SprezzaBox Review June 2017
SprezzaBox is a Men's Subscription Box for the fashion conscious man who dresses both professionally and casually. SprezzaBox curates the latest fashion accessories and provides them to you at an extremely low-cost every month. They strive to keep the product mix fresh in each box so that you will always look dapper. Best of all, they partner with some amazing new companies to help you discover new brands. It's like a present to yourself every month! They kindly sent us this box for review. 
SprezzaBox has proven themselves to be one of the best Men's Subscription Boxes on the market. I've been fortunate enough to review this box every month since their launch, and one thing is for sure, they are consistent, continually improve their offering, and provide quality products.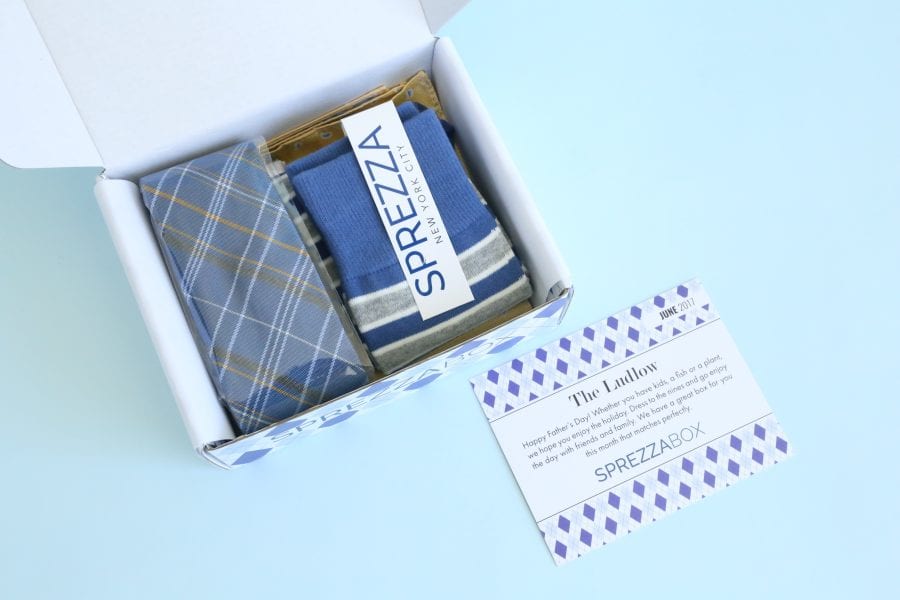 June Theme – The Ludlow
Happy Father's Day! Whether you have kids, a fish or a plant, we hope you enjoy the holiday! Dress to the nines and go enjoy the day with friends and family. We have a great box for you this month that matches perfectly. 
Black Lapel Necktie ($39)
Let's talk plaid. Not just any plaid but Black Lapel's custom blue and yellow silk plaid tie that they designed just for you. Ideal for any occasion. Pair it up with a bright white shirt and grey or navy jacket. In need of a new suit? Check out their collection of direct-to-customer tailored clothing.
I have always loved plaid, and always will. This particular tie screams Father's Day if you ask me. The color combo is absolutely perfect. The product description is correct, this would look great with a crisp white shirt and grey suit.
Ainsley & Troupe Pocket Square ($22)
We decided to shake things up with Ainsley & Troupe to create a fun, mini paisley pocket square in the perfect Summer color. We kept it a bit subtle since paisley can tend to get loud with the larger, more colourful prints. Not here. We kept it classy and made sure it matched your tie nicely.
Interestingly enough, paisley is my least favourite pattern. But, I am able to get over that fact since this pocket square goes perfectly with the tie. I am SO happy to see coordination in this month's box.
Woodchuck USA Tie Clip ($55)
This unique wooden tie clip was manufactured locally in the States just for you, so no one else will have the exact same piece. The boys at Woodchuck USA are making a difference by planting a tree with every purchase made. If you want to help out, be sure to check out their website.
This tie clip couldn't be any more perfect. It is simple and understated, but the wood detail adds a bit of excitement. I think this might be one of my favourite tie clips thus far.
SPREZZA Socks ($12)
To complement the tie, here's a super comfy pair of triple stripe socks. Dressed up or down, these bad boys will be a great addition to your rotation and can be worn all year round. We're dropping a new line of funky socks so get ready!
These aren't necessarily the most exciting socks we have received, but I like them just the same. They complement the tie and pocket square nicely, and you can never go wrong with stripes.
Dappered Man Lapel Flower ($15)
Dappered Man, a New York City fashion agency, gave us this lovely yellow lapel flower to not only round out the tie and pocket square, but to add that extra pop to your ensemble. Finally, a flower that won't die.
I have received a lot of lapel flowers over the last couple years, but this just might be one of my favourites. It's not as big as the other lapel flowers we have received. It's a little more compact and the fabric is really nice.
Fulton & Roark Soap ($4)
Staying fresh this Summer is key. It will be a hot one this year and hopefully you have some fun travel plans or a beach house. Keep this all natural travel-sized bar of soap in your Dopp kit so you can stay squeaky clean and fresh.
SprezzaBox Review June 2017 – Final Thoughts
Now this is what I like to see! SprezzaBox did an absolutely wonderful job with the June box. Not only is it ideal for Father's Day, it's also coordinated perfectly, and has a really nice Summer vibe. The pieces can be worn together or individually. The colors are complimentary and the styles are on trend. The total value of the box is $147 which is pretty amazing. You really can't go wrong with a SprezzaBox subscription.
XOXO