SprezzaBox Review March 2017
SprezzaBox is a Men's Subscription Box for the fashion conscious man who dresses both professionally and casually. SprezzaBox curates the latest fashion accessories and provides them to you at an extremely low-cost every month. They strive to keep the product mix fresh in each box so that you will always look dapper. Best of all, they partner with some amazing new companies to help you discover new brands. It's like a present to yourself every month! They kindly sent us this box for review.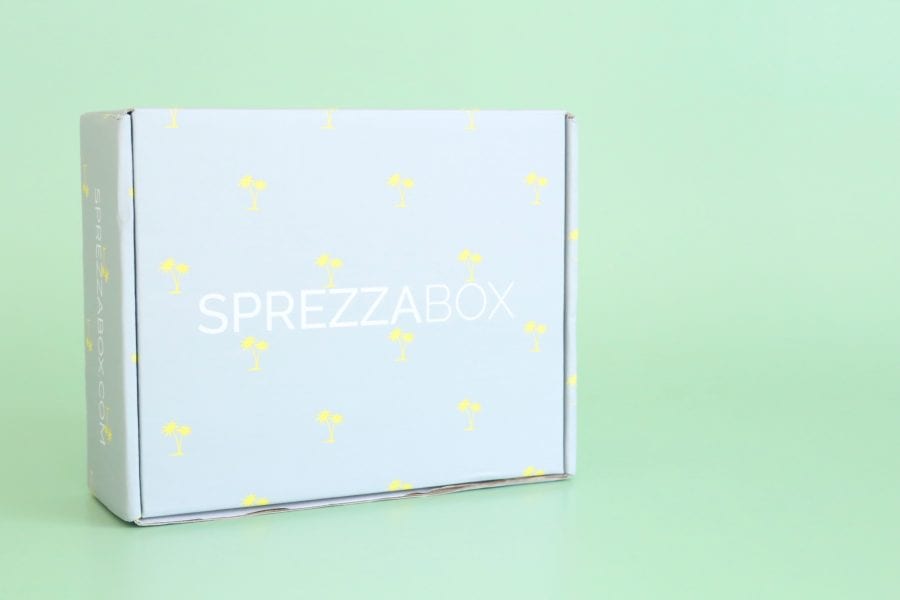 I look forward to SprezzaBox every month. Actually, I should say "we" look forward to SprezzaBox every month. Not only do Ashley and I love this box, but so do Ashley's Husband and my Boyfriend. The men fight over who is going to keep the items each month…..it's actually kind of funny.
March Theme
This month's SprezzaBox is titled "The Venice" and here is what the product card had to say:
This LA inspired box should mentally transport you to Venice Beach, California (unless you already live there). Floral prints and funky striped socks will help you get through the last few weeks of Winter and begin transitioning into your gnarly Spring style. 
The following items were included in the March 2017 SprezzaBox:
Nick Graham Tie ($49.50)
Yay spring! We know you have been itching for warmer weather, brighter colours and fun patterns. We wasted no time and partnered with our friends over at Nick Graham to give you this awesome floral tie! Floral is the new black. Whether it's on ties, shirts or jackets, this is the must-have pattern for 2017. Pair it with a solid shirt or jacket, from Nick Graham of course, to contrast the busyness of the tie. 
Floral is such a great pattern; if done right. A when it comes in the form of a tie it is even better. It's a great way to test the floral pattern waters without committing 100%. A floral tie is one step towards a great floral top……though not for everyone.
Men in Cities Leather Wallet ($30)
It's about time you switch out that chunky black bi-fold wallet for this elegant and slim one. There's no need for the Dad wallet that leaves an imprint in your back pocket. In the spirit of LA, this product is made of animal-free material and is actually a vegetable leather. Tubular. 
Ummmm……a vegetable leather wallet! Are you freakin' kidding me! I am in love! Just when I thought I couldn't love SprezzaBox any more, they go and do something super awesome like this. Plus…..I love it when they include practical items that need updating every once in a while. Every guy needs a new wallet sooner or later.
Basic Outfitters Socks ($10)
Fun colours and stripes make for a great sock, especially when they compliment your tie. We designed these socks with the folks over at Basic Outfitters, which should sound familiar if you watch the show Shark Tank. The Sharks really liked the quality of their products so head over to their website if you need some new socks and undies. 
Hmmmm…..as much as I love these socks, I don't really see how they match the tie. Am I missing something? The product description says they match the tie, and Sprezza is really good about sending coordinated items every month…..but I'm just not seeing it.
SPREZZA Lapel Pin ($15)
It's always sunny in Los Angeles (more so than Philadelphia….). We took one of our favourite tie clips of all time and turned it into a lapel pin. Now you can rock sunnies during any season and not just when you hang 10. 
This lapel pin is absolutely wonderful. The product description is spot on because the sunglass tie clip we received a little while back was definitely my favourite.
Martenero NATO Watch Strap ($15)
A nato strap is the perfect way to dress down any watch. It is easy to switch on and off so that you can match any outfit. Martenero makes beautiful, high quality watches for under $500, that come with both a leather and nato strap. Here's a strap for your current watch until you pick up a new one from Martenero. 
I was a little confused by this item at first. Then I read the product description and felt a little better about it. I'm am not very familiar with mens watches and didn't know that you could easily swap out their straps.
Weekend Casual Bracelets ($10)
The west coast is all about the wrist game. A watch can be quite lonely, so LA's very own Weekend Casual has supplied you with a 2-pack of wooden bracelets. Stack these guys above or below your watch to add something extra to your overall look. 
I love the size of these beaded bracelets and the contrasting color combo. I also like that they included two. It provides so many more options. Wear them alone, together, with a watch, with another bracelet……so many possibilities.
SprezzaBox Review March 2017 – Final Thoughts
Wow, I feel like we received so many items in this month's SprezzaBox, and such amazing value! They really did a great job with this Spring inspired box as I love every item we received. I don't really feel like there's a cohesive color theme, but that's just my personal opinion. And that doesn't necessarily take away from the curation of the box. Each item is pretty darn awesome individually, I just wouldn't pair the tie and socks together. SprezzaBox definitely dominates the market when it comes to value, quality and curation. This really is a must-have box for any man who dresses professionally.
XOXO