SprezzaBox Review May 2017
SprezzaBox is a Men's Subscription Box for the fashion conscious man who dresses both professionally and casually. SprezzaBox curates the latest fashion accessories and provides them to you at an extremely low-cost every month. They strive to keep the product mix fresh in each box so that you will always look dapper. Best of all, they partner with some amazing new companies to help you discover new brands. It's like a present to yourself every month! They kindly sent us this box for review. 
SprezzaBox is an AYOB team favourite. We all love this box and find it to be very consistent and full of quality items. It's one of the men's boxes on our Father's Day list, you can see the full list – HERE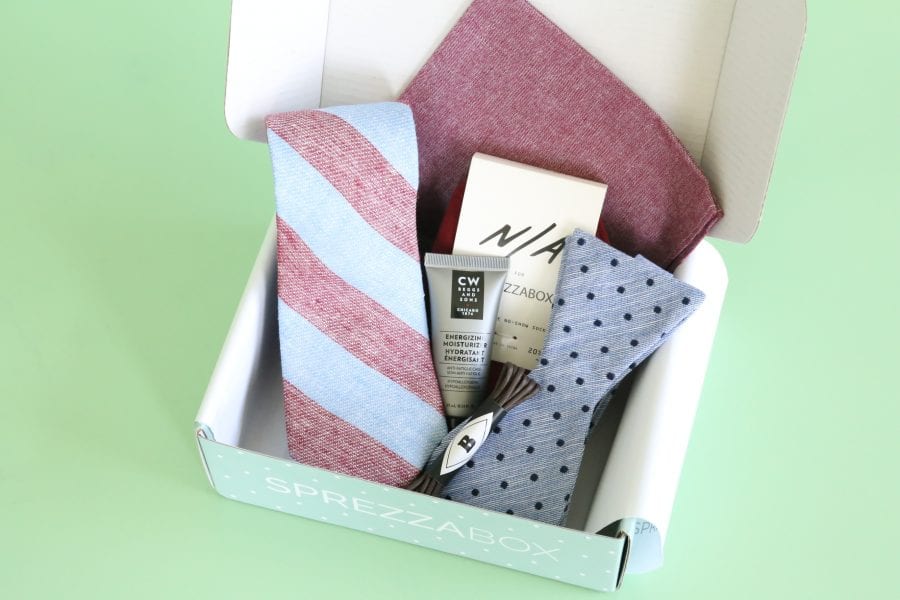 Each month the box is curated based on a theme, and this month's theme is The Belmont.
Gentleman, it's May. You know what that means? It's Derby season. Whether you're at the tracks amidst the eclectic atmosphere or celebrating with friends at a party, you're going to want to dress the part. With this month's box of bold colors and patterns, you will be ready to paint the town red. To sweeten the deal, we've added a second neckwear item to the box.
Here's a look at the items we received this month:
SPREZZA Necktie ($30)
Nothing says Derby party like fun colors and linen fabrics. This bold striped tie will really help you stand out but in a classic way. Our stylist recommends a solid white shirt and a light coloured suit. Want to take it to the next level? Throw on a seersucker suit!
Out of all the ties I have received over the years, linen ties always end up being my favourite. The blue/maroon color combo is super fun, and it appears as though it goes perfectly with the rest of the items in the box – #win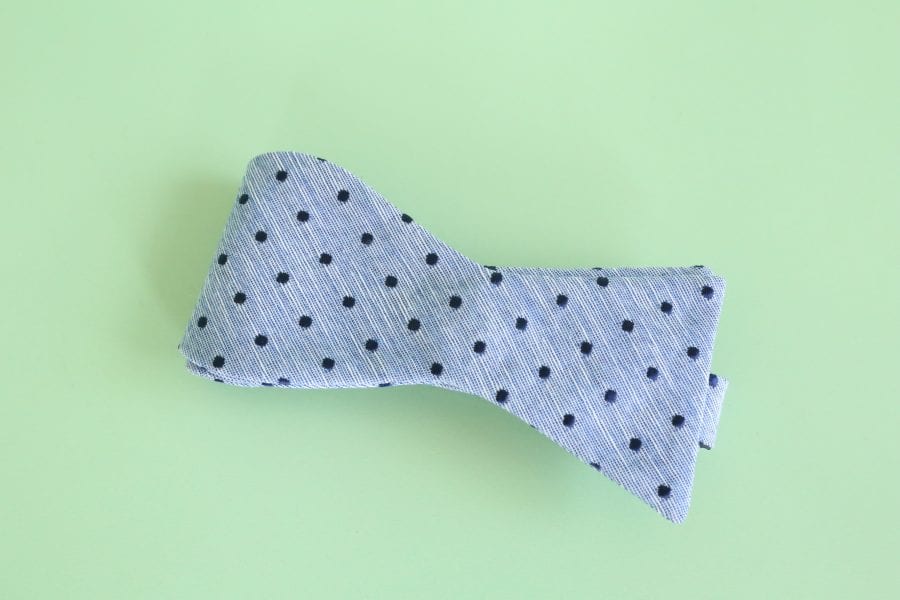 DIBI Bow Tie ($37)
It you're looking to ditch the tie this summer, this polka dot bow tie from DIBI should do the trick. It is the perfect accessory to wear outdoors, whether it's a wedding or a day at the vineyards.
It's pretty awesome that they included a tie and a bow tie in the box this month. Bow ties aren't for everyone, but if you can pull'em off then you definitely need to have a few in your collection. A man who can style a bow tie gets bonus points in my books.
Necessary Anywhere Socks ($12)
Show a little skin with these awesome "no-show" socks by our NYC neighbours, N/A. Not only are they super comfy and perfect for the warm weather, but they won't slide off your heels.
No show socks are perfect for the warm Summer months. I actually really love the look of khaki pants, great summer shoes, and a little bit of skin. It's a confident look, if that makes sense.
Four Fifty Five Pocket Square ($19)
One of the most versatile fabrics out there is chambray. Its subtle texture and color will always add that extra pop to your look and can be worn in any season. We asked Four Fifty Five to custom make this pocket square just for you.
Simple and classic. This pocket square goes perfectly with the other items in the box, but the solid color won't outshine the striped tie or polka dot bow tie. It will keep the focus on those pieces and I appreciate that.
Benjo's Shoe Laces ($8)
A good pair of dress shoes, if taken care of properly, can last you a lifetime. Shoe laces sadly won't. Here's a classic pair of waxed brown laces to replace the old ones on your favourite pair of oxfords or brogues.
I never use to get excited about shoe laces until the BF broke the laces on his favourite pair of shoes. Now I get what all the fuss is about. These will definitely come in handy.
CW Beggs and Sons Moisturizer ($4)
We can't emphasize enough how crucial it is to take good care of your skin. We're here to introduce you to CW Beggs and Sons who makes a great line of products that will leave you feeling great and looking youthful.
SprezzaBox Review May 2017 – Final Thoughts
As much as I adore SprezzBox, the last few months have come up a little short for me. They had amazing value, and great items, but they were missing the cohesion. My preference will always be a box of items that can be worn together as opposed to a box of items that are meant to be worn on their own. This month's box is full of great accessories that go together perfectly. I am also pretty impressed that they included both a tie and a bow tie. Once again we have great value and quality items…..but I've come to expect nothing less.
XOXO