SprezzaBox Review September 2016
SprezzaBox Review September 2016
What can I tell you about SprezzaBox that I haven't already told you? This subscription box is definitely on my "favourites" list, and I don't see that changing anytime soon. I've seen men's subscription boxes come and go, but this one has consistently delivered great boxes since they opened their doors, and I don't see them going anywhere anytime soon.
SprezzaBox Details
If you aren't familiar with SprezzaBox it is a Men's Subscription Box for the fashion conscious man who dresses both professionally and casually. SprezzaBox curates the latest fashion accessories and provides them to you at an extremely low-cost every month. They strive to keep the product mix fresh in each box so that you will always look dapper. Best of all, they partner with some amazing new companies to help you discover new brands. It's like a present to yourself every month! This box was provided complimentary for review and may include affiliate links.
The Box: SprezzaBox
Cost:
$28 per month US subscription
$34 per month Canadian subscription
What You Get: 3-4 lifestyle products and 1 grooming item. A typical box will have an awesome tie, socks, a key accessory and some fancy grooming product. But don't worry, we'll surprise you with the occasional pocket square, bow tie, cuff links or other trending products.
Ships to: US & Canada
Shipping Cost: Included in Cost
Coupon Code: Use code "AYOB10″ to get 10% off – CLICK HERE
SprezzaBox September Theme
This month's SprezzaBox is titled "The Smith". The product card says that Summer is winding down and we are getting ready for cooler temperatures and darker colors. This month's products will help you with the transition. They say that the colors in this month's box are perfect for any season and they are extremely versatile.
Yay for Fall! Yay for cooler temperatures! And yay for darker colors!! I already love it!
Sprezza Necktie
This tie earned its stripes by having a bright and bold pattern while still giving that corporate vibe. We've given it the name "Power Stripes" because it's a strong tie that makes a statement. It can be worn during any season and matches many different coloured shirts and suits. 
Part of me thinks this looks old school, but part of me really loves it. Regardless, it is a very versatile tie and will be a great addition to any tie collection.
Sprezza Pocket Square
We produced a limited edition pocket square just for this month's box because the tie deserved a great partner in crime. The unique zigzag pattern adds a great texture along with complimenting colors. Give this square a one-point fold and confidently tuck it in your pocket. 
I am loving this pattern! It's different from the tie but it will still look good when they are paired together. I can't really describe exactly why I love it so much, but I do.
Weekend Casual Socks
Dotted socks have been a big hit with previous boxes, so we brought them back…..this time BIGGER and better. The WC homies have also launched some dope new products so you must check out their store. 
You know how I feel about polka dots……they are always a good idea.
Gent's Lounge Tie Clip
Our favourite gentleman and influences have collaborated with us on this badass tie clip. With its rich history, the fleur-de-lis symbolizes perfection, light and life. Say hello to your new go-to accessory. 
Oh…….this is awesome. Very classy, and very versatile. I definitely see the theme we have going on with the September box.
MRKT Sunglasses Case
No more scratched up and dirty sunglasses. This MRKT case is here to solve all those travel problems and to give your sunnies a home for the winter. MRKT also has a pretty awesome line of backpacks, briefcases, and travel bags. 
The BF definitely needs this case. His sunglasses are looking pretty sad. I doubt he will use it but I'm certainly going to "suggest" that he do.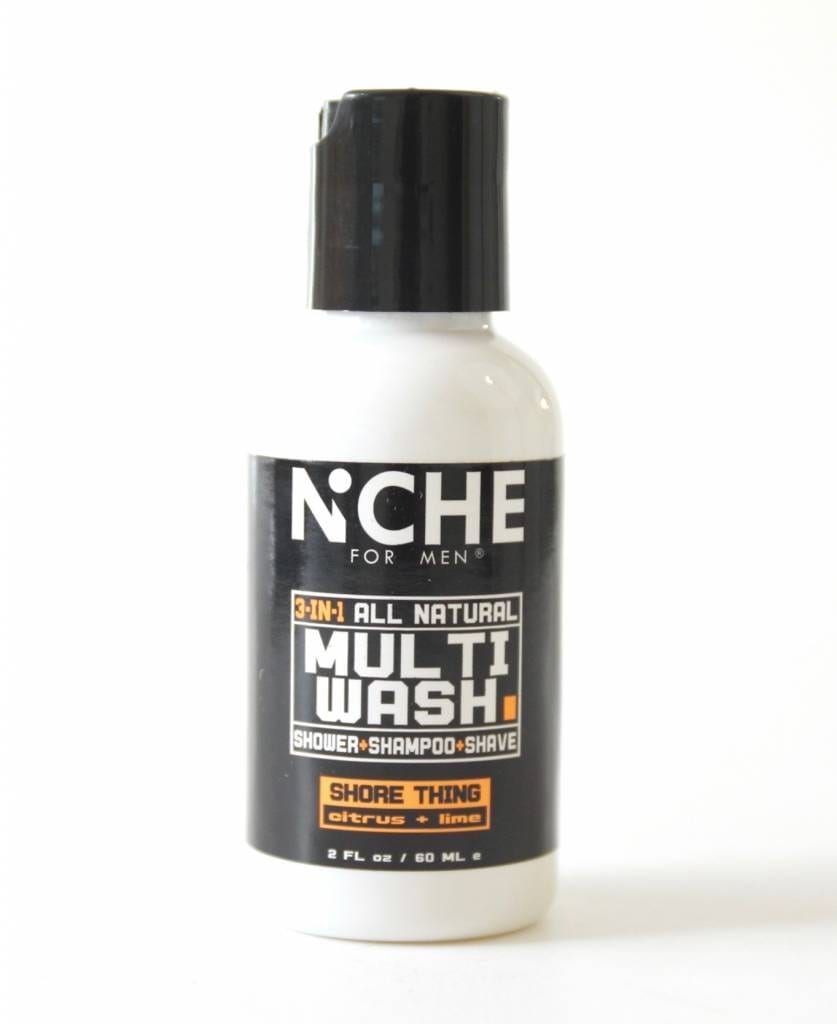 Niche Multi-Wash
Your grooming routine just got a major upgrade. This all natural 3-in-1 Multi-wash is a one-and-done solution for the hassle-free dude. It acts as a shower, shampoo, and shave gel. It's made with only the highest quality ingredients, so don't forget to scrub those cheeks!
Well isn't this just the greatest idea. I love a multi-tasking product. Especially when it comes to road trips, one (or two in this case) less items to bring.
SprezzaBox Review September 2016
Is it just me or is this box a little bit more awesome than a typical SprezzaBox? The navy/maroon color combo is perfect, and the 3 different patterns look great together. Stripes, dots and zigzags? I am loving it. Not to mention the fact that all the items are Fall appropriate. I am super happy with the September SprezzaBox. It's classic, and classy. These are items that every guy should have in their closet. They won't go out of style anytime soon.
XOXO