SprezzaBox Review September 2018
SprezzaBox is a Men's Subscription Box for the fashion conscious man who dresses both professionally and casually. SprezzaBox curates the latest fashion accessories and provides them to you at an extremely low-cost every month. They strive to keep the product mix fresh in each box so that you will always look dapper. Best of all, they partner with some amazing new companies to help you discover new brands. It's like a present to yourself every month! They kindly sent us this box for review.
SprezzaBox is, and always will be, one of my favourite men's subscription boxes. I have been reviewing Sprezza since they shipped their first box back in 2014 and they have never let me down. Every box is classy, packaged to perfection, and full of quality items. Subscribe and you won't be disappointed.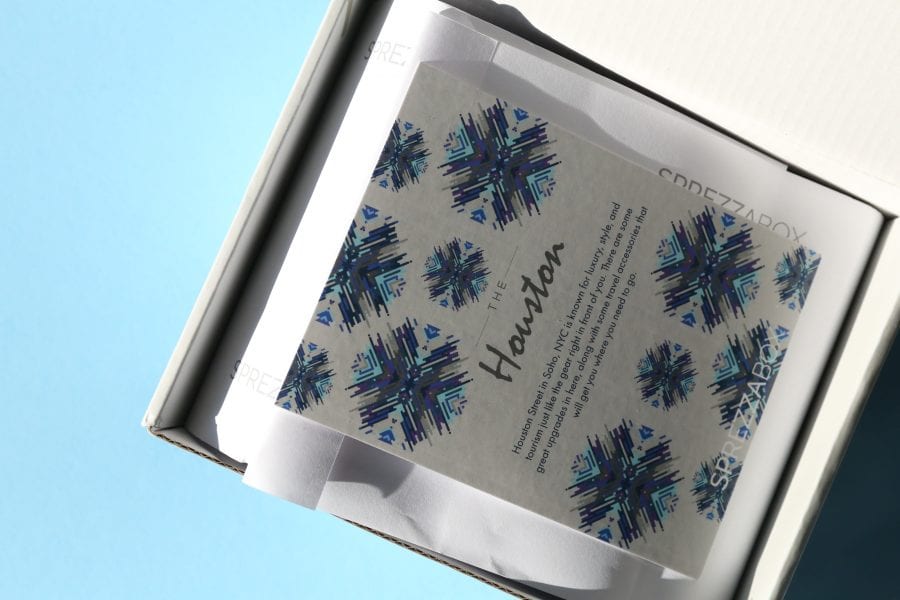 Subscription Details
SprezzaBox subscriptions are pretty straight forward, here's how it works……
Select Your Plan: Choose from monthly rebillable or prepaid memberships on the Plans page. Then head on over to checkout. You can thank us later.
Stylists At Work: A stylist will handpick 5-6 different products, all yours to keep. Typical items will include ties, socks, pocket squares, grooming products & more.
Check Your Mailbox: A few days later a package will be patiently waiting for you. Each month after that, you can expect a box to arrive. Now time to wear all your new accessories!

September Theme: The Houston
Houston Street in Soho, NYC is known for luxury, style and tourism just like the gear right in front of you. There are some great upgrades in here, along with some travel accessories that will get you where you need to go.
Perry Ellis Paisley Necktie ($45)
Say hello to your new purple paisley tie that is very versatile and #veryperry. Perry Ellis is crushing the menswear game these days and working with some of the top names in fashion. Wear this piece with almost any coloured suit except for dark brown or olive (do people still own those colors?). 
Usually I'm not a fan of paisley but I can't help but like this tie. I think it's the purple and the small-scale paisley print. And maybe it's how awesome it looks with the socks……details on those below.
Sprezza NYC Valet Tray ($30)
Sometimes you just need a quick way to catch all your frequently used small goods, like your keys, wallet, and let's not forget all of your sweet SpreezaBox accessories. Snap the corners and toss it by your door or on your dresser. You can easily take it with you on any of your travels as well. Stay organized friends.
I love any sort of product that helps me (or the hubby) stay organized. In fact…..I have one of these trays in his bedside table as we speak, and I would love to add one to his dresser and maybe even beside his sink in the bathroom. He is constantly leaving tiny little items laying around and I am constantly trying to find a place to store them.
Zockz Socks ($10)
You are guaranteed to stay both grounded and funky with these Zockz socks that are comfortable yet fun. The Canadians know how it's done! Sneakers, dress shoes, sandals……doesn't matter. Rock these with confidence. 
Love these socks!!! Really, I do. They go with the tie perfectly, which is exactly what I like to see in my SprezzaBoxes, and I love the idea of pairing them with sneakers. How great would that look!?
Thursday Boots 2-Pack Shoe Laces ($10)
Make no mistake as these laces serve you all seven days of the week! This pack comes doubled with black and brown options depending on your shoe color. Want some quality handcrafted footwear from the fastest growing shoe and boot company? Just visit the Thursday Boot's website and check them out. 
You don't realize how important spare laces are until your hubby breaks a lace on his only dress shoes as you are heading out the door. I appreciate receiving items like this and I love that they included a double pack with both black and brown……..genius idea!
Alara Pocket Square ($22)
If you're going to take your tie off at happy hour or work afterparty, you can let loose but still look put-together with this houndstooth pocket square. Classic or sporty, consider yourself formally fashionable and ready for any event.
Yes! Nailed it! I am absolutely loving this pocket square. It goes with the tie and socks perfectly. It pulls the blue from the socks and provides a cohesive look without being too matchy-matchy.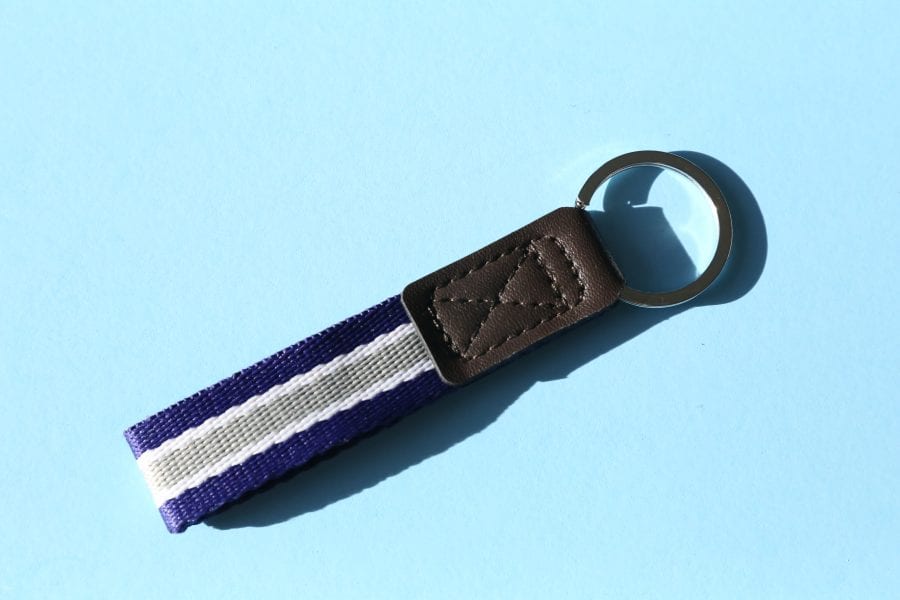 Classic Keychain ($5)
A keychain is a very practical item that most people don't think about or feel like spending the money on. It keeps your keys organized and will add a nice touch with this fun NATO band. We're sure your current set could use an upgrade.
This is one of those items you never (or rarely) go out and buy for yourself but appreciate receiving.
SprezzaBox Review September 2018 – Final Thoughts
Well, I have to say, I am very impressed with the September SprezzaBox. As far as curation goes……they nailed it. I am loving the look of the tie, pocket square and socks together. The colors and patterns complement each other without being too matchy. We received a great selection of items, and great value. The catch-all tray is much-needed and the shoe laces will be great to have on hand. SprezzaBox did an amazing job this month but I've come to expect nothing less.
XOXO