Sudsy Club Review June 2019
Sudsy Club is a luxurious, all natural soap subscription box. They only use the finest, natural ingredients. NEVER fragrances or chemicals. Your skin will feel soft and moisturized after every use. Get 3 bars of all natural soap and a bath essential at your door every other month. They kindly sent us this box for review.
Sudsy Club is $25 a month which is a steal if you ask me! There is nothing better than knowing that what you are putting on your body is all natural. The smells that emanated from this box were intoxicating! Seriously, I was drooling! I couldn't wait to open it!
The aesthetic of the box is exactly what I would expect from a company that wants to spread natural plant-based items. The blue of the box is eye catching while the inside of the box is what really catches all of the senses! Let's dive into this month's box and see what it has in store for us!
When you open the box you are immediately calmed down. The scents coming from these boxes are just what I need after a long day! In the first box the extra item I got was a wonderful scrubber but in this box I got a lavender roll-on! Seriously. Lavender is one of the best smells in the whole entire world.
I tend to use lavender essential oil in my hair after a shower! I put a couple of drops in my hands and run it through. This way I have the smell lingering all day! I love that they have added this to this month's box! It's perfect to rub on for perfume for the day on your wrists and behind your ear or as a calming scent for bedtime! I am so keeping this in my purse from now on!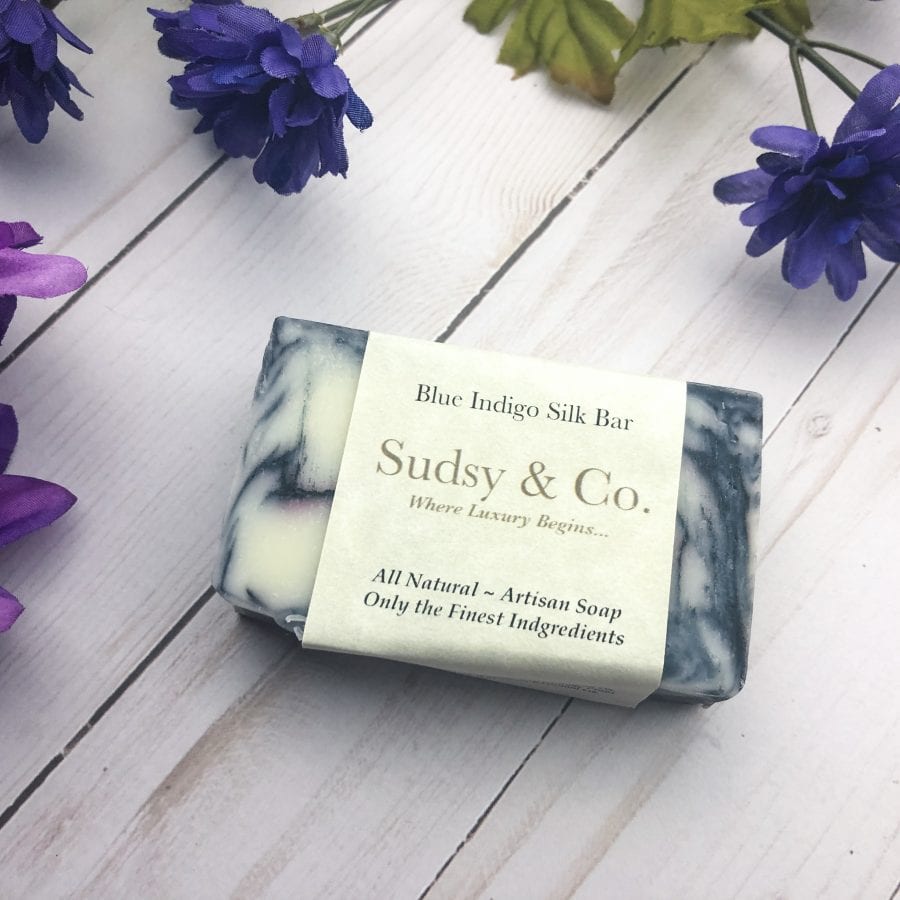 Blue Indigo Silk Bar ($5.95)
I'm not going to lie. I threw away all of my body washes once I got this box in last month. I have used up one full bar and am halfway through the other. I might have been switching between the scents throughout the month!
The marbling on the soaps are eye catching and just aesthetically pleasing. I can't get enough of them. This one is Blue Indigo Silk Bar.
There isn't anything that I love more in the morning, other than a cup of coffee, then the smell of lavender and lemon. I have a weakness for citrus. This really does smell calming. I love that this is for anti-inflammatory and to help calm irritation! I'll be using this in the morning!
Morning Mist ($5.95)
Alright, it seems as though this box is all about helping a person wake up in the morning. Which I am so here for! This might look light in color compared to Blue Indigo, but it is loud in the fragrance.  I am loving the spearmint smell! It immediately woke me up when I opened the packaging.
I can't wait to test is out more in the morning. This is just what I need to get myself in gear for the summer and keep my energy going.
Mountain Air ($5.95)
This soap is exactly how it is described in the name. It really does smell like Mountain Air. If you ask me there is nothing more relaxing or calming the mixture of orange and spearmint together. This box is nailing it when it comes to my favorites scents.
It is seriously making me want to take like four showers a day so I can use different soaps all of the time. Is that weird? It might be a little weird, but I'm going to own it. Because, I am me!
This was another fantastic Sudsy Club box! I can't wait to see what they have for July! My birthday month! I know they will knock it out of the park!
Remember to treat yourself!
Until next time…
Courtny – https://courtagonist.wordpress.com