Super Gains Pack Review April 2016
Super Gains Pack has officially won me over. Don't get me wrong, I've always liked this subscription box, but thanks to the wonderful changes they recently made, I can now say that I REALLY like them. Last month was my first time reviewing the new box, and let me tell you, I was very impressed.
If you aren't familiar with Super Gains Pack it is the ultimate monthly fitness subscription box of everything you need to crush goals, dominate workouts and make all kinds of SUPER GAINS! This box was provided complimentary for review.
The Box: Super Gains Pack
Cost: $34.99 per month
What You Get: The contents of each box change monthly, but include 8-10 premium name brand hand selected supplement samples of various types and flavors, a specially chosen gym accessory or a trial size supplement item, a premium, high quality fitness apparel item, a full size protein/nutrition bar, a full size gel or nutritional snack, a clean eating meal prep plan for a week with grocery list, a delicious high protein snack recipe with grocery list, a featured food of the month fact for fat burning, and a new workout idea to try out for your home or the gym.
Ships to: US & Canada
Shipping Cost: FREE to US & $8.99 to Canada
The thing I like most about the new Super Gains Pack is the fact that they now include apparel. I'm not sure if this is something we will see every month, but I really hope it is. I feel like it makes the box a lot more exciting, and a lot more valuable. If you are a Super Gains Pack subscriber, chances are you work out at least 4 times per week, and if that is the case, you go through workout clothes like they are going out of style. Therefore, receiving a new gym tank or socks each month is like hitting the jackpot…….in my personal opinion.
Moxy Socks  – These are AMAZING! I've wanted to buy a pair of these and just haven't gotten around to it. These ones are deadlift socks mind you, and I am a little more interested in running socks, but either way, they are great because they offer arch support, heel protection, shin protection and have a ventilator mesh top…….#loveit!
SGP Fitness Apparel Tank – I received a tank in my last box and was really hoping to see another one this time around. The only problem is the size, it's a medium and I am a small, but it's nothing a quick email to customer support won't fix. Anyways……I am LOVING the quote…..please include a tank every month!!
Samples – In this group I am particularly excited about the Epic Spreads. It is made from peanuts, cashews, and coconut, and it is birthday cake flavour!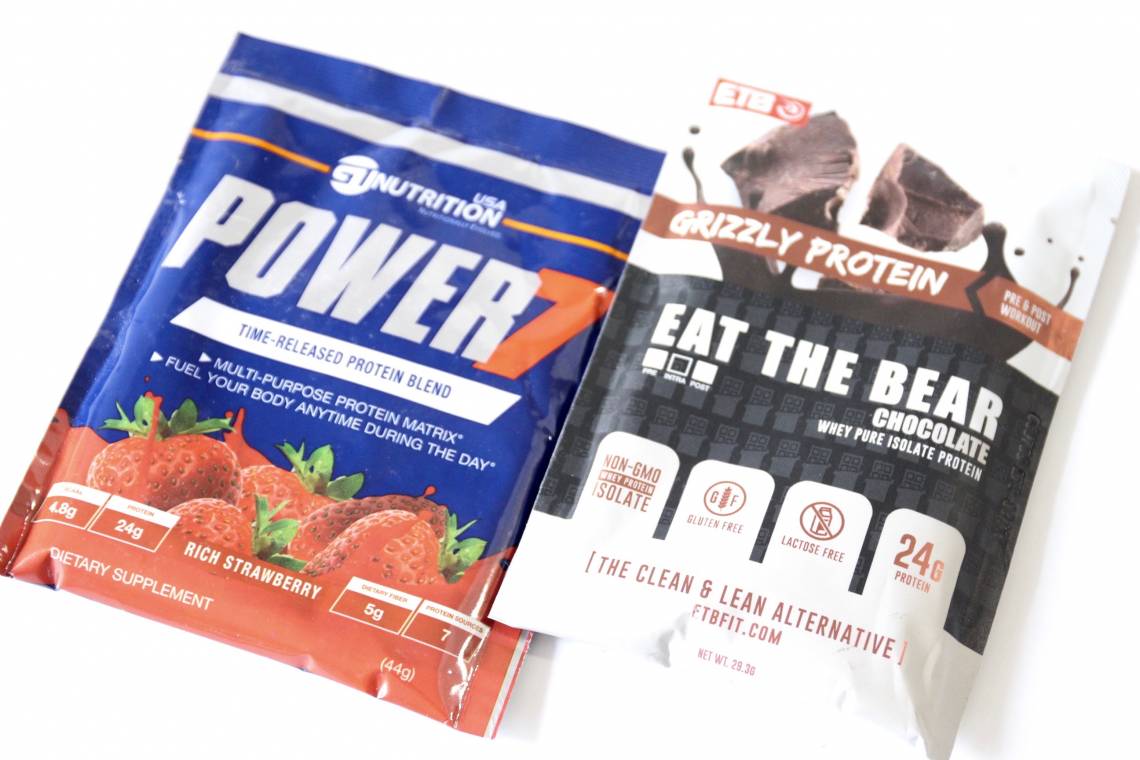 Protein Samples – These guys always go to my friend Brent, only because I don't use whey protein, I prefer plant based proteins, but love that they always include different flavours to test out.
Samples – At first glance I thought both of these would be going in Brent's bag, but upon second glance, I realized the Mobius Breakfast Drink Mix is made out of coconut milk powder! I just might be able to try this one, and I am very excited about it. And…..it contains 20 grams of protein per serving!
Samples – I'm happy to see more Whey Clean samples, these little guys are genius. It's formulated to specifically target the odors and stains left behind by protein powders.
Thoughts: Yes! I am absolutely loving the changes Super Gains Pack has implemented. As I mentioned above, the apparel really adds value and excitement to the box, especially this month since we received 2 clothing items. I liked last months box for the fact that I received a bottle of multi-vitamins, and a bottle of peanut butter powder, and would love to see more items like that in future boxes. Other than that, I have absolutely nothing negative to say about Super Gains Pack…..its definitely becoming a favourite.
XOXO
Explore.
Save.
Enjoy!
Sign up for a free account on A Year of Boxes to receive exclusive offers, be added to our monthly mailing list, and much more! We are always adding features to improve the experience for our users, from their valuable feedback!
Join Today!