Super Gains Pack Review February 2016
This review is for all the fitness buffs out there, or anyone who needs a little motivation to get their butt to the gym. Super Gains Pack not only sends you a crazy amount of fitness supplements in the mail every 30 days, but they are also like your personal little monthly reminder to keep up with your fitness routine.
If you aren't familiar with Super Gains Pack it is the ultimate monthly fitness subscription box of everything you need to crush goals, dominate workouts and make all kinds of SUPER GAINS! This box was provided complimentary for review.
The Box: Super Gains Pack
Cost: Gains Pack ($12/month), Big Gains Pack ($20/month), and the Super Gains Pack ($28/month)
What You Get:
Gains Pack – 6-8 supplement samples of various types, flavors, and brands. Full size protein/nutrition bar.
Big Gains Pack – 9-12 supplement samples of various types, flavors, and brands. Full size protein/nutrition bar. Full size endurance gel or other nutritional snack.
Super Gains Pack – 13-15 supplement samples of various types and flavors. Full size protein/nutrition bar. Full size endurance gel AND nutritional snack. 2x reputable brand name trial size (5-10 servings) supplement bags/tubs.
Ships to: US & Canada
Shipping Cost: FREE to US
ProSupps Mr Hyde Intense Pre Workout – formulated to be the most extreme and effective pre-workout on the market.
RevLabs MuscleRev Xtreme – pre-workout amplifier works at the very source of metabolic ignition. No superficial stimulation.
Myogenix AdiPro A2 – specifically designed to target and disrupt hunger signals, allowing you to effectively control appetite and stay on your diet plan.
iSatori Amino-Amp Watermelon Quencher – Advanced BCAA Powder, Builds Muscle, Accelerates Muscle Gains.
Muscle Pharm Combat Protein Powder – a variety of protein blends that digest at varying rates, for up to 8 hours.
BPI Sports ISO HD Whey Protein Isolate and Hydrolysate – the purest, low calorie protein delivering 25 grams of ultra premium 100% whey isolate & hydrolysate per serving.
USPlabs AminoLift – essential amino acids, key B vitamins, clean energy & focus.
Met-RX Big100 Bar – Chocolate Toasted Almond.
Beast Sports Nutrition, Aminolytes, Advanced Amino Matrix – the perfect blend of amino acids and electrolytes to add fuel to your workout.
BPI Sports Best BCAA Powder – Amino acid supplement designed to promote muscle building and strength.
ThinkThin High Protein and Fiber, Chocolate Almond Brownie – offer a blissful balance of energy-boosting protein, hunger-fighting fiber and crave-worthy flavors.
BPI Sports Gluta Alkaline Herbal Mineral Supplement – Increased muscle, Increased recovery, Increased endurance.
Cellucor C4 Extreme – helps power you through your toughest training.
BPI Sports Build-HD Muscle Building Pro Creatine – Automatic Muscle Building Powder, Increased Strength.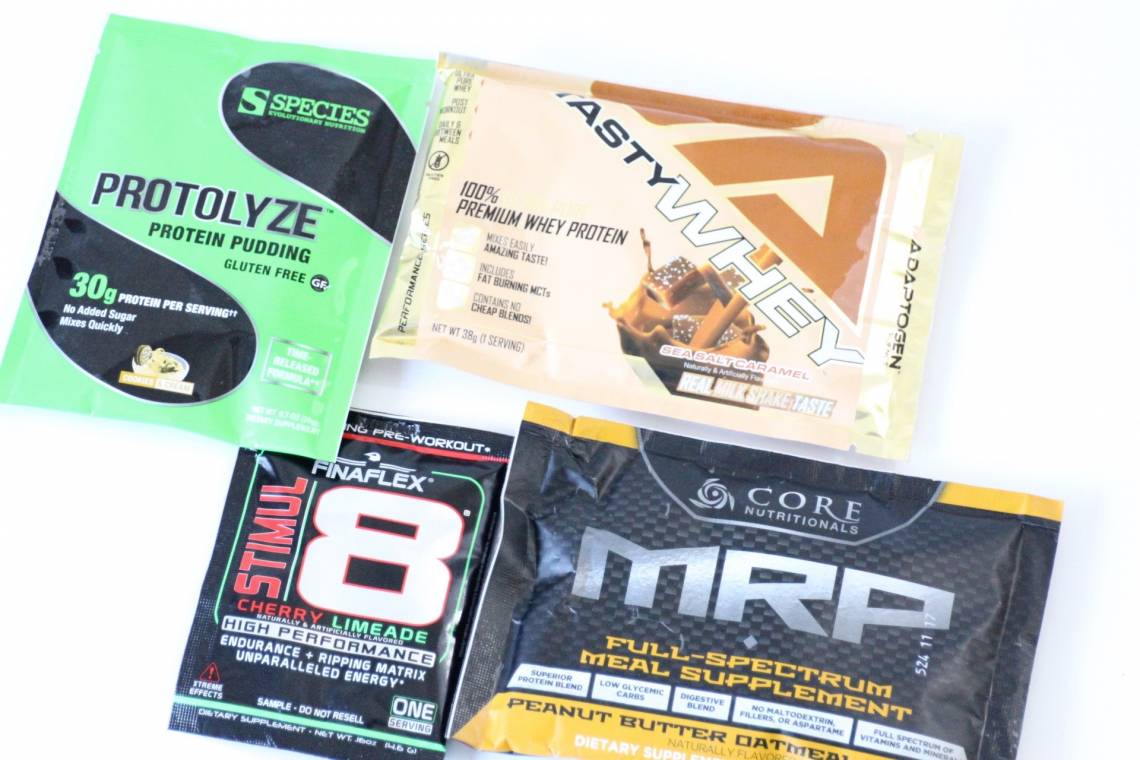 Adaptogen Science Ultra Pure Protein Tasty Whey for Natural Fat Burning, Salted Caramel
Core Nutritionals MRP Full Spectrum Meal Supplement Peanut Butter Oatmeal Cookie
Species Nutrition Protolyze Protein Pudding, Cookies and Cream
Stimul8, Cherry Limeade – Endurance, Ripping Matrix, Unparalleled Energy
Thoughts: Another great box from Super Gains Pack, and as usual, one of my favourites items is definitely the information card….I love the recipes, workout of the month, and featured food fact….maybe they should consider putting all of this info in one little book and send it to their subscribers at the end of the year…… I also like that they mixed things up a bit this month and sent us a reusable bag. Super Gains Pack continues to be one of my favourite boxes for fitness supplements…..and motivation.
XOXO