Super Gains Pack Review October 2016
Super Gains Pack Review October 2016
Super Gains Pack keeps my fitness lifestyle on point. It's my monthly reminder to stick to my fitness plan and keep up with my supplements and healthy eating. For me personally, I need regular reminders to stick with the plan. That is why I like to receive a box like Super Gains Pack every 30 days……every little reminder counts.
Super Gains Pack Details
If you aren't familiar with Super Gains Pack it is the ultimate monthly fitness subscription box of everything you need to crush goals, dominate workouts and make all kinds of SUPER GAINS! This box was provided complimentary for review.
October Details
This month's SGP Ambassador is Janelle Morando. Janelle has included her ab workout, a recipe for Super Taco Bowsl and a recipe for Pumpkin Protein Pancakes. Bonus points for the Pumpkin recipe this month!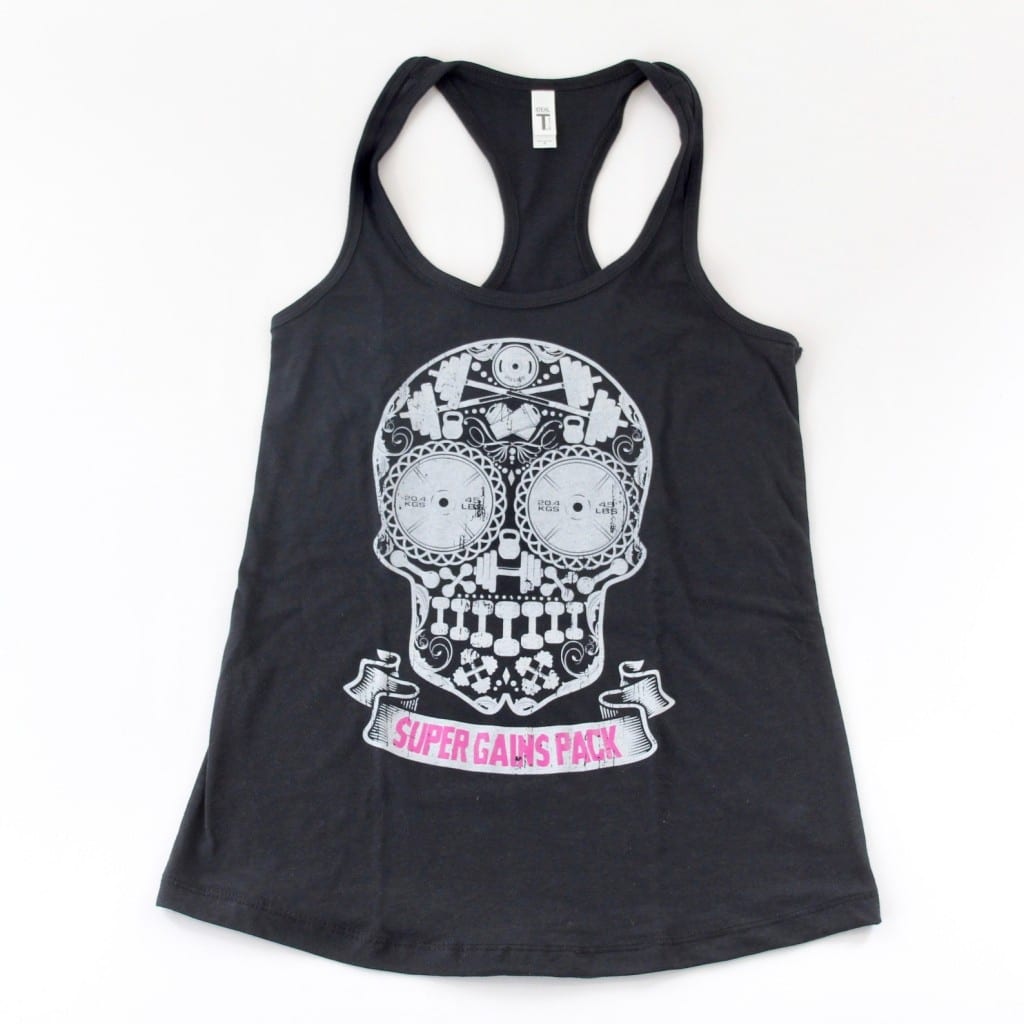 Janelle Morando's Inspired "Dia De Los Gains" Tank
Janelle is truly in the spirit of halloween and pulls her inspiration for this month's design through this motivational fitness tank of Gains.
Jack Rabbit Cold Brew Energy Shot
Jack Rabbit Energy is the only coffee energy shot made from Organic Rabbit Cold Brew and all natural ingredients. It is a powerful punch with 140mg of caffeine in every 2oz shot.
Chizel'd Preworkout
Perfect for high intensity, interval training that will keep you focused and ready for the next PR.
Eat Me Guilt Free Protein Brownie
Eat Me Guilt Free Brownie has 22 grams of protein, is low carb, gluten free, and sweetened with Stevia.
ScoopMate
Makes finding your scoop easy! Designed to store the scoop within the lid or on the side of the bag so the scoop is always positioned for easy access.
Vicia Energy Bar
The VICIA Energy Bar is an all-natural, whole food nutrition bar made with all vegan, gluten free, soy free and non-GMO ingredients.
Doc Spartan Combat Ready Ointment
A convenient clip on key-chain container of our Combat Ready Ointment, your go to all natural first aid ointment. It's like carrying a combat medic in your pocket.
Samples
A mixture of protein and pre-workout samples.
Super Gains Pack Review October 2016 – Final Thoughts
Even though the box felt a little empty this month, I am still happy with it. I definitely would have liked to see another full-size item, but that's just a minor detail. The tank this month is awesome, definitely a favourite. The ScoopMate is a very cool little gadget for those of us who use protein powder on a regular basis, and the VICIA bar is vegan!! I'm not blown away, but I can't expect that from every box. Overall I'm still pretty happy.
XOXO
Explore.
Save.
Enjoy!
Sign up for a free account on A Year of Boxes to receive exclusive offers, be added to our monthly mailing list, and much more! We are always adding features to improve the experience for our users, from their valuable feedback!
Join Today!