Supply Pod Review February 2017
Supply Pod is the most exciting science-fiction bimonthly subscription box. Every other month they mail a box of amazing items; technologies, wearables, content experiences & more. They kindly send us this box for review.
I received my first ever Supply Pod in December and was very impressed. I ended up giving it to my nephew for his birthday and it went over very well. I thought the December theme was awesome, and the curation was well thought out. Coming in at $39.99 per box, I find Supply Pod to be reasonably priced.
February Theme
This month's theme is Robotics:
Supply Pod is diving deeper into science than ever before with our Robotics theme, which include a do-it-yourself robot science kit as well as a ton of other fun items. Great for ages 8 to 80, and the perfect activity to encourage a love for STEM.
I LOVE that this box is appropriate for all ages. I may have given the last box to my nephew, but I also thought the items were pretty awesome and would have enjoyed them myself. The fact that they create themes and source products that appeal to both young and old definitely sets them apart from other subscription boxes in this category.
Robotics T-Shirt
Created in-house by our design team, this T-shirt is made of high-quality, ring-spun cotton and is printed in the USA. 
Supply Pod includes a shirt in every box. I think it is an awesome idea. Right now we are receiving size large but I think we should switch it to a smaller size so my nephew or Ashley's son can enjoy them.
Tin Can Robot
Combining our passion for recycling and STEM, this robot building kit lets you turn an old soda can into a fun and playful robot. 
Ummm……how awesome is this!! Oh my goodness, I don't even like robots and I want to put this together. I didn't take it out of the package because I will be gifting it, so I hope you can see how awesome it is from the photo on the box. This would be a really fun project for a Father and Son or Mother and Daughter to do together. Even though I want to put it together myself, I can see my nephew and his Dad having a ton of fun with this so I am practicing restraint.
Elon Musk and the Quest for a Fantastic Future
Few people in history match Elon Musk's relentless drive and vision. A modern combination of famous inventors and industrialists like Thomas Edison, Henry Ford, and Steve Jobs, Elon is the man behind SpaceX, Tesla Motors, SolarCity and PayPal. 
I certainly wasn't expecting a book, but I think it is a really great addition to the box. I like the unexpected.
Awika! Wind Up
Awika is a very good climber – test her with different small objects on your desk and challenge her with steep obstacles. You can also let her climb over your hand, across an open book, or whatever else you can think of. 
Would you believe me if I told you that I sat on the floor for 20 minutes playing with this thing yesterday afternoon? It is so freakin' cool! You just wind it up and let it go. I think the look of it is what intrigues me the most. I kind of want to keep this for myself. It was a wonderful distraction. I started work at 6am yesterday morning and had been sitting in front of the computer for 8 hours by the time I wrote this review. This was the distraction I needed. I feel like we have bonded and it would be wrong to give him away (they call it a her, and I call it a him).
Hexbug Nano
This tiny micro-robotic creature uses the physics of vibration to propel itself forward and explore its environment. When coming into contact with an object in its path, the energetic little robot will switch directions and scurry away on a new path. 
I so badly want to rip this out of the package, but again I am practicing restraint. The recipient of the box will appreciate it much more if everything is intact. I really am loving this Robot theme more than I thought I was going to.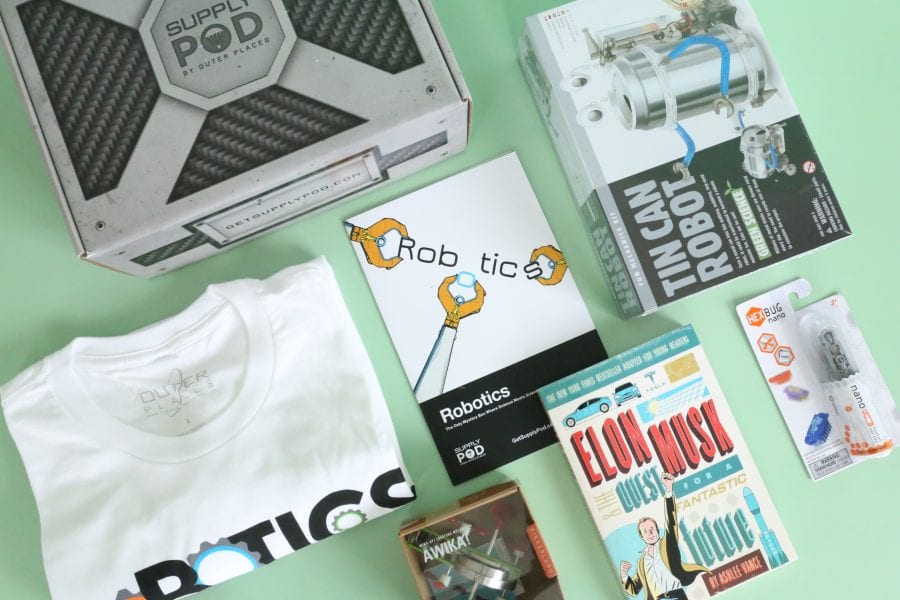 Supply Pod Review February 2017 – Final Thoughts
I just have to say, I really and truly love this subscription. I appreciate the time and energy that is put into each Supply Pod. I find every box to be thoughtful and curated perfectly. I had doubts about the Robot theme this month, but to my surprise, I actually really love it. It's not often that I will sit on the floor and spend time getting to know every product in a box. But that's exactly what I did with this one. It's a really nice change from the regular ol' girly boxes I review. This one had me thinking and playing. I would highly recommend Supply Pod. Like I mentioned above, my Nephew LOVED the last one I gave him, and I know he is going to like this one just as much. I almost wish this was a monthly box.
XOXO
Explore.
Save.
Enjoy!
Sign up for a free account on A Year of Boxes to receive exclusive offers, be added to our monthly mailing list, and much more! We are always adding features to improve the experience for our users, from their valuable feedback!
Join Today!