Surprise My Pet April 2016
Surprise My Pet is a pet subscription box, and even though I don't have a dog (really wish I did) I have a ton of doggy friends who kindly test out the products for me. Well, except for my Dad's dog, he is far too high maintenance, and never likes anything I give him, but that's a story for another day.
If you aren't familiar with Surprise My Pet it is a pet loving family that sends monthly boxes that are an amazingly cute surprise for your pup(s). Each monthly box will include fun toys, tasty treats, and other exciting goodies! This box was provided complimentary for review and may include affiliate links.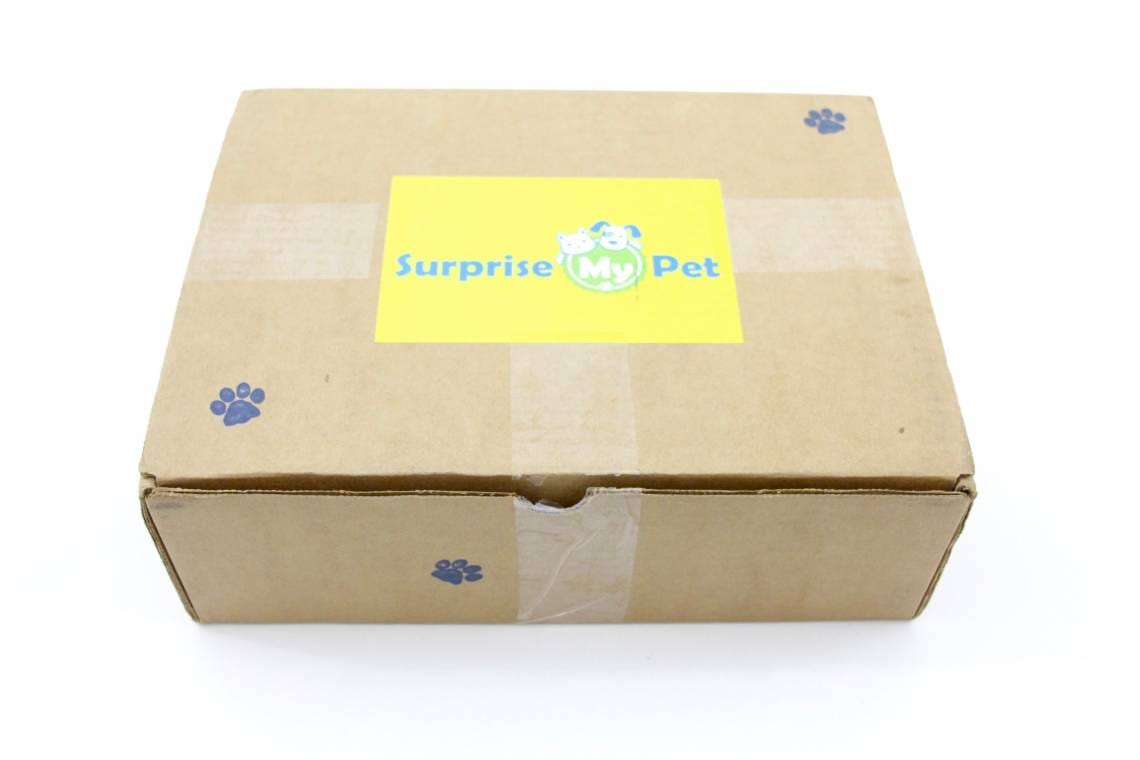 The Box: Surprise My Pet
Cost: $25 per month ($23 on a 3-month plan & $19 on a 1-year plan)
What You Get: 4-6 handpicked products per box, and they are different each month to make for an awesome surprise! If you subscribe for an annual plan you will receive a bonus item in your first box.
Ships to: Worldwide
Shipping Cost: FREE to US, shipping fees apply to other countries
Coupon Code: use code "AYEAROFBOXES" to get 10% off your subscription – CLICK HERE
This month's box looked a little different. I am use to the bright yellow, logo'd box, but this month everything arrived in a big brown shipping box. I was a little confused until I read the card inside, it says "Under Construction" and tells us that they are searching for the most sturdy and eco-friendly boxes.
Elvis PB & Banana Sandwich – I always get a kick out of puppy toys, what will they come up with next. This guy comes apart just like a real sandwich, has a squeaker on one side, and crinkle material on the other.
Fou Fou Doggie Smart Phone – This is too funny, now your pup has his own phone. The product card says it will keep them on the phone as long as you are.
Chow Chow Main – I am a sucker for fun packaging, and this one is fun. There are treats inside and they are pumpkin and ginger flavour…..AND they are vegan!
Puppy Scoops Ice Cream Mix – I always discover the best products in this box. Ice cream for dogs! Seriously! Apparently it is smooth and creamy just like real ice cream, but with a fraction of the fat and calories.
One Fur All Pet House Candle – I've received one of these before and I LOVE the idea. I would be happy if every box included one of these candles.
Himalayan Dog Chews Yaky Charms – These are awesome. We have received them before but I totally don't mind because they are such a fun idea. You pop them in the microwave just like regular popcorn.
Thoughts: If you couldn't tell from the products above, this month's box has a "Movie Night" theme. It has all the makings for a movie night with your fury friend. You guys can order take-out together, pop some popcorn, have ice-cream for dessert, and check your Facebook during the movie. I happen to think it is hilarious, what a fun idea. Themes always make a subscription box more fun to go through…in my opinion. One thing is for sure, Surprise My Pet continues to find some of the best doggy products on the market…..I'm definitely a fan of this box.
XOXO
Explore.
Save.
Enjoy!
Sign up for a free account on A Year of Boxes to receive exclusive offers, be added to our monthly mailing list, and much more! We are always adding features to improve the experience for our users, from their valuable feedback!
Join Today!