Sweet Reads Box Review April 2019
No matter what life stage you are at time for yourself seems to get lost in the everyday. Sweet Reads Box is your chance to sit down, relax and enjoy a great read, a decadent sweet and a carefully curated item that ties to your novel. They kindly sent us this box for review.
Did you see last month's Sweet Reads Box review? It was AH-MAZING! The March Sweet Reads Box was my favorite box to date…..hands down. I am reading the March book right now and it is SO good. I definitely want to see more books like that in future boxes. Or maybe even a genre option when subscribing. But with that being said….the April box is here and it looks pretty darn good as well.
Subscription Details
When you sign up for a Sweet Reads Box subscription you can choose a one month, three month or six month commitment.
What You Get: Each Sweet Reads Box includes the following….
Bestselling fiction novel – Your book will be chosen from one of the top bestseller lists.
Beautifully crafted items – Carefully selected to be the perfect match that connect to the novel in some way.
Artisan drinks – A delicious selection to set the mood and enhance your reading pleasure.
Gourmet goodies – A sweet treat to enjoy while reading and relaxing.
Here's a peek at the items we received in the April Sweet Reads Box…..
The Huntress by Kate Quinn
The vividness of Kate Quinn's writing drew us in immediately. She gives us a unique perspective on World War II and post-war America that was refreshing and captivating. With rich and vivid characters, Quinn provides a novel set around the chase for The Huntress. A novel so thrilling, we hung on every word.
The Huntress is a historical fiction novel which is a genre I don't often read. But after doing a little research I discovered that The Huntress is a book I am really looking forward to reading. I found out that much of the book is based on actual events and real people. It's about a trio of Nazi hunters who embark on a dangerous hunt to bring a dangerous Nazi known as "the Huntress" to justice. I have a feeling this will be a page turner.
Lemon Meringue Tea by Tealish Fine Teas
The inspiration for this tea comes from the Lemon Meringue pie brought to Jordan by the neighbours.
I love that this tea ties in so beautifully to the book, and I love how yummy it sounds. It's a rooibos tea, which is my favorite, and it includes lemon peels and vanilla bits……can we say yum!
Milk Chocolate Marshmallow Crunchy Cashew Bar
While not specifically mentioned in the novel we chose a chocolate bar we thought Ruth would enjoy.
Ummmm….how good does this sound?! And how good will this be when paired with the lemon meringue tea?!
Dalfour Jam
Although we don't recommend putting this in your tea, you will find that's how Nina takes hers!
I am so intrigued by the fact that one of the characters puts jam in her tea. I don't know about you but I am totally open to giving it a try.
M-Cups by Fred
With a novel set partly in Russian and the domestic life of Jordan and Anneliese in American we thought these nesting measuring cups were perfect for their kitchen and yours.
This item put a smile on my face the moment I saw it. I'm a baker and always appreciate kitchen items like this.
Clothespin Clip Light by Kikkerland
Jordan's photography would require the use of clothespins to hang her developing photos. We think you'll love this light for night time reading.
This is such a handy little item. It complements the book perfectly and it will be a useful little reading tool when I'm tucked into bed at night.
Camera LED Pen by Kikkerland
Fun and practical, this camera pen will have you snapping away.
I love this pen! It's making me want to start a fun little pen collection to display on my desk. Plus…..taking notes and writing lists is so much more fun when you have a cute pen to write with.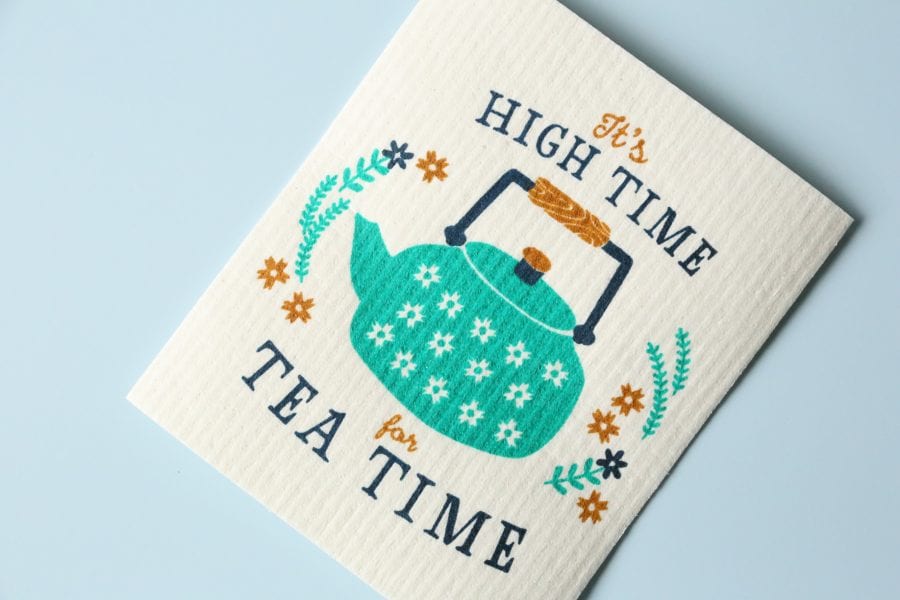 "It's High Time for Tea Time" by Swedish Dishcloth
A perfect addition to any kitchen and fittingly tea-focused for our tea drinking characters.
How cute is this little dishcloth?! And such a practical item at that.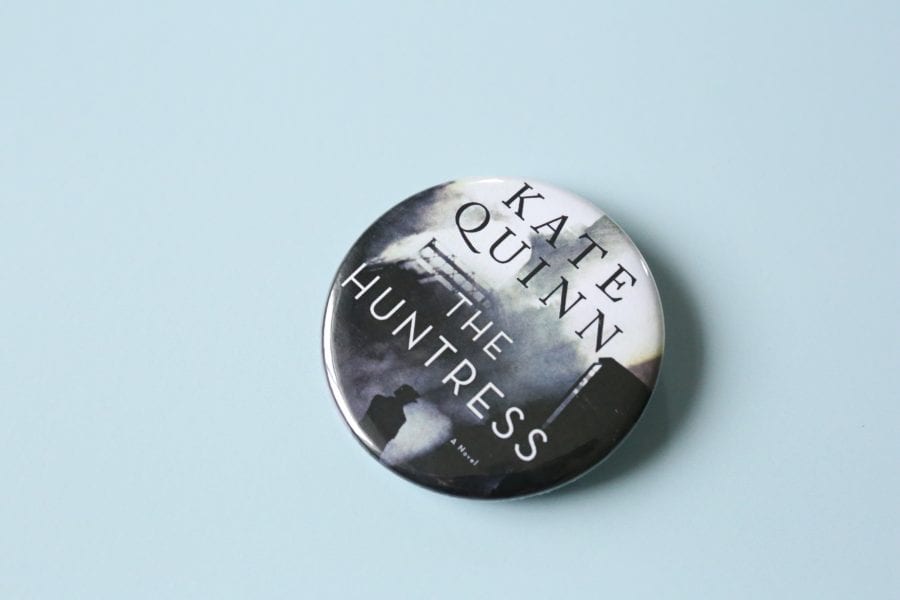 The Huntress Button
Compliments of Harper Collins Canada – A great fan piece exemplifying the moody-ness of the novel.
This fun little item is making me want to start a bookish collection to display on my bookshelf. How fun would that be?!
Sweet Reads Box Review April 2019 – Final Thoughts
Wow…..I feel like Sweet Reads Box gets better with each passing month. I LOVED the March box mostly for the book choice, but this month's box is just as good, if not better, due to the curation of the box itself. I am absolutely loving the practical, yet fun items we received this month. They really did a great job sourcing each product. I'm also very happy with the book choice. Out of all the books I have received in my Sweet Reads Boxes to date, this would be my second favorite. I can't wait to get curled up in my favorite chair with The Huntress, a cup of lemon meringue tea and my chocolate treat!
-AYOB