Sweet Reads Box Review December 2018
No matter what life stage you are at time for yourself seems to get lost in the everyday. Sweet Reads Box is your chance to sit down, relax and enjoy a great read, a decadent sweet and a carefully curated item that ties to your novel. They kindly sent us this box for review.
Subscription Details
When you sign up for a Sweet Reads Box subscription you can choose a one month, three month or six month commitment.
What You Get: Each Sweet Reads Box includes the following….
Bestselling fiction novel – Your book will be chosen from one of the top bestseller lists.
Beautifully crafted items – Carefully selected to be the perfect match that connect to the novel in some way.
Artisan drinks – A delicious selection to set the mood and enhance your reading pleasure.
Gourmet goodies – A sweet treat to enjoy while reading and relaxing.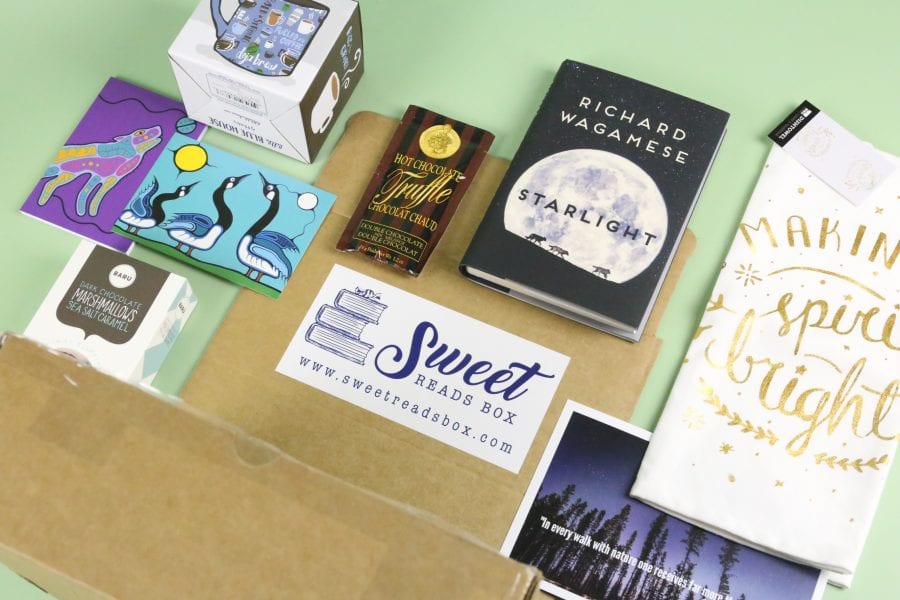 There's something about a book subscription that makes me happy. Just the thought of it puts a smile on my face. Maybe it's the idea of curling up with a new book, taking some time to slow down and do something for myself, relaxing with a big ol' blanket and a hot cup of tea. Book subscription boxes really are the best gift to give yourself. And if you live in Canada Sweet Reads Box is a must-have. I highly recommend getting yourself a subscription or putting it on your wish list. This is definitely one of my new favourite boxes.
Here's a peek at the items we received in the December box…..
Starlight by Richard Wagamese
Richard Wagamese has long been a favorite author of ours. His beautiful storytelling speaks of truth, culture, tradition and history. News of his passing last year left us wondering if we would get the chance to read his writing again. Starlight is his last gift to us as readers.
Reading Starlight we were struck by the story of Frank and Emmy and their journey to each other and towards healing. Like Wagamese's other stories we were drawn in and captivated by the beauty of the natural world and it's teachings. We loved this novel so much we couldn't wait for it to be released in paperback – a special book in a special format as our gift to you.
Gourmet du Village Double Chocolate Truffle Hot Chocolate
While Frank and Emmy drink copious amounts of coffee, we included hot chocolate in this box as a tribute to Winnie and her fireside drink.
Baru Chocolate Marshmallows with Caramel
While sweets are not a central part of the novel, one bite into these morsels and you will see stars. Belgian chocolate and caramel perfection.
Normally I like to enjoy a cup of tea while I read, but……..the idea of a big cup of hot chocolate and some decadent marshmallows sounds like the perfect treat to enjoy while I spend time (lots of time) reading over the Christmas holidays.
Little Blue House by Hatley Coffee Mug
From that first cup Emmy made Starlight and Roth we see coffee as an important part of their day. Start your day with your favorite brew in this fun coffee-loving mug.
In addition to reading, my next favourite "me time" activity is my morning cup of coffee, which usually takes place at 5am in the morning. So it should come as no surprise that I am extremely happy to see a coffee mug in the box. It's fits the theme perfectly.
Now Designs 'Making Spirits Bright' Towel
Emmy works hard to make Frank's place more homey and comfortable. From changing linens and towels to cleaning she turns the cabin into a home. As a nod to the holidays and in the theme of stars we loved these towels and hope they warm your home this December.
Awe……I am loving this towel. I love to decorate for all the different holidays throughout the year, it really is a great way to make a house a home, and I love the idea of adding a festive towel to the kitchen.
Native Northwest Postcard & Notebook
Starlight is Ojibway and in honouring his culture we chose two pieces from Native Northwest (a Canadian company) featuring the art of Indigenous Peoples of Canada.
Sweet Reads Box Review December 2018 – Final Thoughts
Sweet Reads Box did an absolutely wonderful job curating the December box. I love how they theme the items to match the book and I love that we always receive a beverage and a treat. They chose a wonderful book for this month's box. It's not something I would have picked out for myself but it sounds like a really good read. This is only my second time reviewing Sweet Reads Box and I am already a huge fan. It's an absolutely lovely box.
XOXO