Sweet Reads Box Review February 2020
Friends, amigos, compadres, I've missed you! I've had the worst writer's block the past few weeks but I'm gonna try my best to shake it off and get this train back on track. February's Sweet Reads Box features a topical, controversial new book some have called "the great American novel" and a bevvy of bookish items (including something to eat and drink) related to the story. 'Me time' delivered!
*They kindly sent us this box for review
Each Sweet Reads Box opens with a product card that has information about the contents on one side and a quote related to the novel on the other. For the February box it's an inspiring quote from Ghandi: "Strength does not come from physical capacity, it comes from indomitable will."
American Dirt
And February's title — a new novel you may have heard a thing or two about (and one I've been curious to read), "American Dirt". Here's the description from the publisher:
"Lydia Quixano Pérez lives in the Mexican city of Acapulco. She runs a bookstore. She has a son, Luca, the love of her life, and a wonderful husband who is a journalist. And while there are cracks beginning to show in Acapulco because of the drug cartels, her life is, by and large, fairly comfortable.
Even though she knows they'll never sell, Lydia stocks some of her all-time favorite books in her store. And then one day a man enters the shop to browse and comes up to the register with a few books he would like to buy—two of them her favorites. Javier is erudite. He is charming. And, unbeknownst to Lydia, he is the jefe of the newest drug cartel that has gruesomely taken over the city. When Lydia's husband's tell-all profile of Javier is published, none of their lives will ever be the same.
Forced to flee, Lydia and eight-year-old Luca soon find themselves miles and worlds away from their comfortable middle-class existence. Instantly transformed into migrants, Lydia and Luca ride la bestia—trains that make their way north toward the United States, which is the only place Javier's reach doesn't extend. As they join the countless people trying to reach el norte, Lydia soon sees that everyone is running from something. But what exactly are they running to?
American Dirt will leave readers utterly changed. It is a literary achievement filled with poignancy, drama, and humanity on every page. It is one of the most important books for our times.
Already being hailed as "a Grapes of Wrath for our times" and "a new American classic," Jeanine Cummins's American Dirt is a rare exploration into the inner hearts of people willing to sacrifice everything for a glimmer of hope."
The book's been met with controversy for myriad reasons (this article offers a thorough explanation) from the authorship to the quality of the writing to who profits from its sales.
"A number of people have been critical of the novel because a Latino author did not write it and the story is very much rooted in the culture and experiences of that community," Sweet Reads Box writes. "We respect and honour this opinion while also believing this novel is compelling, timely and important."
Very much looking forward to reading this one.
San Cristobel Coffee (Kyoto Coffee)
"A perfect pot of delicious medium roast coffee. The ideal drink to compliment an afternoon of reading."
Sinfully Raw Vanilla Stone Ground Dark Chocolate (Chocosol)
"We chose this chocolate from well-known Toronto Chocosol Traders who blend cacao varieties from indigenous communities in Mexico, Dominican Republic, Guatemala, and Ecuador."
I don't like coffee or dark chocolate, but I can understand why they'd be included as they're kind of perfect for this box. And I know lots of people who would enjoy them so neither will be wasted.
Empire Zippered Pouch (Danica Studio)
"The eagle is a powerful symbol in Mexico (and America) making it a fitting image for this canvas pouch. We felt this type of durable pouch would be similar to the one Lydia carries. A portion of the purchase of the pouch supports Education Without Borders."
I've seen some products from this Danica line in some of my favourite boutiques around the city. The pouch is sturdy and well made and I love how the design echoes the one on the book's cover.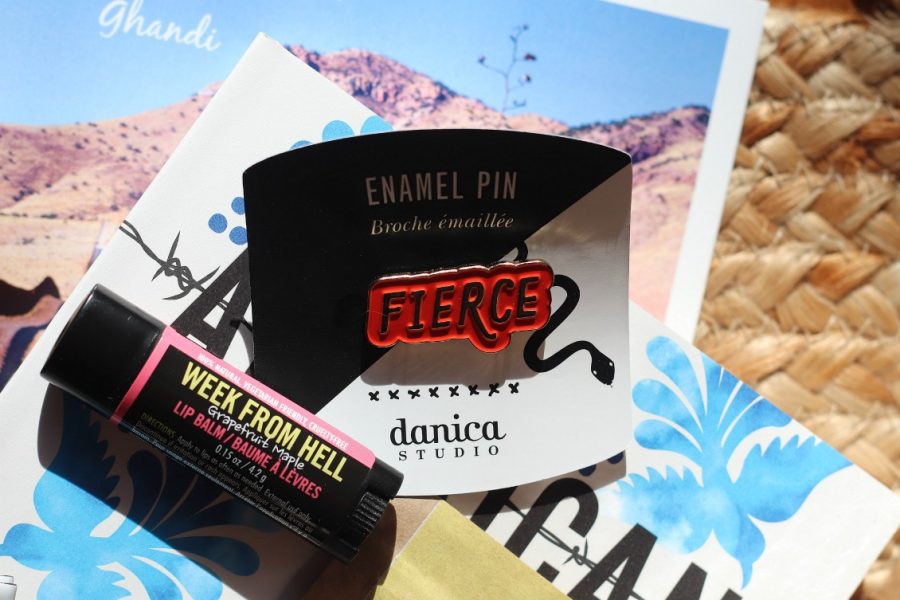 Fierce Enamel Pin (Danica Studio)
"Lydia and so many of the characters embody this word. Let this pin be a symbol of your own fierceness. A portion of the purchase of the pin supports Education Without Borders."
Well From Hell Lip Balm (Walton Wood Farm)
"We see lip balm used at various points in the novel as Lydia and Luca deal with the blazing sun and sun-damaged lips. Take care of your lips with this natural lip balm."
How amazing is the pin? It'll look great on my jean jacket (if my daughter doesn't snag it first for her) and the lip balm is wonderful. Smells great and so creamy and soothing on. And such clever tie-ins to the story too.
Cactus Pencils (Kikkerland)
"While the experiences of the characters in the novel are anything but fun, we wanted to add a lighter touch to the box with cactus pencils perfect for school, work or home office."
I have a thing for all things cactii so I love these pencils. I may even share one or two.
February's Sweet Reads Box is one of the most cleverly curated ones I've seen, both in terms of how well everything ties together, but also in the quality and usefulness of each item. I love how there are a few things to enjoy with the book and others to use long after. (I like to stretch out my 'me time' as long as possible, ha ha.) Whether it's a gift for yourself or someone else, Sweet Reads Box is the total package!
Sweet Reads Box is available as single, commitment-free boxes and by subscription and currently ship Canada-wide. March boxes are already sold out but the April box is still available if you want to try that one or make it the first month in a subscription.
Single box: $65.99 + shipping
Three-month subscription: $230.97 including shipping
Six-month subscription: $443.94 including shipping
12-month subscription: $863.88 including shipping
And you can save 10% on three- and six-month subscriptions when you sign up for the Sweet Reads Box mailing list. They also share bookish news, discounts and info on upcoming boxes on Instagram, Facebook and Twitter.
What do we think of February's Sweet Reads Box? Have you read "American Dirt"? Tell me everything!
Try Small Things – https://trysmallthings.com