Sweet Reads Box Review January 2020
High five, my friends. We got through January, Valentine's Day is around the corner and before we know it we'll be sailing into March. Normally I go to my aunt's place in Florida this time of year to roam around Target in my flip flops and read by the pool but that wasn't possible so I'm here at home, writing to you from the couch with two blankets piled on top of me, a hot cup of tea by my side and a candle flickering on the widow sill (which always feels so cozy). It also meant I was home when January's Sweet Reads Box arrived so I've got that here for you today. It's a Canadian subscription service that's "me time delivered" with a new novel, a hot beverage and a few treasures related to the story, and it's always SO GOOD!
*They kindly sent us this box for review.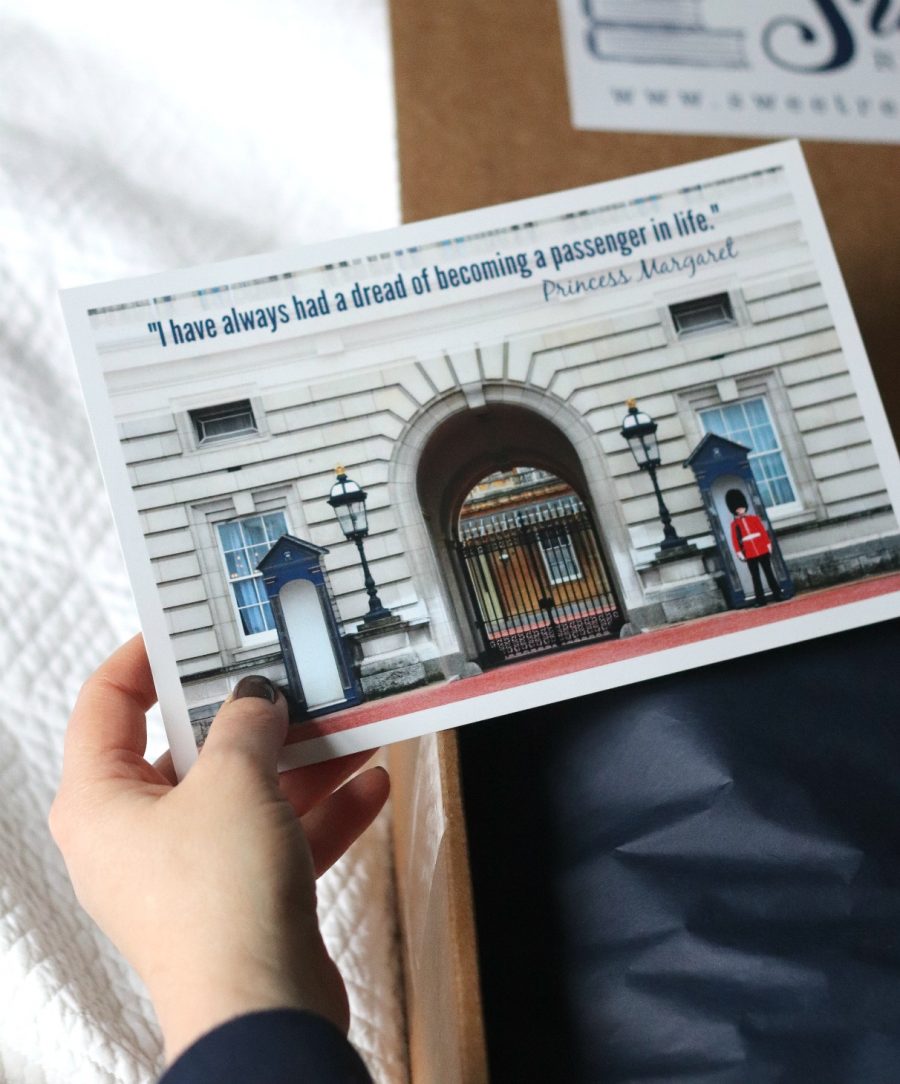 When you open Sweet Reads Box the first thing you'll see is a card with a guide to the contents on one side and a quote related to the story or the theme of the box on the other. January's card has a quote from Princess Margaret, "I have always had a dread of becoming a passenger in life."
I bought The Other Windsor Girl: A Novel of Princess Margaret, Royal Rebel for my mom for Christmas and wanted to read it myself so I was so happy to see it in the box!
From the back of the book:
"A rebel princess . . .
With a cigarette in one hand and a whiskey in the other, royal rebel Princess Margaret dazzles with her cutting-edge fashion sense and biting quips. The people love her, the paparazzi stalk her, and she sparkles in the company of her glittering entourage of wealthy young aristocrats known as the Margaret Set. But her outrageous lifestyle conflicts with her place as Queen Elizabeth's younger sister. Can she be a dutiful princess while still enchanting the world on her own terms?
A noblewoman's dreams . . .
A chance meeting with the Princess changes the life of the Honorable Vera Strathmore forever. Discreet and genuinely kind, Vera gains Princess Margaret's confidence and the privileged position of lady-in-waiting. Yet as Vera watches the Princess's ill-fated love affair with the dashing Captain Peter Townsend unfurl, she longs for a life outside the captivating orbit of royal society.
An unexpected destiny . . .
But while Princess Margaret, as a member of the Royal Family, is not free to act on her own desires, Vera could have the freedom to pursue her own dreams. As time and Princess Margaret's scandalous behavior progress, both women will be forced to choose between status and love."
I haven't read it yet, but it's right up my alley.
Assorted Fudge (Cartwright and Butler)
"We wanted a real extraordinary English confection for this box and this fudge is perfect. The hard part will be not eating it all in one sitting! One of three delectable flavours will appear in your box."
I got the vanilla fudge, and it's delicious! I've had a few pieces, shared a few more, and still have half the box left to enjoy with the book.
Winter Chai (Pluck Tea)
"Any book set in England has to have a great 'cuppa' to accompany it. We hope you enjoy this wonderful winter tea to keep you warm. Toronto-based Pluck Tea paired with local chocolate maker Chocosol to create this special blend."
Pluck Tea's English Breakfast is one of my favourites (the cafe at the spin studio I go to carries it and sometimes I'll treat myself to a cup after class) but I'm not a fan of the Winter Chai and chai tea in general. It's the cloves and the ginger and the cinnamon — those spices just don't agree with me. But I'm sure I'll find someone who'd love it.
Corgi Socks (Socksmith)
"Although Her Majesty Queen Elizabeth II is probably better known for loving Corgis we couldn't resist these cute socks. A cute pair of Corgi love socks for curling up with your novel."
These socks are just the cutest! And I'd keep them for me if my brother-in-law wasn't such a huge fan of the Queen and her pooches. He must have them!
Casablanca Mug (Now Designs)
"We loved the elegant design of this mug and felt it was as close to a proper English teacup as we could get but still sturdy enough to ship to your home. A lovely white and blue mug that is ideal for your favourite winter beverage."
I use my Sweet Reads Box mugs all the time and this is one of my favourites. I love the colours, the size, and the design (which reminds me of a cable-knit sweater).
Ridley's Games Gin Rummy (Wild and Wolf)
"Princess Margaret may have preferred vodka as her drink of choice but these Gin-themed playing cards tie back to her mother who was known to enjoy a few Gin and Dubonet in her time. Perfect for a games night in your parlour."
My buddy Cathy and I like to enjoy a Gin Smash or two from time to time and these playing cards are perfect for our next girls' night.
January's Sweet Reads Box was a royal treat — so thoughtfully curated and carefully packed so everything arrived in perfect condition. If you enjoy reading and an element of surprise, it's a wonderful gift to give yourself or other book lovers in your life. Maybe you know someone who used to love reading but hasn't picked up a novel in ages. A Sweet Reads Box might renew their interest and encourage them to take some time for themselves.
Sweet Reads Boxes are available as single, commitment-free boxes and by subscription. Boxes currently ship Canada-wide. February boxes are sold out (they go so quickly!) but the March box is still available if you want to try that one or make it the first month in a subscription.
Single box: $61.99 + shipping
Three-month subscription: $230.07 including shipping
Six-month subscription: $443.94 including shipping
12-month subscription: $863.88 including shipping
And you can save 10% on three- and six-month subscriptions when you sign up for the Sweet Reads Box mailing list. They also share bookish news, discounts and info on upcoming boxes on Instagram, Facebook and Twitter.
What do you think of January's Sweet Reads Box? What novel or other items would you like to see in a future box? Have you read The Other Windsor Girl? I'd love to hear your thoughts!
Try Small Things – https://trysmallthings.com