Sweet Reads Box Review July 2020
Book hang-o-ver (hang-oh-ver) noun
The inability to start a new book because you are still living in the old book's world.
The inability to function at work/school because you were up all night binge-reading.
Sam cannot make it to the committee meeting today as she has a book hangover.
If I'm looking rough today it's not for nothing. I was up late last night finishing the delicious new psychological thriller from July's Sweet Reads Box and I've got a book hangover in the worst way. Or maybe in the best way? I mean it's a good problem to have all things considered. But I'm certainly not the sharpest tool in the shed today so it might be a good idea to keep this one on the shorter side. If it's new to you, Sweet Reads Box is monthly book box that delivers a new novel, coffee or tea, a sweet or savoury snack and some bookish goodies tied to the story. They also offer several limited edition boxes throughout the year (I just ordered the Cat Lover's Box for August and they have a Dog Lover's one too). Let's get to July's.*
*They kindly sent us this box for review.
"Fear is a reaction. Courage is a decision." — Winston Churchill
The product card hints at the theme of the book on one side and lists the contents on the other. I like to put this aside and read it after I've unpacked the box so the contents are a surprise. Do you do that too?
And the book I can't stop thinking about: The Last Flight by Julie Clark. (And a hardcover! What a treat!) Here's the synopsis from the publisher:
"Two women. Two Flights. One last chance to disappear.
Claire Cook has a perfect life. Married to the scion of a political dynasty, with a Manhattan townhouse and a staff of ten, her surroundings are elegant, her days flawlessly choreographed, and her future auspicious. But behind closed doors, nothing is quite as it seems. That perfect husband has a temper that burns as bright as his promising political career, and he's not above using his staff to track Claire's every move, making sure she's living up to his impossible standards. But what he doesn't know is that Claire has worked for months on a plan to vanish.
A chance meeting in an airport bar brings her together with a woman whose circumstances seem equally dire. Together they make a last-minute decision to switch tickets – Claire taking Eva's flight to Oakland, and Eva traveling to Puerto Rico as Claire. They believe the swap will give each of them the head start they need to begin again somewhere far away. But when the flight to Puerto Rico goes down, Claire realizes it's no longer a head start but a new life. Cut off, out of options, with the news of her death about to explode in the media, Claire will assume Eva's identity, and along with it, the secrets Eva fought so hard to keep hidden.
For fans of Lisa Jewell and Liv Constantine, The Last Flight is the story of two women – both alone, both scared – and one agonizing decision that will change the trajectory of both of their lives."
Ahhhhh this book! Sweet Reads Box knows how to pick 'em. I read it in two nights and hung on every word. Totally worth the hangover. Highly recommend!
And I didn't take a picture of it but there was also a bookplate signed by the author tucked just inside the front cover. (Swoon!)
Rocky Road Popcorn (Toronto Popcorn Company)
"This popcorn company is a reader favourite and what could be more delicious than Rocky Road? It is a combination of your favourite summer flavours mixed with airplane peanuts. Plus, the flavour Rocky Road was invented in Oakland, CA close to where this novel takes place."
Toronto Popcorn Company! (YES!) Their Cinnamon Toast Popcorn in the Spring Thriller Box was amazing and the Kettle Corn in the first YA Box delish and this jumbo bag of Rocky Road is twice the size! We're off to a great start, mes amies.
Skyhawk Coffee (Propeller Coffee Co.)
"We are thrilled to partner with this amazing Toronto-based roaster. A Canadian company focused on sustainability, community and quality. We know you'll love this amazing dark roast. Plus Propeller is the perfect tie-in for the novel."
My hubby's the coffee drinker in our house so this bag is for him.
San Francisco Pouch (Galison)
"The novel is set in Berkley, CA close to San Francisco and Eva and Liz go to the Giants game. This handmade porch is perfect for pencils, makeup or travel items."
Also excellent for storing face masks. (Really it's the perfect size!) Zip a few inside, tuck it in your purse and you'll have them at the ready.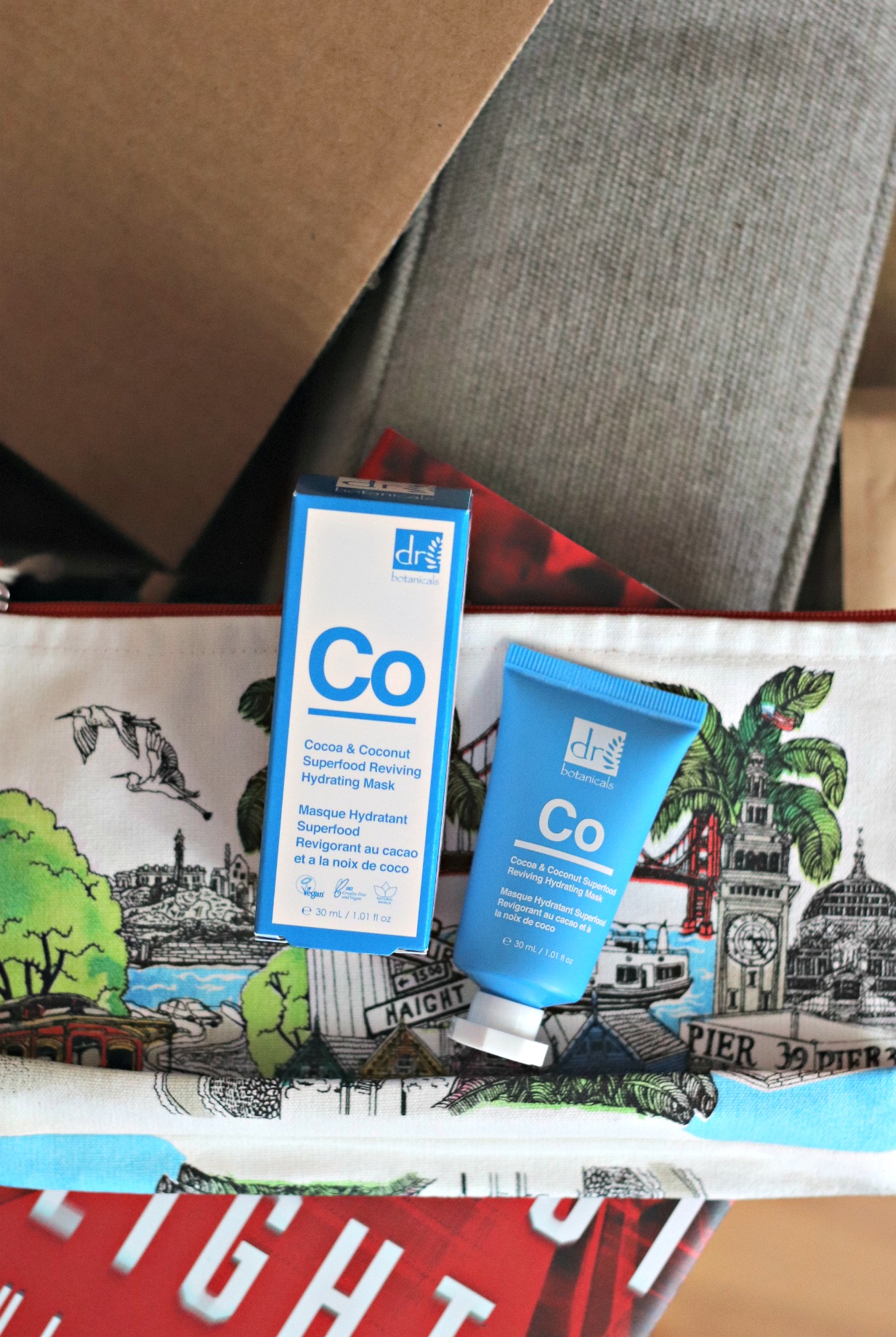 Cocoa & Coconut Superfood Reviving Mask (Dr. Botanicals)
"This is the perfect travel size face mask intended to nourish and revive. It has us thinking, what better way to disappear than to wear a mask?"
Speaking of masks, what a great idea! This one is formulated for normal, dry, oily and combination skin with all-natural ingredients and no parabens, chemicals or preservatives.
Laundry Bag (Kikkerland)
"Two styles of travel sized laundry bag with pouch and carabiner. Whether you use it for laundry while travelling or at home it is fun and functional."
Another handy item, even if you're only travelling as far as the grocery store. And the flight pattern is a perfect match for the story!
Spark Courage (Chronicle Books)
"Discover your inner bravery with this set of matchsticks. Eva and Claire's desperation leads them to show courage to change their lives entirely with unexpected results." 
These are faux matchsticks with a prompt to take you out of your comfort zone printed on each one. ("Write down 10 things you're scared to try — then do the first one." "What do you believe you're not good at? Do one thing to get better.") It's the kind of thing I'm tempted to gift because it feels too nice for me (do you know what I mean?) but I'm going to keep it and use them myself. (How bold! LOL) There's 50, so maybe one a week?
And there you have July's Sweet Reads Box! Me time delivered for yourself or a reader friend. (Wouldn't it make an awesome gift?) I know the August box is sold out but September boxes are available and ship Canada-wide. Shipping is included.
Single Sweet Reads Box: $80
Three-month subscription: $230.97
Six-month subscription: $443.94
12-month subscription: $863.88
And you can save 10% on three- and six-month subscriptions when you sign up for the Sweet Reads Box mailing list. The co also shares bookish news, discounts and info on upcoming boxes on Instagram, Facebook and Twitter.
Have you tried Sweet Reads Box? What do you think of July's box?
Try Small Things – https://trysmallthings.com