Sweet Reads Box Review July 2021
Hi everybody! I hope you had a nice weekend. It was a big one for Sweet Reads Box as the co won Best Book Box for the third year running in A Year of Boxes' annual Canadian Subscription Box Awards. If you're new to Sweet Reads, it's a subscription service that sends you a new novel every month, along with all kinds of goodies to help enhance your reading experience — always something decadent to eat and drink plus bookish items like mugs, bookmarks, journals, candles, and bath and body products specially chosen to tie in to the story. You can subscribe for three, six, or 12 months or order a single box to try. Here's a look at July's edition. *
* They kindly sent us this box for review.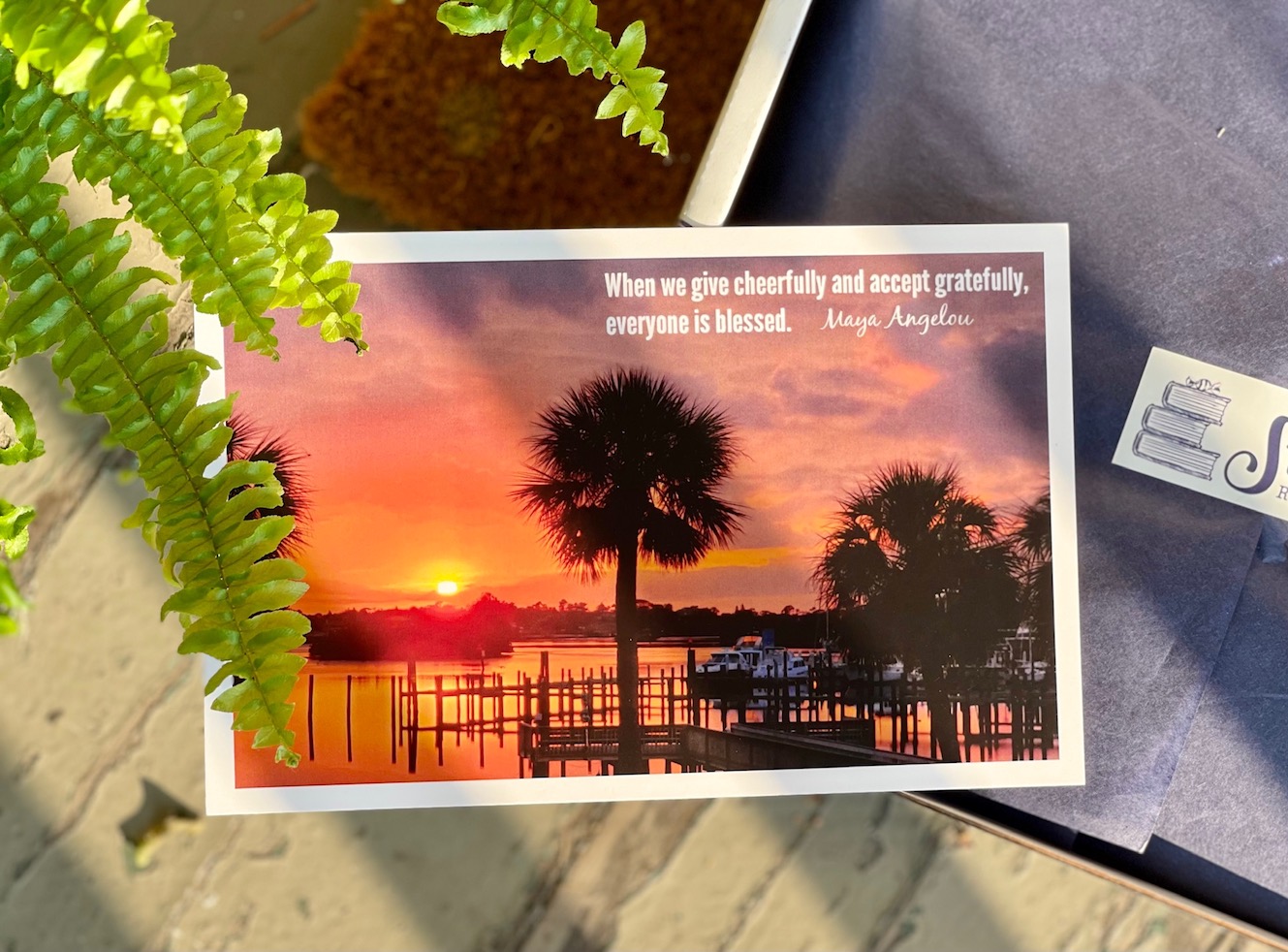 When you open your Sweet Reads Box you'll see a product card with a quote related to the novel on one side and a description of the contents on the other. Sweet Reads sources most of its products from Canadian companies (Canadian products are indicated with two asterisks below). I love to be surprised so I always set the card aside to read after I've unpacked the box.
July's quote is one from Maya Angelou: "When we give cheerfully and accept gratefully, everyone is blessed."
The House Guests by Emilie Richards
July's book is The House Guests by Emilie Richards. "An easy summer read with captivating characters and a storyline that will leave you guessing how it will all turn out. Two women whose lives are brought together after a stolen change purse leaves one of them destitute. An unexpected act of kindness brings these two women and their lives together to face the questions of their past. Set in Florida this book combines a tropical Florida setting with the rich heritage of Greek culture and food. While you might not want to open your home to a stranger, we think you will enjoy this story about doing just that."
I'd never heard of this book but it sounds really interesting and an easy read is exactly what I need. (I've been up at all hours of the night for weeks and too zonked to focus on anything especially challenging.) And I love the tagline "be careful who crosses your threshold." Gives me the chills!
Lemon Shortbread Cookies (The Shortbread Company) **
"The perfect pop of citrus makes these cookies a light summer treat. Enjoy them with friends, or keep them for your secret reading snacks."
Sweet Reads picks the most delicious snacks but sadly this was the rare one that didn't do it for me. I love shortbread cookies and lemon everything but these didn't make my tastebuds sing. Such a shame too 'cause this is a great-sized stash!
Skyhawk Dark Roast (Propeller Coffee) **
"A rich, beautiful coffee that is perfect for making iced coffee this summer. Don't love iced coffee? Use it how whichever way you'd like to brew it!"
And I'm not a coffee drinker but I'm happy to share this joe with my fella. Sweet Reads also included a card with tips on how to make the perfect iced coffee.
Greek Salad Mix (Gourmet du Village) **
"An easy mix to create your own Greek salad at home. Perfect for outdoors meals on the deck/patio."
YiaYia's Kouzina Tzatziki Dip (Walton Woods Farms) **
"Created specifically for this box this tzatziki dip is named after the Greek restaurant owned by Cassie's family. Serve with warm pita, and veggies or as a side to souvlaki."
Mmmmm we love Greek salad and tzatziki and I know my mom does too so I can't wait to try these with her when she visits later this week.
Oasis Tea Towel (Tag) **
"Bring the Florida vibe home with a beautiful summery tea towel. A great accent to your kitchen."
Our tea towels often turn into all-purpose cloths so I'm always happy to have a new one that doesn't look like it's been in a fight. Pretty design too.
Assorted Zipper Pouch (Danica) **
"You will receive one of a variety of designs of a small pouch. Included to tie into the stolen zipper pouch that is the catalyst to Cassie and Amber's relationship."
What a perfect tie-in to the story! I'm going to use it to stow change or a couple of fresh masks.
House Guests Keychain (HarperCollins Canada ) **
"A fun and practical tie-in to the novel. Great for your spare set of keys to give to your next house guest."
I mentioned we've got a guest coming this week so this keychain is perfect for her!
Sweet Orange Bath Bomb (SOAK Co.) **
"We just love this scent for summer. Fresh, citrusy and perfectly hydrating for your skin. Relax and unwind with a great bath in all-natural ingredients."
This is the best bath bomb I've used in ages! Really moisturizing and fragrant.
And that wraps up July's box! Sweet Reads has introduced me to some of my favourite books and this month's new-to-me choice sounds compelling. They're also brilliant at curating products that tie-in so perfectly to the story and I appreciate the balance of consumables with useful keepsakes.
Single monthly Sweet Reads Box: $85
Three-month subscription: $230.97
Six-month subscription: $443.94
12-month subscription: $863.88
Sweet Reads Box ships Canada-wide and shipping is included.
And you can save 10% on three- and six-month subscriptions when you sign up for the Sweet Reads Box mailing list. The co. also shares bookish news, discounts and info on upcoming boxes on Instagram, Facebook and Twitter.
Have you tried Sweet Reads Box? What do you think of July's edition?
Try Small Things – https://trysmallthings.com