Sweet Reads Box Review: Kids Christmas Box 2019
What's the most popular Christmas wine? "I don't like Brussels sprouts." 😂 Speaking of whining, was anyone else worried they might hear some complaints Christmas morning when the kids didn't see iPhones and PlayStations and iThis, that and the other under the tree? I was. But I was excited too. Because I was pretty sure I had the best gift that wasn't an iPhone or a PlayStation that any kid my kids' ages (10 and 12) could want, and I couldn't wait for them to open it! I'd ordered a Kids Christmas Box from Sweet Reads Box for them back in November and thought they'd be thrilled to unwrap a subscription box of their very own, one that promised a Christmas book, sweet treats and a few other surprises curated just for them. This was the first year Sweet Reads Box sold kids' boxes (one for ages 8 to 12 and another for kids 4 to 7) and given how much I love my own, I thought it was brilliant. As promised, here's a look inside.
Like the adult Sweet Reads Box, this one came with a card with details about the contents on one side and a photo related to the theme on the other. How cute are these marshmallow snowmen? I think we should make some this winter.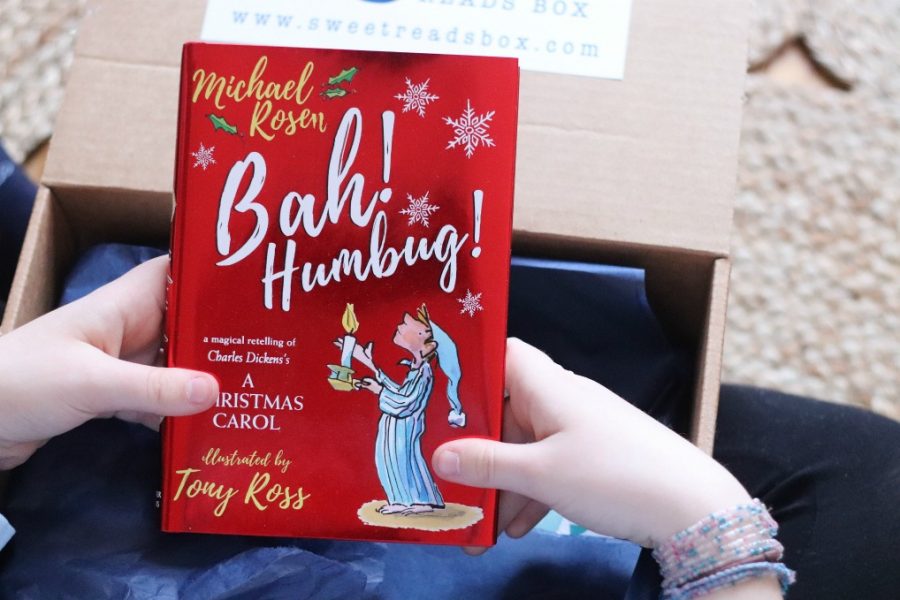 My kids had never seen the book (me neither) but my tween recognized the illustrator straight away. (He also does the David Walliams books she loves.)
Bah Humbug by Michael Rosenberg
"We couldn't resist this fun retelling of Charles Dickens's A Christmas Carol with great illustrations and even fun games and recipes! We hope this will be a new way to enjoy a family classic. Read as a family, or delight your parents by reading to them."
Here's the description from the book:
"A timely retelling of A Christmas Carol for the whole family about a smartphone-obsessed dad.
Harry Gruber plays the role of Scrooge in his school's production of "A Christmas Carol," and he is extra nervous about tonight's performance because his father is in the audience — not away for business, as usual. Will the story's message of Christmas cheer and the redemptive power of love reach his father's distracted Scrooge heart?"
We haven't read it yet but it's next in the queue.
Double Truffle Hot Chocolate (Gourmet du Village)
"Hot chocolate and marshmallows in a convenient cup."
The kids love hot chocolate but we don't have it often so this will be a treat. Plenty of marshmallows there for two.
Gummy Bears (Smart Sweets)
"Sweet treats without the sugar rush? We love these and we know you'll love these gummy bears as you read."
"Why would kids want sugar-free candy?" my tween asked when she saw the bag.
"Maybe they don't want the highs and lows and cavities you can get from eating a lot of sugar," I said.
Lily blinked. Okay, maybe it's the parents that don't want that.
Lily said she wasn't a fan of the texture but her brother loved them and I do too. Smart Sweets also makes the best sugar-free Swedish fish. I eat them all the time.
Hot Chocolate Magnetic Bookmark (Crafted Van)
"A fun way to keep your page. We love this Vancouver company and their fun designs."
Gingerbread Sticky Notes (Little Blue House)
"Keep track of your holiday plans or leave a sticky note for Santa!"
We all use bookmarks to keep our pages (or sticky notes, or random scraps of paper) so this one will be used and sticky notes are always so handy.
Merry & Bright Rafiki Bracelet (Me to We)
"Made in Kenya, this new take on a friendship bracelet gives back through Me to We Education for Kenya. Use the code to track your impact."
Lily had the bracelet out of the package and on her wrist faster than you can say "Merry Christmas" so I can't show it to you in the package, but she's been wearing it since Christmas Day so you know she loves it.
Christmas Cheer Mad Libs (Penguin Books)
"Make the most fun Christmas stories with these Mad Libs. Fill in the blanks and watch the hilarity ensue."
We love Mad Libs! The kids will do them with each other and with us. We've never seen this one. So fun! (Especially for long road trips. Always great to have something like this in the car to help pass the time.)
If you'd like to get a jump on next year's shopping, there are still a few of these boxes available, and they're on sale (regularly $40, now $29.99 + shipping). The box for ages 4 to 7 is sold out. Sweet Reads Box also did a Limited Edition Christmas Box for us big kids. It's sold out too, but you can see my review HERE.
What do you think of the Sweet Reads Box Kids Christmas Box? Are there any kiddos in your life who would enjoy it?
Try Small Things – https://trysmallthings.com