Sweet Reads Box Review: Limited Edition Travel Lover's Box 2021
No matter what life stage you are at ,time for yourself seems to get lost in the everyday. Sweet Reads Box is your chance to sit down, relax and enjoy a great read, a decadent sweet and a carefully curated item that ties to your novel. They kindly sent us this box for review.
I recently reviewed the Limited Edition Christmas box from Sweet Reads Box which will go down in history as one of my all-time favorite Sweet Reads boxes, but…..I have to admit, I'm kind of ok with the fact that Christmas is over and am ready for sunny weather and fresh starts. So……the Limited Edition Travel Lover's Box is making me pretty darn excited.
Subscription Details
Sweet Reads Box has a regular monthly subscription and they also offer a variety of limited edition boxes each season.
What You Get: Each Sweet Reads Box includes the following….
Bestselling fiction novel – Your book will be chosen from one of the top bestseller lists.
Beautifully crafted items – Carefully selected to be the perfect match that connect to the novel in some way.
Artisan drinks – A delicious selection to set the mood and enhance your reading pleasure.
Gourmet goodies – A sweet treat to enjoy while reading and relaxing.
Here's a closer look at the Limited Edition Travel Lover's Box from Sweet Reads Box….
A note from the author which is such a nice touch.
Book: Wish You Were Here
A novel set around a trip to the Galapagos and what Diana hopes to be a proposal. Then a virus appears in New york City, and Diana's boyfriend must stay back, leaving Diana to travel alone.
I'm a thriller girl, through and through. Typically it's all I will read. But….thanks to Sweet Reads Box and the wonderful book choice in the Christmas box, I am now totally open to reading other genres. Therefore, I am actually really looking forward to digging in to the Travel Lover's book as soon as I am done "The Holiday Swap".
Oh, and I LOVE that it relates to the current situation and what we have all been going through for the last 2 years.
Nut Clusters – Handfuel
The most delightful morsels of nutty sweetness. Perfect for on-the-go snacking, road trips, plane travel, and more. The most delicious flavour – perfectly tropical.
The perfect snack for a travel-themed box because the coconut pecan flavour definitely makes me think of tropical vacays. I LOVE receiving snacks like this – low sugar, healthy fats, but oh-so-good.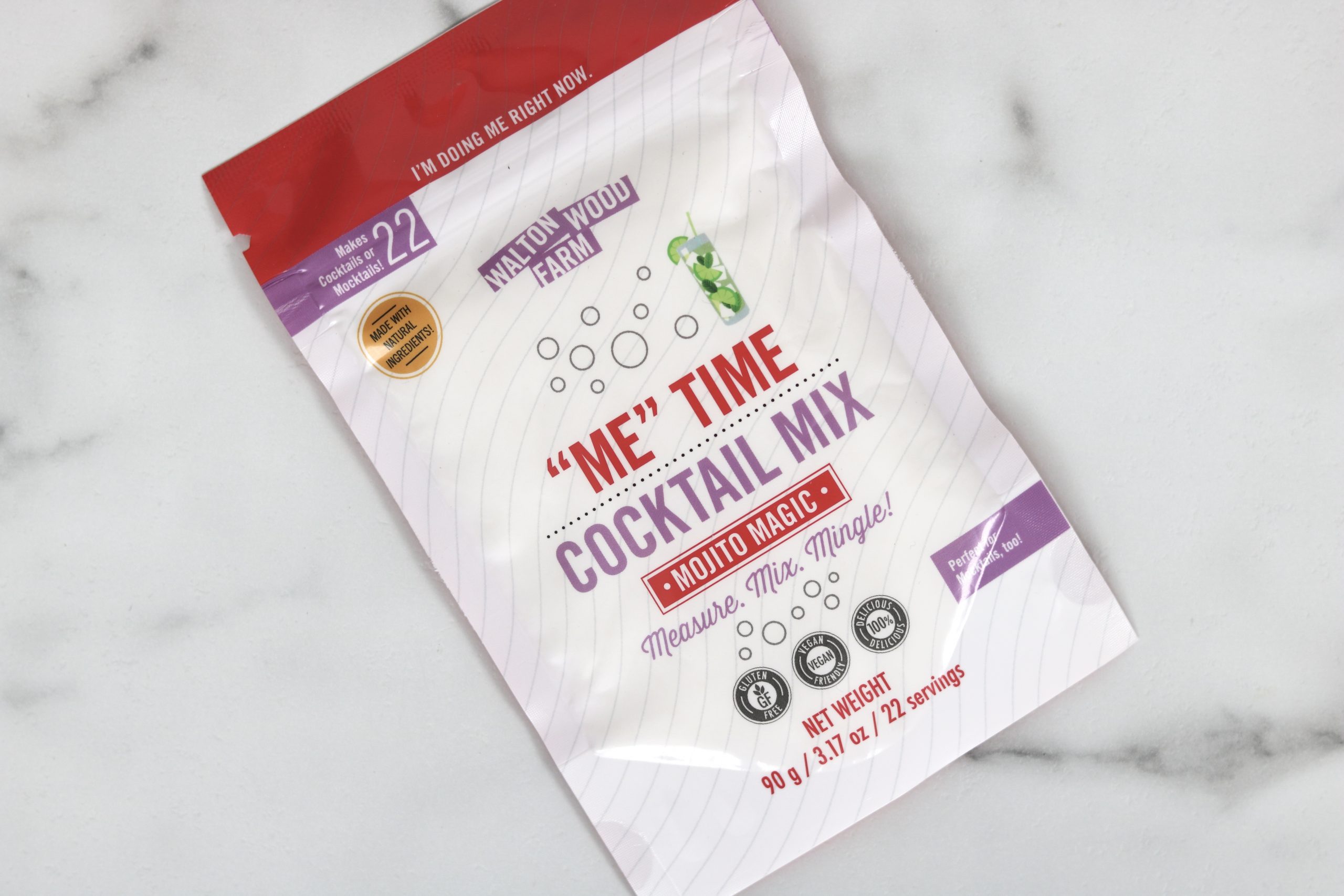 Me Time Cocktail Mix – Walton Wood Farm
The most enticing cocktail mix we've tried. A delicious blend for 'Mojito Magic' great as a cocktail or mocktail. Whisk yourself away with this taste of vacation.
Love, love, love this mix from one of my favorite Sweet Reads feature brands. We often receive items from Walton Wood Farm and I have loved every single one. This beverage mix goes perfectly with the nut clusters and will get me in the mood for a vacay-themed book. I honestly can't wait!
Travel Pouch – Abbott Collection
Connecting to the theme of the novel and the beauty of nature (2 different designs), each pouch is perfect for your hand cream, lip balm, notebook, and mask. Pop them in your bag and you are ready to go.
I have to be totally honest, as much as I love travel pouches, this one just isn't speaking to me. I think I am just so set on the sunny vacay vibe of the box that I would have liked to see something a little more beach inspired. But…..it won't go to waste because I use travel pouches for everything. And worse case scenario, I might use it as a gift pouch.
Reusable Straws – Abbott Collection
An eco-friendly travel pouch of reusable straws and brushes. Great for travel and everyday use.
Travel straws for a travel-themed box……love, love, love!
Sleep Mask – Kikkerland
Whether you are blocking out the lights on a plane or dreaming of your next travel adventure, this cozy and practical sleep mask will bring restful sleep.
I've never used a sleep mask before but I'm certainly not opposed to the idea. And, it's the perfect item for a travel box. Great for sleeping on a plane, recovering from jet lag, etc….
Me Time Lip Balm & Hand Cream – Walton Wood
Travel-sized and scented like our favorite cocktail. Dry hands and lips are a common discomfort on a plane. Remove this skincare concern and take some "Me Time" this winter with all-natural products.
Two more items from my favorite brand, it feels like Christmas! They have a lovely scent, and are products that I use at least once a day so they are very much appreciated.
Adventure Notepad – Peddler Designs
Jot down your travel plans, reading notes, and/or groceries lists with this travel-inspired notepad.
I consider myself the notepad queen and can never have too many so this is another item that is very much appreciated. I keep a notepad (or two) in the kitchen, on my desk and sometimes in my purse.
Limited Edition Travel Lover's Box 2021 – Final Thoughts
Love, love, love the Limited Edition Travel Lover's Box from Sweet Reads Box. I thought the Christmas Box would be a hard one to follow, but I am actually really excited about the book we received and all but one of the items. I'm quite surprised by how much I am looking forward to reading Wish You Were Here. I think it will be the perfect book to get me through the Winter months (depending on how long it takes me to read) and it will get me excited for warm weather. Sweet Reads Box always does an amazing job with their limited edition boxes and this one is no exception.
-AYOB Sarah