Sweet Reads Box Review May 2020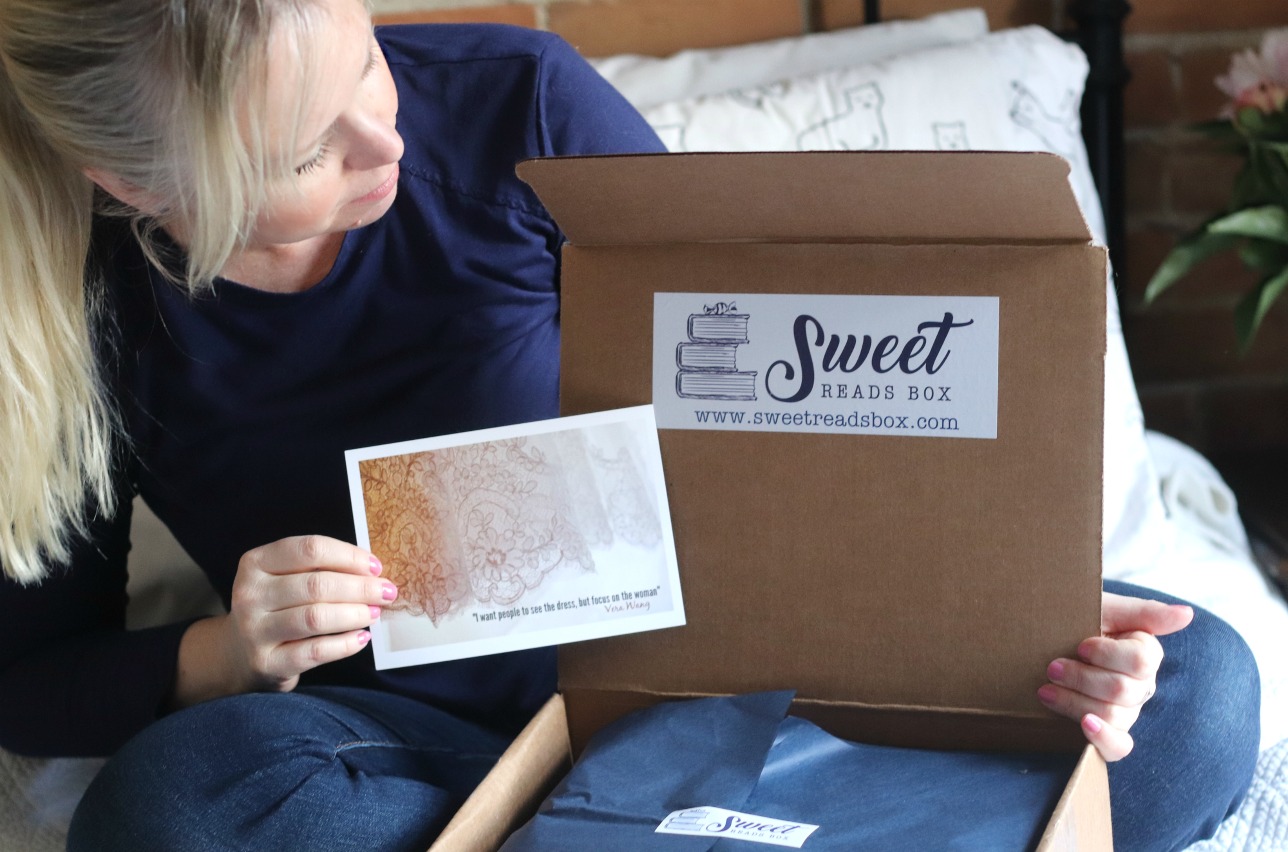 Anyone else feel like they've never had more dirty dishes in their life? Even with a dishwasher it's neverending. OMG if we didn't have a dishwasher! We've already had to lay off the pool boy for the summer, but to lose Bernice! Kidding. I kid. We don't have a pool boy or a Bernice. Or a pool for that matter. What we do have is a mom (and a dad, but details ha ha) who could use a break. My idea of a good time is some quiet with a book, a tea and a treat and some other bookish goodies to feather my nest or just make me smile. So basically May's Sweet Reads Box.
*They kindly sent us this one for review
If it's the first you're hearing of it, Sweet Reads Box is a monthly subscription box that delivers a new novel, something to eat and to drink and a few unique items tied to the story or the theme of the box. It's available by 3, 6- and 12-month subscription or you can buy a single box to try or gift and limited edition boxes are available from time to time in addition to the monthly ones.
When you open the box you'll see a product card with all of the contents listed on one side and a quote related to the novel on the other. (Sweet Reads Box is careful to pack it quote side up so the contents are a surprise.) May's card says, "I want people to see the dress, but focus on the woman" — Vera Wang.
"The Second Chance Boutique" by Louisa Leaman
May's book is a brand-new release, "The Second Chance Boutique" by Louisa Leaman (out May 5). It has some terrific reviews on Goodreads and sounds like something I'd love.
"Francesca Delaney's wedding gown shop has two necessary rules to guarantee success:
1. Never covet a dress
2. Never sell a dress that led to a doomed marriage
These two rules have helped Francesca build her reputation as a woman with a knack for matching a bride-to-be with the perfect gown.
At Fran's shop every gown has its history, and the dresses seem to whisper their secrets to Fran, telling her the perfect match.
But Francesca breaks both these rules the day she finds a beautiful 1950s couture floor-length gown. In her desperation to know the dress's background, she inadvertently becomes entangled with the original owner's son who would like the dark history of the dress to remain hidden forever."
Large Beeswax Wrap (Goldilocks Wraps)
"Replace your plastic wrap with this gorgeous handmade beeswax wrap — all natural, reusable, easy to clean and compostable. A must-have for the eco-friendly kitchen. We chose these wraps for their environmental impact and the floral design to co-ordinated with the retro dresses in the novel."
I have some of these wraps from another subscription box and they're such a great idea and so, so pretty!
Keepsake Box (Danica Imports)
"We chose this keepsake box because it reminded us of the English countryside, and the beautiful estate of Rafael's mother. Perfect for keeping your favourite bookish supplies, art supplies, travel mementos or chocolate."
I've been sending more snail mail recently so I'm going to use this tin to keep some cards, stickers and stamps together and handy. I love it!
Today's Plan of Attack (Knock Knock)
"An essential item for anyone with a To Do List they need to tackle. We loved the idea of Francesca using these to plan out her days at the Whispering Dress Boutique."
XOXO Sticky Notes (Knock Knock)
"Perfect for leaving notes for your loved one. Perhaps Francesca should have left more for Rafael. Communication was not their strength."
Tucked inside the tin were these sticky notes and and a chocolate bar (below). Cute stationery is one of the ways to my heart so I love these both.
Dark/Milk Chocolate Bar (Seed & Bean)
"A British chocolate bar to go with a British novel. Each bar is 100% organic, fairtrade, ethically sourced and handmade in the UK."
Milk chocolate is my favourite so I lucked out here. This bar is creamy and delish!
Cream of Earl Grey Tea (Genuine Tea)
"A perfect blend of Earl Grey sure to delight your senses and whisk you away to the glamour of a British High Tea."
The only miss in May's box for me is this tea because I don't like Earl Grey but I can always gift it. (English Breakfast is my favourite.)
I Love Small Business Tote (Danica Imports)
"The perfect tote for your small business and market shopping. We love this tote as much as we love you. So thankful to each and every subscriber — you are what make our small business possible!"
A boutique up the street has this bag in the window and I've been admiring it so what a fun surprise to find one in the box! It's roomy and sturdy and I love the design. Thank you, Sweet Reads Box!
May's Sweet Reads Box is so lovely and just the reminder I need to take some time for me (maybe leave the dishes for a change?). If you're read The Second Chance Boutique, I'd love to hear what you think!
Single Sweet Reads Box: $65.99 + shipping
Three-month subscription: $230.07 including shipping
Six-month subscription: $443.94 including shipping
12-month subscription: $863.88 including shipping
And you can save 10% on three- and six-month subscriptions when you sign up for the Sweet Reads Box mailing list. The co. also shares bookish news, discounts and info on upcoming boxes on Instagram, Facebook and Twitter.
What do you think of May's Sweet Reads Box?
Try Small Things – https://trysmallthings.com