Sweet Reads Box Review October 2020
I saw a post on Instagram earlier today that said "If you see me jammin' out to Christmas music, just remember, it costs $0 to mind ya own business." LOL I love Christmas, but I'm in no rush to hurry fall out the door. I love the cool mornings and fuzzy sweaters, our backyard blanketed in golden maple leaves and candles in the window. And pumpkin spice everything, but that goes without saying. I love all the fall flavours, the fall feels, and the fall subscription boxes. My favourite one arrived this week and it's filled with thoughtful items to make this season's "me time" all the sweeter. It's October's Sweet Read Box, a Canadian monthly book box complete with a new novel, a bevvie, a snack and some bookish items tied to the story. Let's take a look.*
*They kindly sent us this box.
Each Sweet Reads Box opens with a product card with a quote related to the story on one side and description of the contents and how they relate to the book on the other. October's card says "Count your age for friends, not years. Count your life by smiles, not tears." — John Lennon.
October's book is "The Brilliant Life of Eudora Honeysett" by Annie Lyons. It sounds wonderful.
"As we head into fall and some uncertainty about what life will look like in the months ahead Rose, Stanley and Eudora are exactly the novel we all need. While funny and quirky this novel also deals with loss, love, family, World War II and death. We know you will love this trio of friends and their story. — Sweet Reads Box"
Here's the synopsis from the publisher:
"Infused with the emotional power of Me Before You and the irresistible charm of Eleanor Oliphant Is Completely Fine and Be Frank with Me, a moving and joyous novel about an elderly woman ready to embrace death and the little girl who reminds her what it means to live.
Eudora Honeysett is done with this noisy, moronic world—all of it. She has witnessed the indignities and suffering of old age and has lived a full life. At eighty-five, she isn't going to leave things to chance. Her end will be on her terms. With one call to a clinic in Switzerland, a plan is set in motion.
Then she meets ten-year-old Rose Trewidney, a whirling, pint-sized rainbow of color and sparkling cheer. All Eudora wants is to be left alone to set her affairs in order. Instead, she finds herself embarking on a series of adventures with the irrepressible Rose and their affable neighbor, the recently widowed Stanley—afternoon tea, shopping sprees, trips to the beach, birthday celebrations, pizza parties.
While the trio of unlikely BFFs grow closer and anxiously await the arrival of Rose's new baby sister, Eudora is reminded of her own childhood—of losing her father during World War II and the devastating impact it had on her entire family. In reflecting on her past, Eudora realizes she must come to terms with what lies ahead.
But now that her joy for life has been rekindled, how can she possibly say goodbye?"
Cue the waterworks! I feel like this book is going to wreck me in the best way.
Sweet Lemon Tea (Tealish)
"Rose's favourite drink is Lemon Cordial. In honour of her love of lemon beverages we chose this perfectly delicious lemon tea. **"
This tea is delicious and smooth and smells like lemon cookies. I've been drinking it hot with milk but I think it would also be lovely black over ice.
"** Indicates a Canadian product. Sweet Reads Box prides itself on supporting small Canadian companies wherever possible."
Vanilla Bean Shortbread (Provisions)
"Eudora and Rose love their sweets and often share cookies and cake. We chose these Canadian-made shortbreads as the perfect cookie to pair with afternoon tea.**"
Shortbread is one of my favourite cookies and these are melt-in-your mouth rounds of buttery perfection.
Pear and Riesling Wine Jam (Provisions)
"Pair this amazing jam with creamy cheeses and crackers. A decadent sweet to pair with savoury afternoon tea. While Eudora might choose a more traditional jam, we chose a bright jam full of sunshine — just like Rose.**"
This jam feels so fancy! I might save it for a special occasion or open it up on a weekend afternoon when we're snacky. Pear and Riesling sounds like a winning combination. And Provisions made the shortbread cookies so it's got to be good.
Sweet Reads Mug
"A special gift from us to you on our anniversary. We hope you will enjoy many cups of tea/coffee in it while reading. A reminder to take some time for you.**"
Did I mention it's Sweet Reads Box's third anniversary? I'm soooo delighted to have the chance to review Sweet Reads Box for A Year of Boxes and here on le blog. I'm going to use this mug all the time.
Sticky Notes (Little Blue House)
"One of two patterns of fun sticky notes to help you remember the little things. Eudora and Stanley are both a bit forgetful, these notes would be a handy tool. We chose unicorns for Rose and a cat for Eudora.**"
How cute are these sticky notes? I'm sure I would have been just as happy with the cat ones but this unicorn design is so sweet!
Colourful Socks (Little Blue House)
"You will receive one of three patterns of fun, bright and colourful socks. With Rose's love of fashion, unique colour combinations and zest for life these designs are very fitting. Lightweight and perfect for fall days.**"
And these are super cute too. I think my mom would love them even more than I do so I'm going to gift them to her.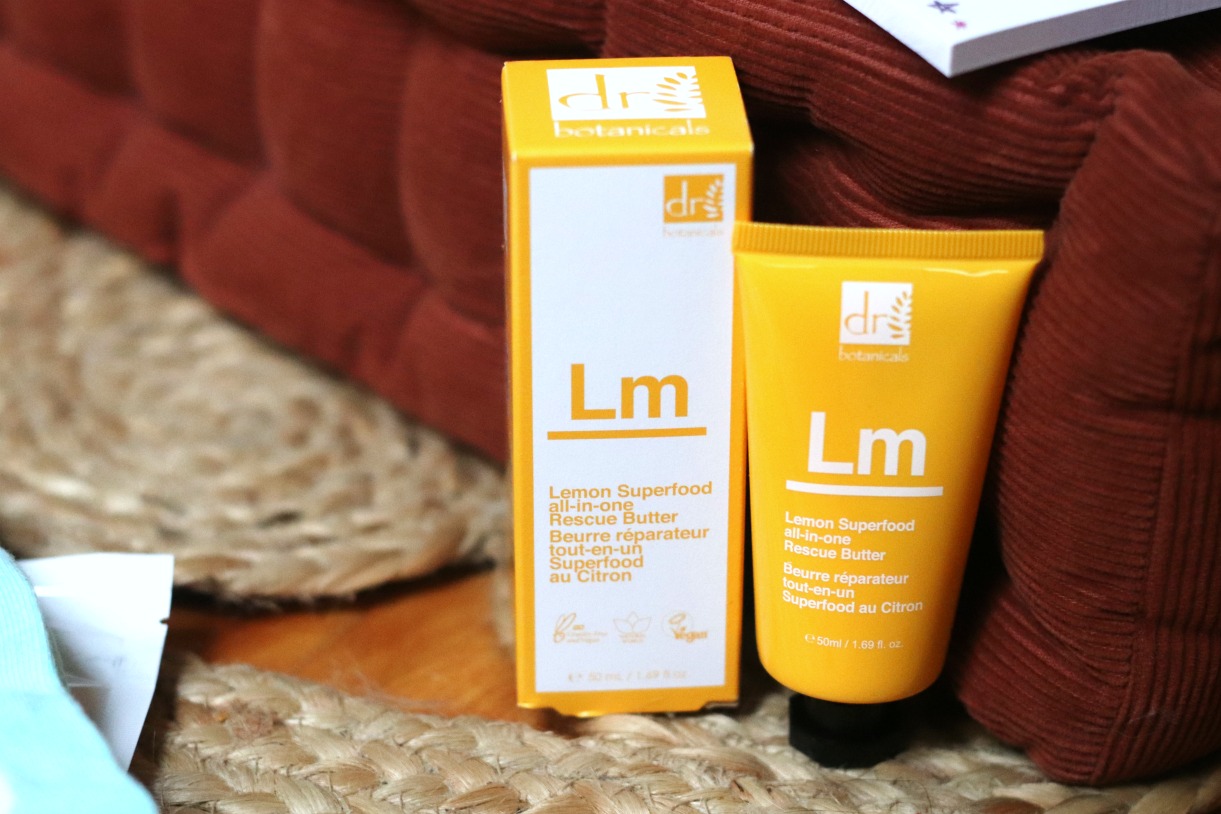 Lemon Body Butter (Dr Botanicals)
"A luxurious body butter great for moisturizing and taking care of your skin. Great for skin of any age and a convenient size for on-the-go moisture. Whether you are off to afternoon tea or the pool we know you will love the scent and feel of this cream."
More lemon! This cream feels so, so nice and I love the scent.
And there you have October's Sweet Reads Box! The book sounds wonderful, the tea and cookies are delicious, the cream feels luxurious and the jam so fancy and I'm going to use the mug and the sticky notes all the time. I feel spoiled in the best way!
If you'd like to try a Sweet Reads Box or a subscription, October's and November's are sold out but December's boxes are still available. They've also just released The Cook's Box, a special limited edition box with a choice of two cookbooks — Anna Olson's Baking Day and Ottolenghi Flavor (plant-based weeknight cooking). That one ships late November/early December.
Sweet Reads Box ships Canada-wide and shipping is included.
Single Sweet Reads Box: $80
Three-month subscription: $230.97
Six-month subscription: $443.94
12-month subscription: $863.88
And you can save 10% on three- and six-month subscriptions when you sign up for the Sweet Reads Box mailing list. The co. also shares bookish news, discounts and info on upcoming boxes on Instagram, Facebook and Twitter.
Have you tried Sweet Reads Box? What do you think of October's box?
Try Small Things – https://trysmallthings.com