The Taste Box Review November 2016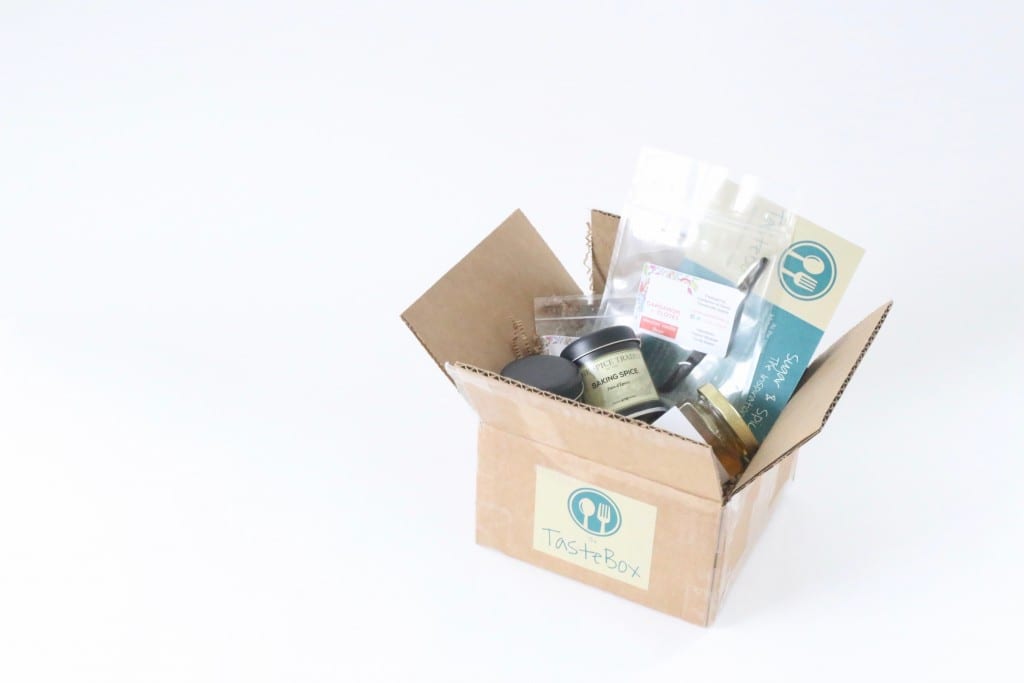 The Taste Box Review November 2016
The Taste Box is a Canadian subscription box full of chef inspired ingredients. I wasn't overly familiar with this box prior to the review so I didn't really know what to expect. Sometimes I like to do my research ahead of time, but sometimes I like for it to be a surprise. This time I wanted it to be a surprise……
The Taste Box Details
If you aren't familiar with The Taste Box it is a monthly subscription boxes contain the finest chef-inspired ingredients to inspire novice and seasoned cooks, alike.
The Box: The Taste Box
Cost: $29.95 per month
What You Get: Each month, you'll receive 3-4 full size chef-inspired food and drink products designed to inspire you to make incredible food.
Ships to: Canada
Shipping Cost: ?
November Theme – Sugar & Spice
Why is it that subscriptions with a fun theme are so much more exciting to unbox? I knew the theme for this one ahead of time and it sounded like something I was going to like. The baker in me is very excited.
As the weather gets colder, we tend to warm our kitchens by preheating our ovens and reaching for our rolling pins. After all, fall marks the start of holiday baking season. As the scent of cinnamon, cloves and apple fill the air, there is something about sinking our hands into a pile of dough that awakens nostalgia and creativity. The whole process of baking feels a little like a magical science experiment. It is a labour of love and a lesson in patience that culminates in batches of comforting goodies to share with your favorite people (or not!). This month's box, Sugar and Spice, was inspired by battered whisks, whipped cream mustaches, and the smell of a fresh baked batch of cookies. 
Chatsworth Summer Floral Honey
This honey stores wonderfully and will never go bad! It's harvested using the least amount of manipulation possible to preserve its flavour and is 100% natural.
Technically speaking, honey is not on the list of vegan approved foods. But, I still use it from time to time, and I like to have it on hand for guests. There is something really nice about a quality jar of honey. We use to put this on top of warm cinnamon buns fresh out of the oven when I was young……warm bun, melted butter and sweet honey…..oh my goodness…….amazing!
Spice Trader Baking Spice
This baking spice mixture is a traditional British baking spice. It is a mixture of organic cinnamon, cloves, allspice, nutmeg, and ginger. Ideal for pumpkin pie, morning smoothies, gingerbread, and all kinds of cakes.
I love my cooking spices, but I REALY love my baking spices. I get quite excited about these kinds of things. This one is the perfect blend of all my favourites. Could I maybe sprinkle this on my coffee???
Spice Trader Saigon Cinnamon
Saigon or Vietnamese cinnamon is considered the variety that has superior flavour and aroma due to more essential oils. It has all the flavours of traditional cinnamon but is amplified.
Cinnamon is a pantry staple in my house. I have it on hand at ALL times. I will be using this a lot over the holidays.
Mexican Whole Vanilla Bean
Vanilla is easily one of the most popular and best known flavours in the world. The pod is derived from the ripened fruit of a tropical orchid, the only orchid in the world that produces an edible fruit.
I have gone through hundreds of bottles of vanilla over the years, but believe it or not, I have never used an actual vanilla bean. I have always wanted to though. I will need to do a little research in order to figure out how to use this to its full potential.
Whole Nutmeg
The nutmeg tree is native of the Spice Islands in Indonesia. It has a strong, warm, nutty and sweet spice flavour. It is used in a variety of sweet and savoury dishes. Used in desserts, breads, and pound cakes, nutmeg is often a good script ingredient for stew, cream soup and preserves.
I love me some nutmeg, but I am embarrassed to say I never knew this is what it looked like in its natural form. If it wasn't for my wonderful friend Shonah, I never would have known what to do with this thing. She was very excited when she saw it – grate it on top of your coconut milk latte in the morning she said. And that is what I am going to do!
The Taste Box Review November 2016 – Final Thoughts
Artisan inspired food boxes can go one of two ways. You can receive a box of interesting food items that will sit in your pantry and go bad before you actually use them, or you can receive a box of exciting food items that are pantry staples and will be used immediately. The Taste Box is the latter of the two. My little baking obsessed self is very excited about the items we received this month. I will be using all of them…….especially the nutmeg!
XOXO
Explore.
Save.
Enjoy!
Sign up for a free account on A Year of Boxes to receive exclusive offers, be added to our monthly mailing list, and much more! We are always adding features to improve the experience for our users, from their valuable feedback!
Join Today!