Tasu Review January 2019
Tasu Self-Care Wellness box is a monthly box filled with handmade and curated product from Tasu. All the products focus on self-care and will help you maintain a balanced lifestyle, mentally and physically.
They provide you with items such as candles, healthy snacks, yoga products, creams, jewels and teas and you get 4 to 6 products every month.
The monthly box is $37.99 in Canada and $28.49 for the residents of the United States.
You will be charged an additional $7.99 for shipping for both countries.
Tasu sends such a nice vibe, just looking at the box, I feel more relaxed. I was interested in this box since they started a few months ago, and I was so happy and grateful to have the opportunity to review their monthly subscription.
The products came well packed in a small box, filled with care. The Tasu box has such a wonderful design. You have "your mindful package has arrived" message at the top and when you open it, you see "TASU – Self care comes first" which is an excellent reminder.
Let me show you what I received in the January Tasu box.
Cream and Sprinkle Messy Bun Toque
A cozy yet comfy toque that you can wear with your messy bun or without it
Winter cannot stop me from cuteness with this hat! I already tried a bun and a ponytail and it looks really good (if I did not look like a mess with a cold right now, I would have taken a few pictures wearing it, but I will post some in a few days on my Instagram).
The colors bring a bit of fun for those last cold months. It fits just right and keeps everything covered. If it had been knitted in Canada, it would have been even better, but I still like it a lot.
Lip and Cheek Stain in Drama
A beautiful lip and cheek stain in Burgundy colour. Use it as lip colour, or put a little on cheeks for that natural no makeup look.
I had never tried a lip and cheek stain before and I was pleased with this product from Tasu. You can easily play with the intensity of the red on your lips or your cheeks.
Here is a test I made on my forearm. The line on the left was made with an application directly from the tube and the one on the right was faded. You can take it off easily and really make it subtle.
Jasmine Orange Body Butter
Our personal favorite body product here at Tasu. A beautiful whipped moisturizing yet fluffy body butter made with organic Shea butter and coconut oil with notes of jasmine, orange and rosewood.
It is soooo fluffy! The texture is perfect and the smell is subtle and pleasant. The cream is natural, vegan and artisan-made. It contains only natural ingredients like Shea butter, coconut oil and essential oils.
Into the Woods Essential Oil Blend
This blend will remind you of forest and the woods. Fresh herbaceous yet warm notes of cedar-wood this essential oil is perfect to relax, and taking yourself into the woods.
Into the Woods is a mix of cedarwood, orange, litsea, peppermint and clove essential oils. I like to do meditation or relaxation and this seems like a good blend to relax and to clear your head, just like a long walk in the forest.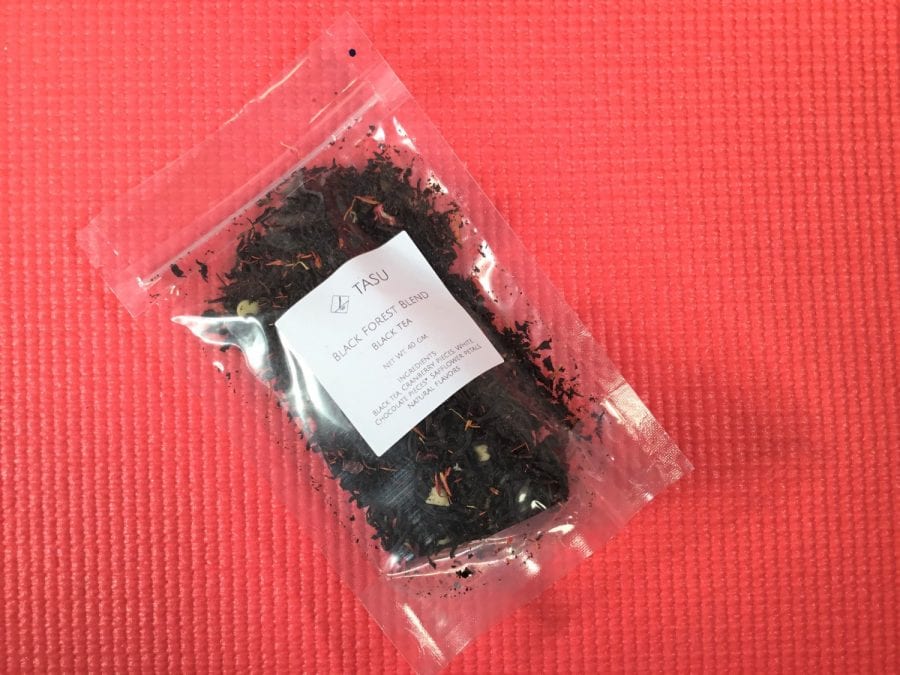 Black Forest Black Tea
This black tea captures the subtleties of chocolate, cherries, and cream beautifully. Add a splash of milk to bring out the flavours.
Wow, the smell of this black tea is divine. It is a black forest cake in a cup but without all the calories. If you started this year with good resolutions like eating less desert or less sugar in general, this could be a good replacement treat.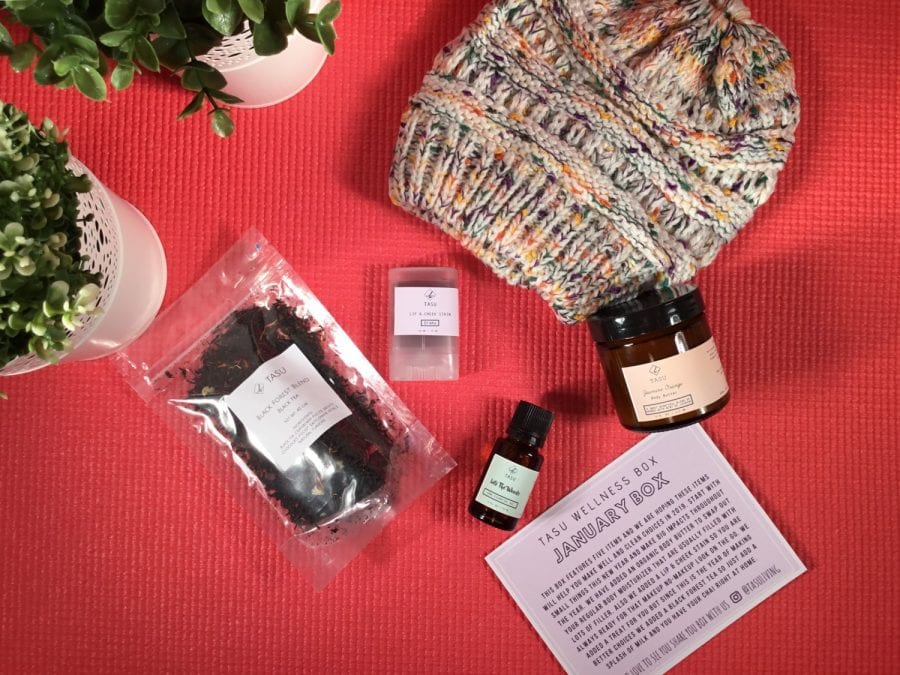 Tasu Review January 2019 – Final Thoughts
This was my first Wellness Box from Tasu and I am impressed with the quality of the products and how well-balanced the box is. All the products from Tasu are vegan, natural and handmade and that is big plus for me. The total value of this month's box is also impressive: $84 of products! I will definitely use every item in this box and I feel like that whipped body butter is going to become a new favorite.
Jacynthe Létourneau – https://www.instagram.com/miss_minamie/