Tea Time Box Review February 2017
Tea Time Box is run by a husband and wife team of tea enthusiasts out of the Seattle area.  There is something about Seattle that makes me immediately trust the judgement of brewed beverages.  Take a quick peek at these guys on their website, cause they are the cutest looking couple ever and I would definitely invite them over for tea on their photo alone!  They also donate a meal to their local food bank for every box ordered.  Win win!  Love companies that give back locally.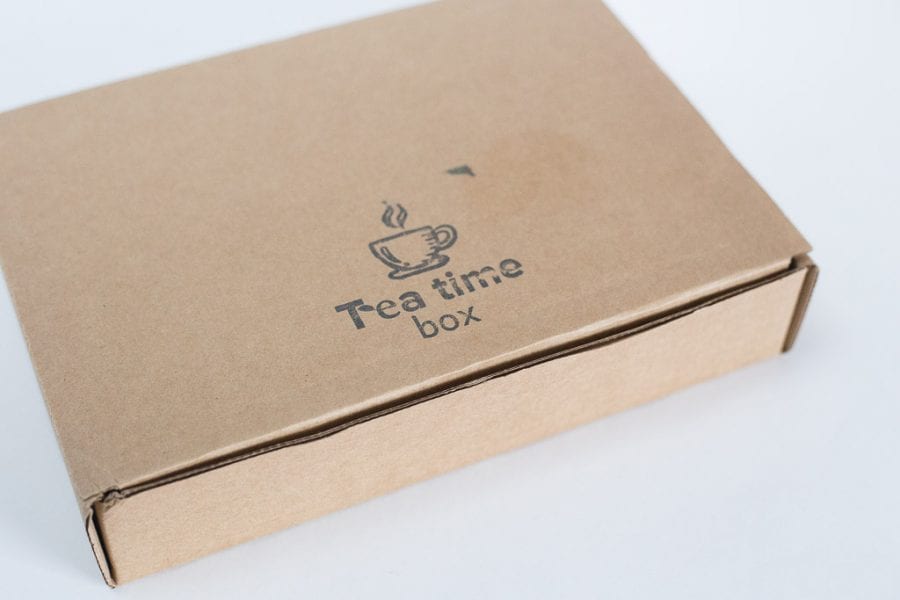 Tea Time Box offers a monthly, three month or six month subscription.  Each box will be sent out mid month with a selection of uniquely chosen and curated teas by their tea specialists.
Tea boxes are my absolute favourite to receive and review, so let's get started!
Provided in your box is a nice card with steeping recommendations on the back.  I always appreciate this, as I never know how long to brew tea or what temperature to brew them at.  It might be time to invest in one of those fancy kettles that you can select a boil temperature.
Ok, so I may or may not have squealed like a small child when I saw this chocolate covered rice crispy heart!  What a sweet little addition to this box.  I hope they provide a cute treat every month!
Selma's Coated Crisped Rice Treats
Not only has your adorable photo on your website won me over, but you may have just found yourself another friend in me by providing me my weakness of rice crispy treats!  I was going to share this with the man on Valentines Day, but decided against it and plan on eating it by myself today!  I already love your box!
Steeping Bags and Honey Sticks
Tea Time Box also provides tea steeping bags in their subscription.  Always a plus, but you have put yourselves over the top and to the top of my list by providing honey sticks!   I literally last week started taking honey to work in a tiny mason jar so I would have it for my tea while in the office.  These honey sticks are absolutely perfect for the office and it's detail like this that really sets a box apart!
Let's get down to the teas…
A Raspberry in Paris
Sprightly notes of raspberry come to the fore with light overtones of rooibos.  Besides being delicious this tea is also incredibly good for you.
This tea smells amazing!!  It smells very much of fresh raspberries.  I'm not a huge fan of berry teas hot, so I will be saving this one to ice come the hot summer months.  I will probably float some frozen raspberries and lemons in it.  My mouth is already watering thinking about it.  Icing tea is a great way to enjoy some of those tea flavours that you may not try otherwise.
Kenya Green Kapchorua
A delightful tea with expansive flavour notes that tend floral-like.  The signature of a top quality Kenyan tea.
Wow!  I don't think I have ever seen a tea look like this.  I'm so curious.  I've actually been to Kenya and tea is a staple breakfast item for Kenyans and often the only breakfast had in many households.  Needless to say tea is kind of a big deal there and I got hooked on it while volunteering there.  I'm excited to try this as a misto and also to mix in some masala spice I brought back from Kenya with it to give it that authentic chai spice.
Apricot Supreme
The exotic blend of apricot flavour combined with natural flavours and tartness of various tried fruits.  Enjoy hot or cold!
Yup, this is probably another one I will have cold, though it does smell divine and I bet it would be quite the treat with one of those honey sticks added to it.  I love the chunkiness of this tea.  You know you're getting a good tea when you can actually identify what's in it by looking at the leaves and dried fruits.
Tea Time Box Review February 2017 – Final Thoughts
I'm so impressed with this tea box!  It's simple, basic, yet attention to detail is high.  The tea selections are amazing, loved the honey sticks and added rice crispy treat!  A must for any tea lover.
Time to steep!
-Shonah
Explore.
Save.
Enjoy!
Sign up for a free account on A Year of Boxes to receive exclusive offers, be added to our monthly mailing list, and much more! We are always adding features to improve the experience for our users, from their valuable feedback!
Join Today!