Terra Bella Box Review January 2016
Every time I go to the post office my friendly post office lady brings all my boxes to the counter and proceeds to ask me what each one is, she gets a kick out of this whole review blogger thing. Anyways, nine times out of ten I tell her the name of the box and what comes in it. However, when it comes time to tell her what this one is I always say…ohhhhh that's Terra Bella Box, I've been waiting for that one, I LOVE that one!! Not every box gets that reaction, only a handful of them. Needless to say, I was excited when she put this one on the counter today, so excited that it was the first one I took photos of.
If you aren't familiar with Terra Bella Box it is a different kind of beauty box. They find products that are created in small batches by small businesses, are always cruelty free, and are made with the finest natural ingredients. Good for your body, good for the earth, good for local economies. This box was provided complimentary for review and may include affiliate links.
The Box: Terra Bella Box
Cost:
Terra Bella Box – $37.95
Terra Bella Box Lite – $17.95
What You Get:
Terra Bella Box – 5 to 6 products each month
Terra Bella Box Lite – 2 to 3 products each month
Ships to: US
Shipping Cost: FREE
Coupon Code: use the code YEAROFBOXES which is good for $3 off the month-to-month subscription price – CLICK HERE
Terra Bella Box doesn't really have a monthly theme, but then again they kind of do. They don't come right out and say it but the products speak for themselves. The October box definitely had a bit of a Halloween theme going on, and this month's box definitely has a Winter theme. The term quiet confidence comes to mind, they don't need to shout things from the rooftop, they just do what they need to do and know that us die-hard, handmade beauty product lovers will notice.
Mother Earth Beauty Bar Eyeshadow Primer & Eyeshadow ($10) – This is by far the best product I've received! A natural eye shadow primer! I am in love, I am in love, and I want everyone to know it! I'm currently using a Julep shadow primer and have been hoping to find an alternative before my last tube runs out……here's my alternative!!
Meraki Botanicals Rosemary Sage Hair Oil ($15) – This is the first example of what I mean about having a theme without having a theme. This is the perfect item for Winter weather because we all need extra moisture for our locks this time of year. It can be used as a treatment or a finishing serum.
Fig + Yarrow Smelling Salts ($12) – I'm going to be totally honest and tell you that I have been smelling these since I opened the box, and that was about 2 hours ago. I have them sitting in front of me as we speak and I can't put them down. What happens if you sniff smelling salts for too long? Anyways, they are supposed to stimulate energy, discourage drowsiness, and are the perfect cure for the Winter blues. I "super like" these!
Wellsmith Detox Bath Tea ($5) – We all need a little detox after the holidays…..honestly, we really do. I'm actually doing the Wild Rose cleanse right now and never actually realized just how beneficial a cleanse can be. This bath tea will compliment my internal cleanse nicely, the only problem will be that I'll want to drink wine and eat chocolate while I sit in the bath, and that totally defeats the purpose of a cleanse. What's a girl to do….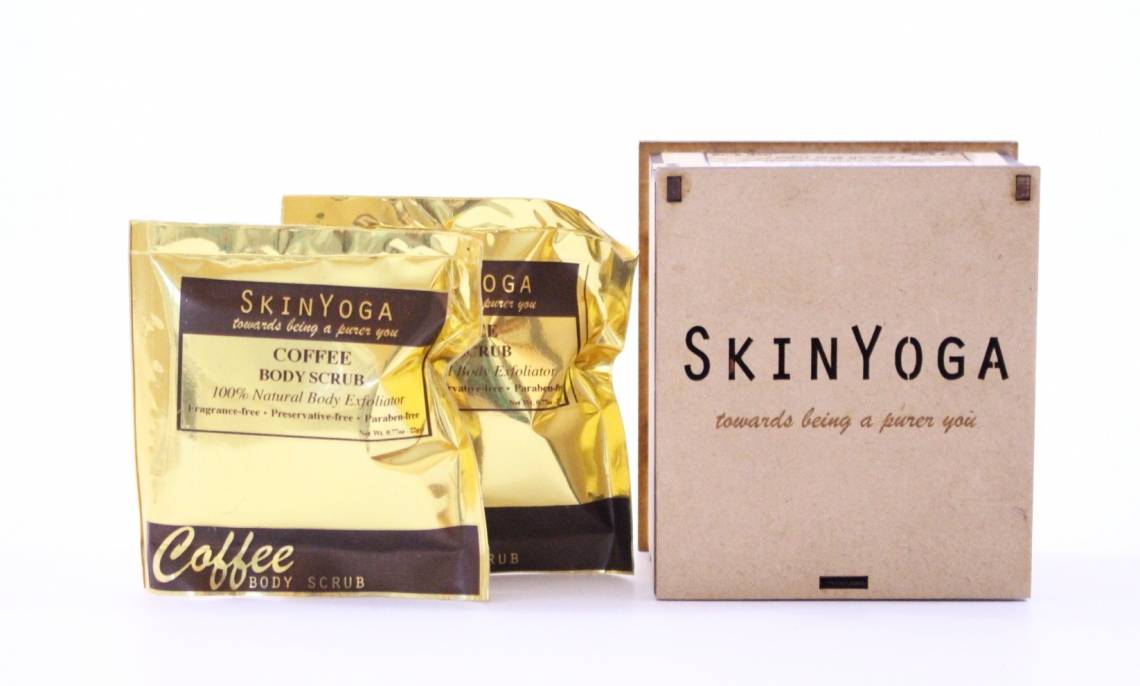 SkinYoga Coffee Body Scrub ($9.99) – Last but not least we have this super cute little wooden box containing two golden tickets….or packages of body scrub rather. And apparently this scrub is a little multi-tasker, it is supposed to moisturize, nourish, treat inflammation, and protect skin form sun damage. At this rate I'm never going to leave my bathtub.
Thoughts: Wow, another amazing box from Terra Bella! But really, I shouldn't be surprised. I always love my Terra Bella Box, and always end up finding a new favourite product. I've discovered some pretty amazing brands thanks to this box, and isn't that the whole point of a monthly subscription? I'm so excited about the shadow primer that I had to look up Mother Earth Beauty Bar website ASAP and found out that they have some pretty amazing products….blush, face products, bronzer, etc. I think I am going to go spend the rest of the night in the bath, shop for new makeup, and try not to open a bottle of wine…….is a tiny glass of wine bad for a cleanse?? Already looking forward to next month!
XOXO
Explore.
Save.
Enjoy!
Sign up for a free account on A Year of Boxes to receive exclusive offers, be added to our monthly mailing list, and much more! We are always adding features to improve the experience for our users, from their valuable feedback!
Join Today!