Terra Bella Box Review July 2016
Terra Bella Box Review July 2016
Terra Bella Box Review July 2016 – I've got some Terra Bella Box updates for you today. They recently made some changes to their subscription service, and this will be my first box since they implemented the changes. I will talk about that a little more below because right now I want to give you a little update on TBB. I have been reviewing this box for almost a year now (that is craziness). I received my very first box in September of 2015, and I have been hooked ever since. I've never received a box I didn't like, and have discovered some really awesome products thanks to Terra Bella Box.
Terra Bella Box Details
If you aren't familiar with Terra Bella Box it is a different kind of beauty box. They find products that are created in small batches by small businesses, are always cruelty free, and are made with the finest natural ingredients. Good for your body, good for the earth, good for local economies. This box was provided complimentary for review and may include affiliate links.
The Box: Terra Bella Box
Cost:
Terra Bella Box – $32.95
Makeup Edit Box – $29.95
What You Get:
Terra Bella Box – 3 to 4 products each month
Makeup Edit Box – 3 products each month
Ships to: US & Canada
Shipping Cost: FREE shipping in the U.S. & flat rate shipping to Canada
Coupon Code: use the code YEARBONUS to get a bonus item in your first box – CLICK HERE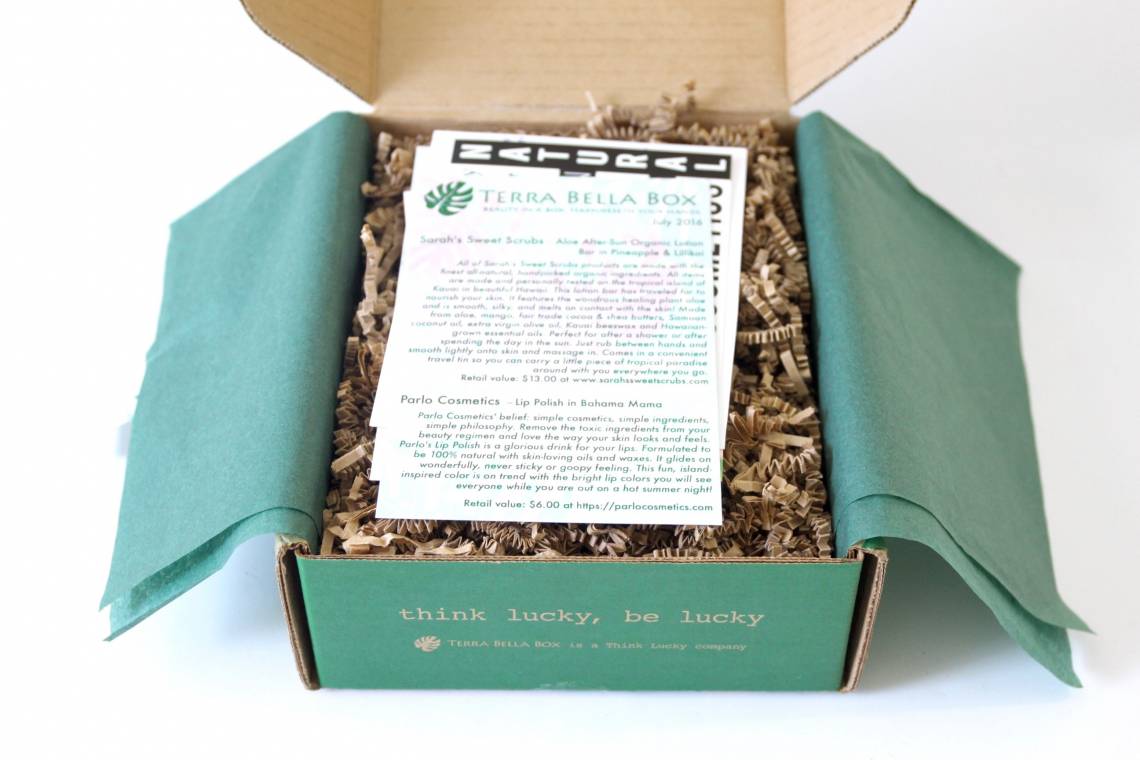 Terra Bella Box Update
Beginning in July, the price of the Terra Bella Box will decrease to $32.95 (including shipping to the U.S.) and will include 3-4 items. Also beginning in July a Makeup Edit box will be introduced for $29.95/month.  The box will allow subscribers to try out natural alternatives for their cosmetics–that are always cruelty free.  In addition, Terra Bella Box Lite will no longer be offered.
Sarah's Sweet Scrubs Pineapple & Lillikoi Aloe After Sun Organic Lotion Bar
All of Sarah's Sweet Scrubs products are made with the finest all-natural, handpicked organic ingredients. All items are made and personally tested on the tropical island of Kauai in beautiful Hawaii. This lotion bar has traveled far to nourish your skin. It features the wonderful healing plant aloe and is smooth, silky and melts on contact with the skin. Made from aloe, mango, fair trade cocoa & shea butters, Samoan coconut oil, extra virgin olive oil, Kauai beeswax and essential oils. 
This little gem comes in a cute little travel tin which makes it perfect for my beach bag. I don't spend a lot of time in the sun but we actually have a day planned at our friends lake house on Monday so this will DEFINITELY be coming with me. After spending a day in the sun you are supposed to rub a little between your hands and smooth lightly onto skin.
Bahama Mama Lip Polish – Parlo Cosmetics
Parlo Cosmetics' belief: simple cosmetics, simple ingredients, simple philosophy. Remove toxic ingredients from your beauty regimen and love the way your skin looks and feels. Pablo's Lip Polish is a glorious drink for your lips. Formulated to be 100% natural with skin-loving oils and waxes. It glides on wonderfully, never sticky or goopy feeling. This fun, island-inspired color is on trend with the bright lip colors you will see everywhere. 
This looks a little orange at first, and orange toned lip colors do not suit me at all. However, when applied to your lips it goes on lightly and looks more red than orange. And it's not sticky. This is a must for me. My hair is WAY too long right now, and it gets stuck in everything.
Ellison's Organics Nail Lacquer (Island Sunset)
Ellison's Organics beauty products are carefully formulated with the finest ingredients to cleanse, nourish and pamper your body. At every opportunity, organic essential oils, organic base oils, and natural colorants are used. Their polish is 5-FREE which means they do not contain formaldehyde, toluene, DBP, formaldehyde resin or camphor. This beautfiful pink Island Sunset shade was created exclusively for Terra Bella Box. 
I am in love with this color! It is absolutely perfect for Summer, and believe it or not I don't have a polish like it in my collection. All my pink shades are super bright. This one looks liked a toned down bubblegum shade, and I love it. I also love that it is 5-free. I had to take a break from polish the last month, but will definitely be testing this one out on my overly sensitive nails.
Skin Fix Margarita Sour Body Scrub
This scrub buffs away dead, dull skin, replenishes moisture, and nourishes all in one. Once the key ingredients are absorbed by the skin, they hydrate, supply minerals, and cultivate healthy skin. Apply to the skin as an exfoliator. Emulsify a modest amount between damp hands, massage onto skin in a circular motion, then rinse with water. body scrub is suitable for both the face and body. 
I can never have enough scrub in my bath & body drawer (yes I have a drawer, well maybe I have 3). I love the way my skin feels after using a scrub, and if it smells as good as this one does it's just a bonus. I really like that this particular scrub can be used on face and body…..multi-taskers are my friend.
Terra Bella Box Review July 2016 – Final Thoughts
I always get worried when subscription boxes make changes to their subscription model. Will it be better, will it be worse, or will it be the same. Well, to be totally honest, I don't feel like there's that much of a difference. Ya we might receive one less product, but the price point is also lower. And, I love this month's products so much that I didn't even notice that there were 4 items instead of 5. I tried the lip gloss out right away and LOVE it. I also tried the polish, and as much as I love the color, I had a hard time applying it because the brush is a little too big for my tiny nails and shaky hands. Overall, I am very happy with my July Terra Bella Box……but then again, I always am!
XOXO
Explore.
Save.
Enjoy!
Sign up for a free account on A Year of Boxes to receive exclusive offers, be added to our monthly mailing list, and much more! We are always adding features to improve the experience for our users, from their valuable feedback!
Join Today!