Terra Bella Box Review March 2016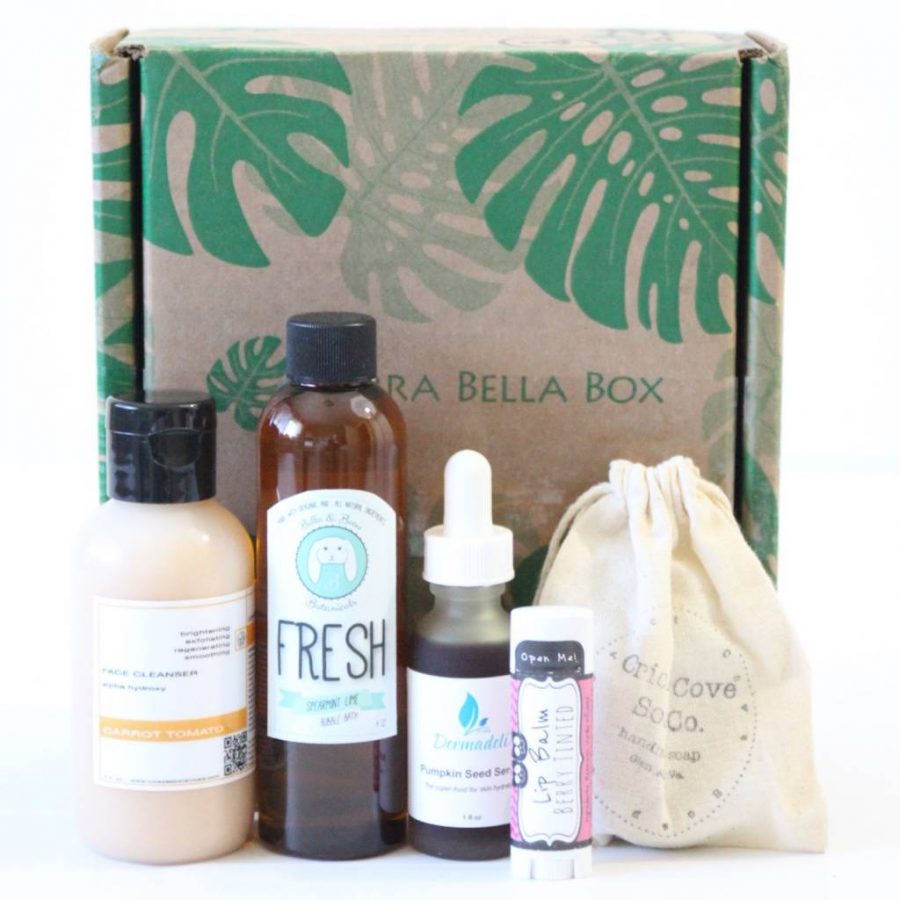 When it comes to natural beauty products I'm like a little kid on Christmas morning. I'm not sure if there is anything else that excites me as much as an all-natural deodorant, or cruelty-free eye serum……other than wine…..and chocolate. Regardless, Terra Bella Box is known for putting a smile on my face every single time I open it.
If you aren't familiar with Terra Bella Box it is a different kind of beauty box. They find products that are created in small batches by small businesses, are always cruelty free, and are made with the finest natural ingredients. Good for your body, good for the earth, good for local economies. This box was provided complimentary for review and may include affiliate links.
The Box: Terra Bella Box
Cost:
Terra Bella Box – $34.95
Terra Bella Box Lite – $16.95
What You Get:
Terra Bella Box – 5 to 6 products each month
Terra Bella Box Lite – 2 to 3 products each month
Ships to: US & Canada
Shipping Cost: Calculated at Checkout
Coupon Code: use the code YEARBONUS to get a bonus item in your first box – CLICK HERE
Last month's Terra Bella Box contained some pretty fun products, in particular the natural body oil, I use it almost every day. And the box before that contained some wonderful smelling salts that have a permanent place beside my computer. Needless to say, this box always provides me with a new favourite beauty product.
Lunasea Botanicals Carrot Tomato Alpha Hydroxy Face Cleanser  ($14) – This was our March spoiler, and I was so intrigued by it. A facial cleanser made with carrot and tomato? How awesome is that! It promises to unclog pores, lighten and brighten dull dry skin…..sign me up!
Bella & Beau Botanicals Bubble Bath in Fresh ($8) – First of all, how cute is this label! Second of all, how good does Spearmint Lime sound! I'm already a fan of this item and I haven't even tried it yet.
Dermadeli Pumpkin Seed Serum ($29) – Ummm…the excitement level just reached an all-time high! I am a HUGE fan of any sort of serum that contains any sort of seed oil……bonus points for it being pumpkin seed. I use face oil everyday, and would be lost without it. This one also contains Pomegranate (Punica granatum) seed oil.
Cricket Cove Soap Co. Cuticle Butter in Pink Grapefruit ($7) – I love any sort of bath product that smells like grapefruit, I find it a very refreshing smell, which is perfect for Spring. I also need a lot of help when it comes to my cuticles this time of year. I will be carrying this one in my purse.
Moody Sisters Natural Skincare Berry Tinted Lip Balm ($6) – We have received this brand a few times before, and I love it. I happen to really like their products, and am always happy to receive a lip tint. I tried it out immediately, and found that it not only smells really good, but adds the right amount of color to my lips at the same time.
Thoughts: Now do you see why this box puts a smile on my face? I have already used the lip tint and the cuticle butter, and will be trying out the other three products in the shower tomorrow morning. I give a lot of my subscription box items to friends and family, but no one ever gets items from this box. I just can't bear the thought of giving any of them away. Terra Bella Box is definitely a favourite!
XOXO
Explore.
Save.
Enjoy!
Sign up for a free account on A Year of Boxes to receive exclusive offers, be added to our monthly mailing list, and much more! We are always adding features to improve the experience for our users, from their valuable feedback!
Join Today!