The Beauty Edit Box Review Spring 2021
The Beauty Edit Box is a new Canadian makeup and skincare box, delivering full-size indie, luxe and mass market brands four times a year. I saw the Winter edition on Cityline and it looked fantastic so I was delighted to have the opportunity to try the luxe spring box. (Fingers crossed for the first of many!) Let's get into it! *
*They kindly sent us this box for review.
The Beauty Edit Box offers two subscription options:
The (Mini) Beauty Edit Box – 4-5 mainly full size best-selling makeup & skincare products! This box is a major score. You get to try out, feel and play with some of the newest and most luxe products on the market for a fraction of the cost. Shop like a pro! $39.95 CAD.
The Beauty Edit Box (Luxe) – The ultimate makeup box experience. This box includes 8-10 full sized best selling products and deluxe samples to bring you the ultimate unboxing experience. Each box includes a range of skincare essentials and makeup. #selfcare is necessary. $74.95 CAD.
The Beauty Edit Box ships across Canada. Shipping is $7/box.
Each box includes a glossy, full-colour product guide with descriptions of each product, tips on how to use them and the retail price. I like to be surprised so I set it aside to open after diving in, 'tho I did read the cheery love letter on the front:
"Get inspired by the warmer days ahead, sunshine beaming through and becoming present in the moment. Kick off the season on a high note with spring's must-have essentials. This season's box is filled with products to enhance your beauty inside out. From facial pads to blush, you'll be ready to take on all that life has to offer, while looking and feeling your absolute best." — The Beauty Edit Box Team
Indeed Labs Watermelon Melting Balm (Full Size)
"This cleanser uses bisabolol, watermelon and hemp seed oil to gently dissolve makeup and dirt, all while nourishing the skin. ($24.99)"
A little goes a long way with this magical, melting balm. Taking a minute to massage it into my skin feels like self care and makes my face feel clean and remarkably soft. A wonder balm!
Indeed Labs NoAcid Pads (Full Size)
"A non-acid based exfoliator that exfoliates, retextures and revitalizes the skin. Made with probiotics and extracts from Japanese cedar buds and yarrow these pads work to gently slough off dead skin. ($19.99)"
Gentle and cooling with a soft, subtle scent that reminds of a spa, these brightening pads would be a staple if not for the price. (Oh maybe I'll treat myself to some more and use them every other day.) Suitable for all skin types. 100% cotton and biodegradable.
Indeed Labs Hydraluron Volumising Lip Treatment (Full Size)
"This all-in-one formula is designed to hydrate, soothe, nourish, volume, plump and tint lips. Coat your lips with this cushiony texture filled with tropical fruit extracts, coffee, and tea to increase moisture and replenish barrier function. ($14.99)"
Goes on like the creamiest lip balm and feels so nourishing — I keep smushing my lips together because it just feels so good. Makes my lips look fuller and a little brighter. Doesn't tingle (or sting!) like some other lip plumpers.
Cargo Cosmetics Powder Blush in The Big Easy (Full Size)
"Enhance your cheekbones with this cult favourite, silky-smooth buildable powder blush. Paraben-free. ($33)"
The Big Easy's "sheer pink with gold and red grapefruit undertones" is a very similar shade to my go-to, everyday blush — maybe a little more sheer going on but totally buildable. Easy to apply and blend for a healthy glow. One of four different shades in the box.
Bodyography Glitter Pigment in Sparkler (Full Size)
"Illuminate your eyes with this dazzling glitter eyeshadow that lasts all day and applies with the swipe of a finger! Show-stopping, best-selling, user friendly paraben, talc, fragrance and gluten-free shadow ($32.75)"
One of five different pigments in the spring box, my champagne-coloured Sparkler has become one of my favourite beauty products for a sure-fire pick-me-up. The formula is wonderful with "the saturation of a loose pigment, the cushion of a cream, and the silkiness of a powder" and stays for hours. A bit of fall out but who doesn't love a little extra glitter here and there?
Realher Matte Lipstick in I Am Invincible (Full Size)
"Bring your lips to life with this soft, hydrating matte lipstick infused with jojoba seed oil. Long wearing and paraben-free. ($22.75)"
A matte lipstick that feels like a cream? Someone pinch me, I must be dreaming! Glides across the lips with even, velvety-looking coverage, moisturizing like no other matte formula I've tried. Mine is a flattering blush called I Am Invincible, one of five different shades in the spring box.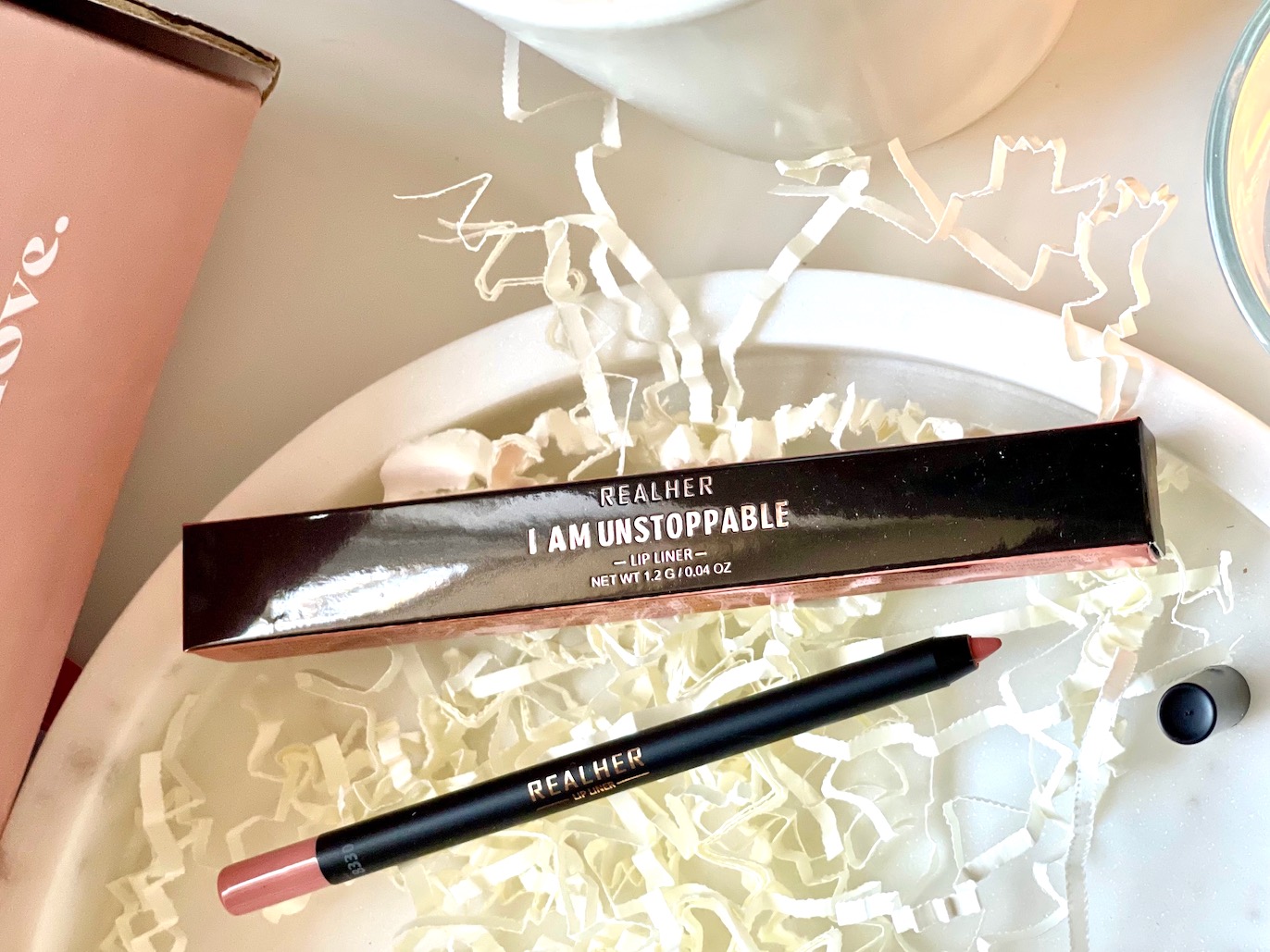 Realher Lip Liner in I Am Unstoppable (Full Size)
"This liner is the perfect addition to your REALHER lipstick meant to be worn together for long-lasting results. This vegan, creamy formulation is infused with jojoba seed oil and shea butter, providing a smooth application and a natural matte finish. ($15.75)"
This liner compliments the lipstick so well and goes on just as easily — definitely a duo I'll be wearing on the regular. One of three shades in the spring box.
Lithe Lash Curler (Full Size)
"This lightweight matte lash curler creates a natural, uplifted curl, gently capturing lashes from the roots and extending them. ($24)"
What a difference a good eyelash curler makes! Unlike the one I've been using for years, this one captures all of my lashes end to end and makes them look a mile long. Comes with an extra pad.
Neocell Derma Matrix Collagen Skin Complex (Sample)
"This unflavoured powder helps support healthy skin, hair, and nails by using clinically tested collagen along with hyaluronic acid and Vitamin C, a key nutrient essential to the formation of collagen as well as the health of connective tissue."
I'm on the hunt for a collagen powder I can get behind so I appreciate the sample, but this one isn't it. The funky smell and taste make it a hard pass for me. (I tried it in water and juice. How do you take yours?)
The spring The Beauty Edit Box is valued at $188.22 (more than double the purchase price!) and I'm so, so happy with it. Every product (collagen powder excepted) is a total hit and I'll be using them all regularly throughout the spring and many long after. The contents arrived in pristine condition, beautifully presented in minimal, recyclable packaging and a box ready for gifting.
Have you tried The Beauty Edit Box? What do you think of this one?
Try Small Things – https://trysmallthings.com