The Big Oh! Box Review February 2016 – Adult Subscription Box
The Big Oh! Box is an Adult subscription box, so I need to start off with a bit of a disclaimer. I don't get as descriptive with these reviews as I do with my other reviews for a couple of reasons…..Reason #1 – my Dad reads my blog, reason #2 – my 9 year old niece now reads my blog, and reason #3 – I'm sure you don't want details of my sex life…….With that being said, I also have to say how much I love reviewing adults subscription boxes, if they are done well they can be very fun to go through.
If you aren't familiar with The Big O! Box it is a quarterly subscription box for quality adult products organized around a theme for you or you and a playmate to enjoy. Each box will contain the necessary tools needed to get down and dirty and then clean again. From self satisfaction, partner play, BDSM & many other pleasures…
The Box: The Big Oh! Box
Cost:
$109/quarter – With Oh! Friend
$59/quarter – Sol-

Oh

!
What You Get:
With Oh! Friend – 5-10 quality adult toys and accessories that will cater around a special theme for you and a partner to enjoy.
Sol-Oh! – 3-6 items featuring a new toy, along with an assortment of lube, cleaner, or other adult novelties that will stimulate your sexual appetite.
Ships to: US & Canada
Shipping Cos: Free to US, $14.99 to Canada
Coupon Code: Use code "AYEAR2016" to save 20% off of your first quarters subscription – CLICK HERE
The Big Oh! Box comes in a discreet black box, which is a very good thing because my box was delivered to the neighbours by accident…..these kind of things only happen in my world. Once you open the box the fun starts. I love the packaging, the color scheme, the logo, and everything in between. I could tell from the very first glance that I was going to like this box.
Sex & Mischief XOXO Black Paddle – This is a sturdy little paddle and it could definitely leave a mark if you wanted it to…..and I mean that literally….your partner could be walking around with XOXO on their butt for days….love it!
Sex & Mischief Red & Black Stripe Flogger – Floggers remind me of 50 Shades of Grey…. and that is a good thing.
Sex & Mischief Silky Sashes (Black) – Made from soft, silky material, use these as restraints and keep your partner where you want them.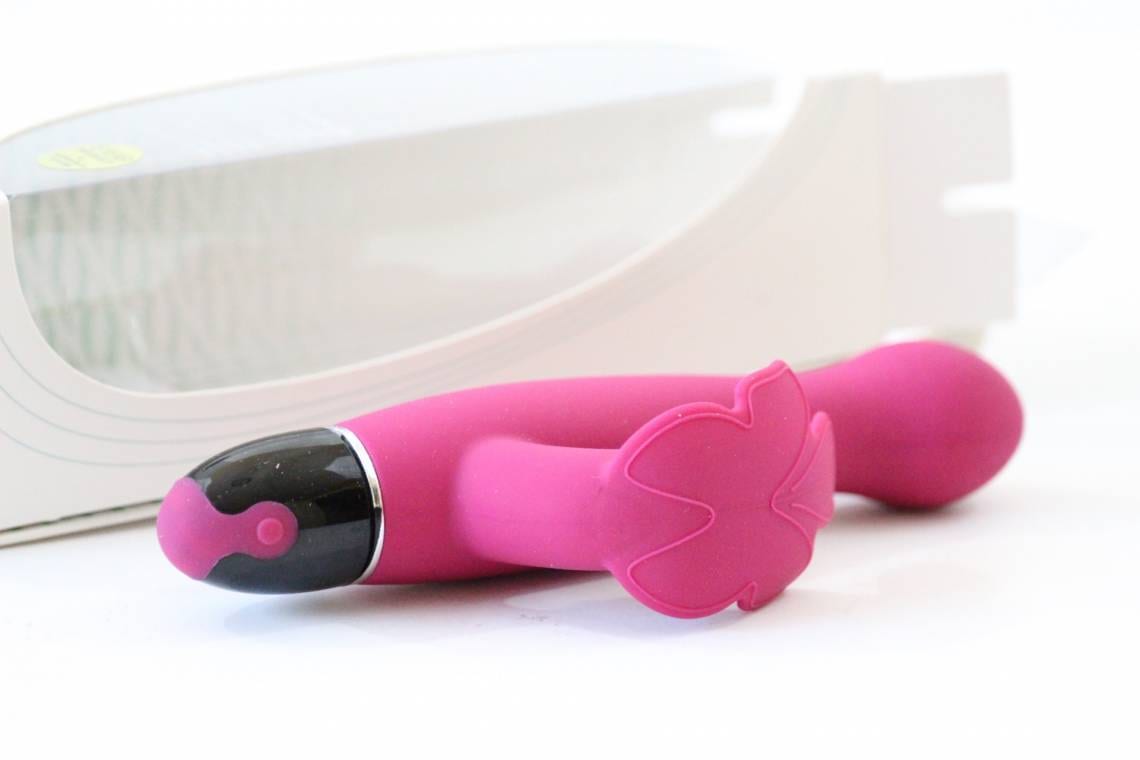 OHM Lotus Flutter – When you sign up for a subscription you get to choose your pleasure – vibrator, dual stimulator, male stroker, or back door…..I'm really happy with the one I received. OHM massagers are waterproof, whisper-quiet, and made from pure skin-safe silicone with a soft satin coating. Explore ten different speeds and patterns of vibration with simple controls on the sleek handle.
Bijoux Indiscrets Shhh Satin Blindfold – A soft, satin blindfold that says Shhhh on one side and Ooooh on the other.
System Jo H2O Lubricant – A water based lubricant that contains no oil, wax or silicone. It is latex safe, enhances sense of pleasure, is long-lasting, never sticky or tacky.
Refresh Toy Cleanser – Keep your favorite pleasure products clean and safe with this antibacterial spray-on cleanser.
Earthly Body Hemp Seed Massage Candle (Baby It's Cold Outside) – 3 in 1 massage candle melts down into a massage oil with a unique blend of six natural oils providing a professional slip that moisturizes skin, leaving it appear more healthy and hydrated with a youthful looking glow. Experience this "liquid gold" by pouring it directly onto the body for a warm massage, or in place of your daily moisturizer!
Swipes Lovin Wipes (Unscented) – To be as discreet as possible choose unscented flushable wipes. Perfect for use before and after a special encounter and no one will know but you.
Thoughts: I've reviewed a few adult subscription boxes in my day, and this one just might be my favourite. I think they have put together an amazing box…..and the best part is…it's not cheesy. I think adult boxes can go either way….and I prefer mine to be on the classy side. The Big Oh! Box covers all my "must-haves" when it comes to adult subscription boxes….reasonable price, discreet packing, classy design, and a good mixture of items. There's really only been one other adult subscription box that covered all these characteristics and I don't think they are on the market anymore……so that means The Big Oh! Box has taken the #1 spot on my adult subscription box list. My only complaint would be the fact that they are quarterly…..I would love to get this box every 2 months…..or even every month!
XOXO